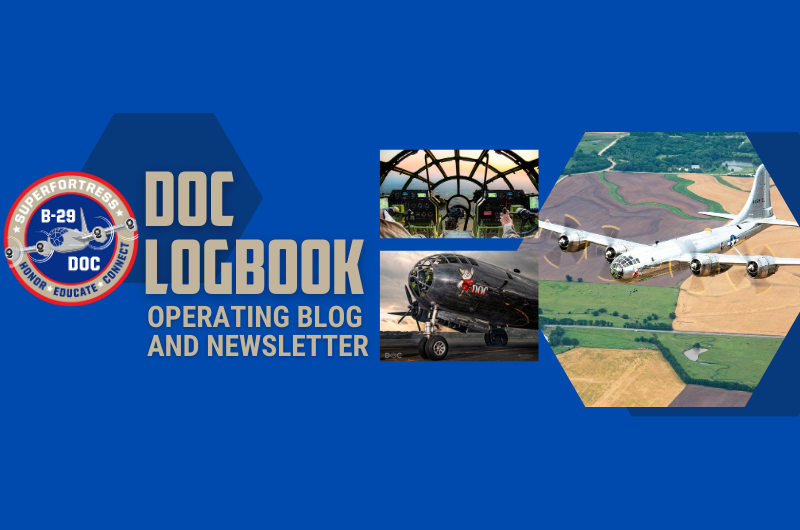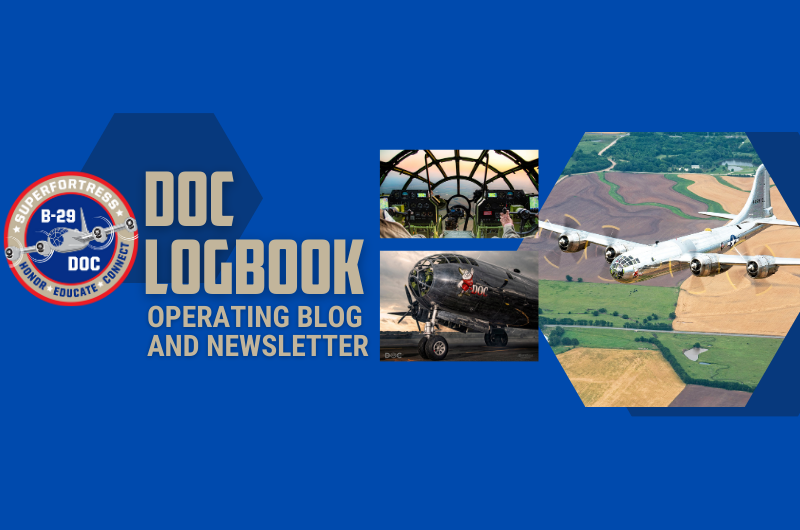 First, welcome to the DOC LOGBOOK; a blog-of-sorts that showcases the stories and inner workings of the B-29 Doc team and provides an inside look at some of the things going on with B-29 Doc on tour. It also offers an opportunity to provide unique and in-depth stories that we share about our journey on tour as we carry out our mission: Honor. Educate. Connect.
---
DOC LOGBOOK: April 18, 2023
Greetings from the Lone Star State! Last Thursday we departed Wichita for an 18-day tour through the state of Texas. The stops include Amarillo, San Marcos, Abilene and Sweetwater, and will have Doc out of Wichita from April 13 until April 30.
The first stop was Amarillo and the Texas Air & Space Museum. Over three days, we had nearly 2,000 people through the airplane and executed four sold-out B-29 Doc Flight Experience ride flights!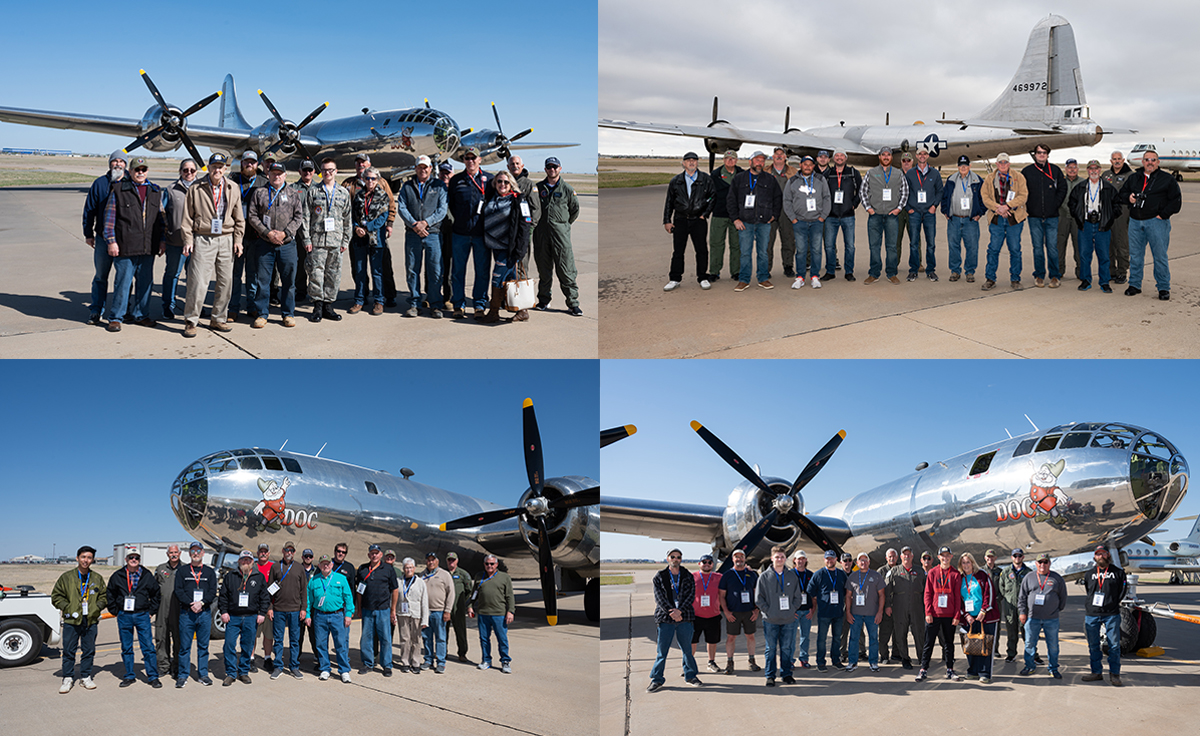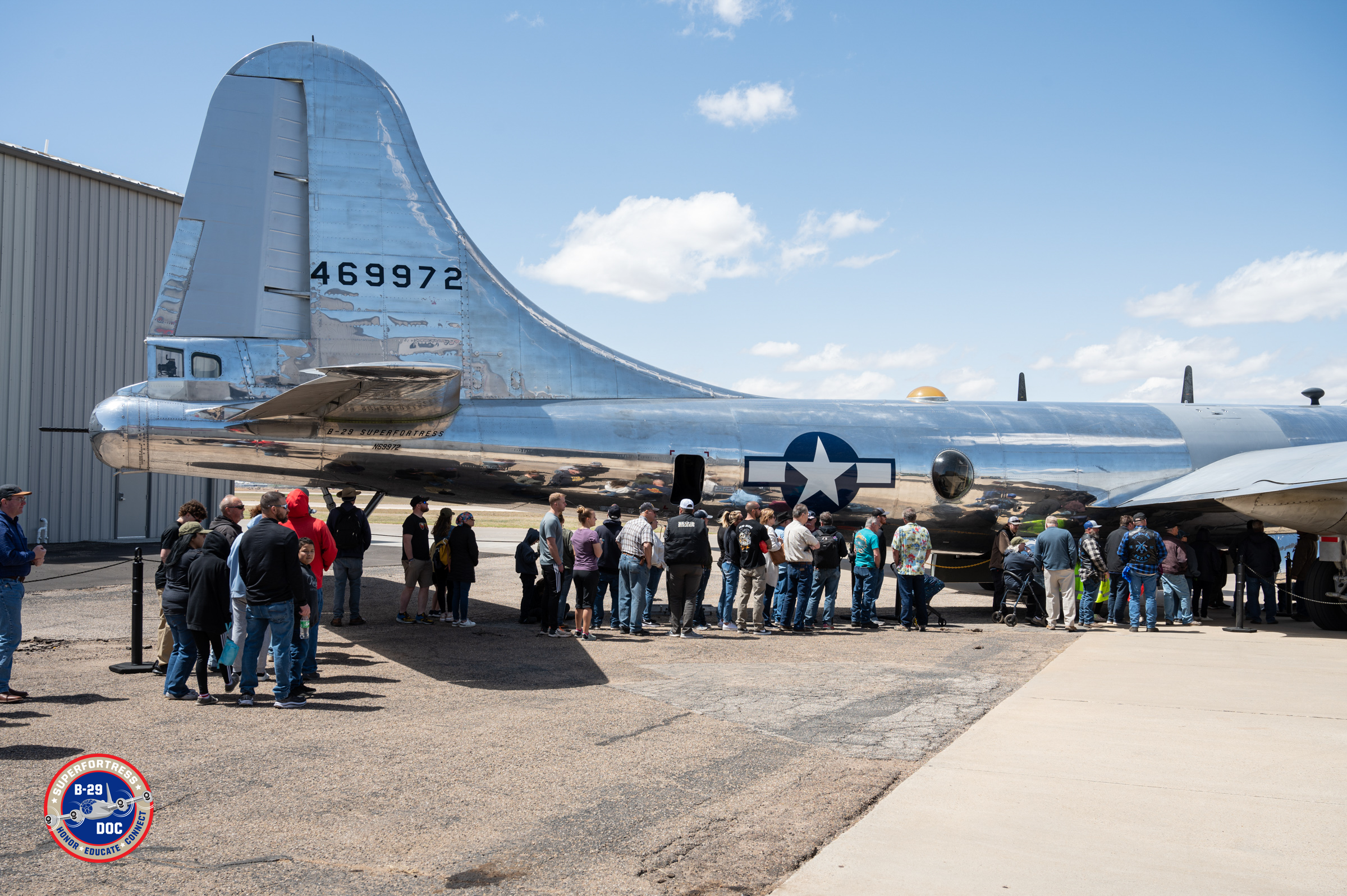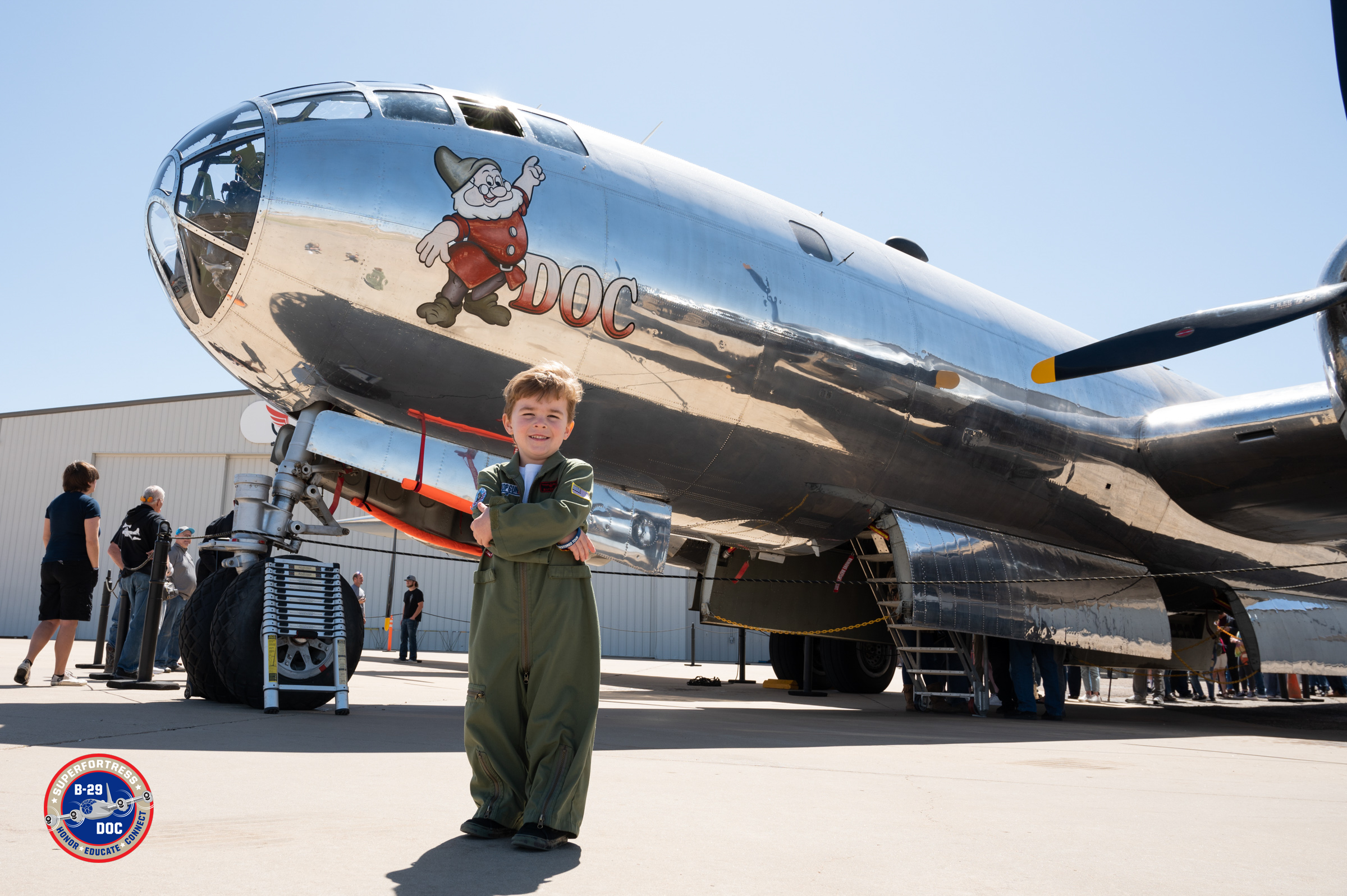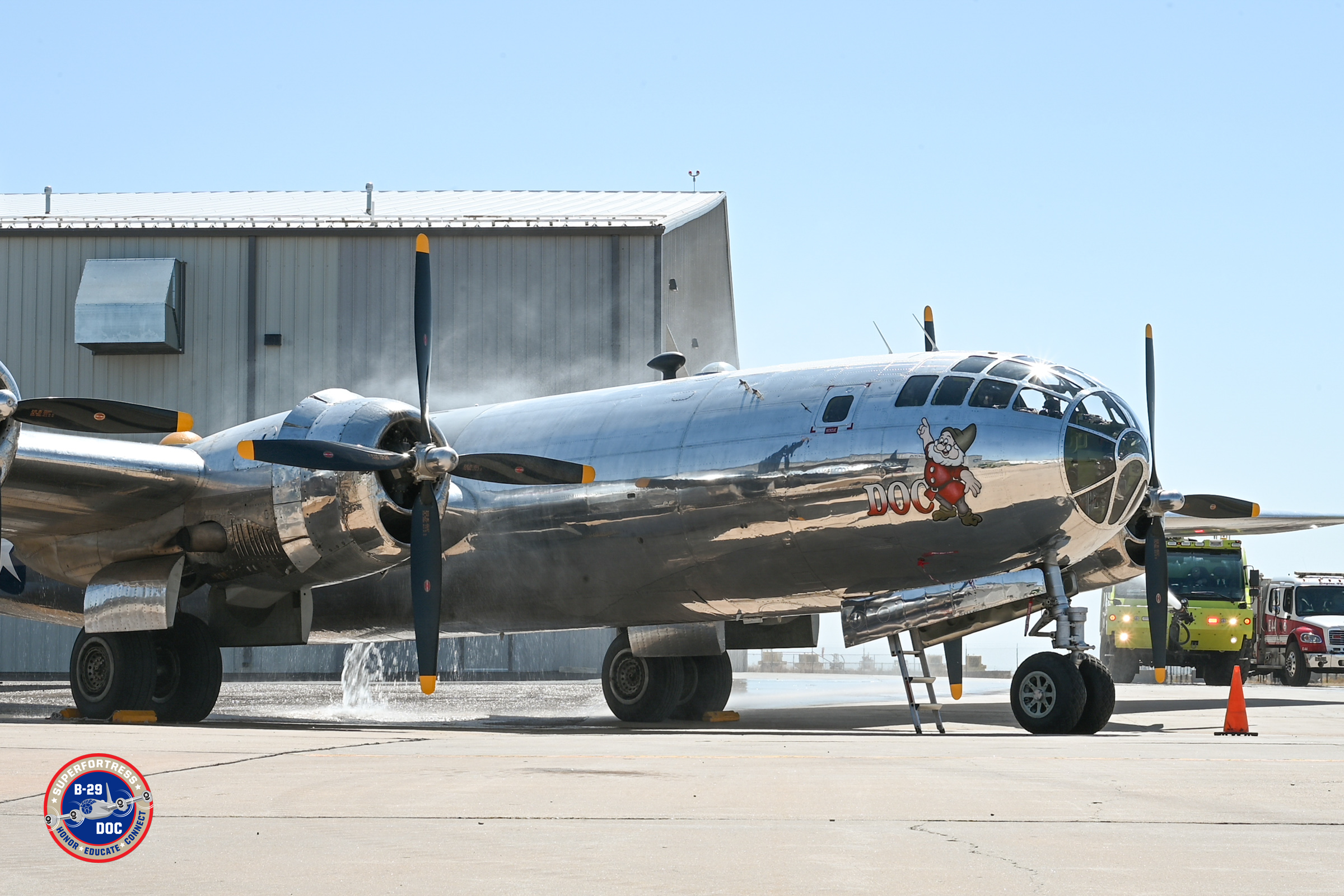 While we were in Amarillo, we met four new friends who shared stories about how members of their families served in B-29s during WWII.
Claudia Harland's father was a B-29 gunner and crew chief stationed on Tinian Island and was on the ground crew of the Enola Gay when it was loaded for its atomic mission. She was able to join us for a ride flight to honor her late father.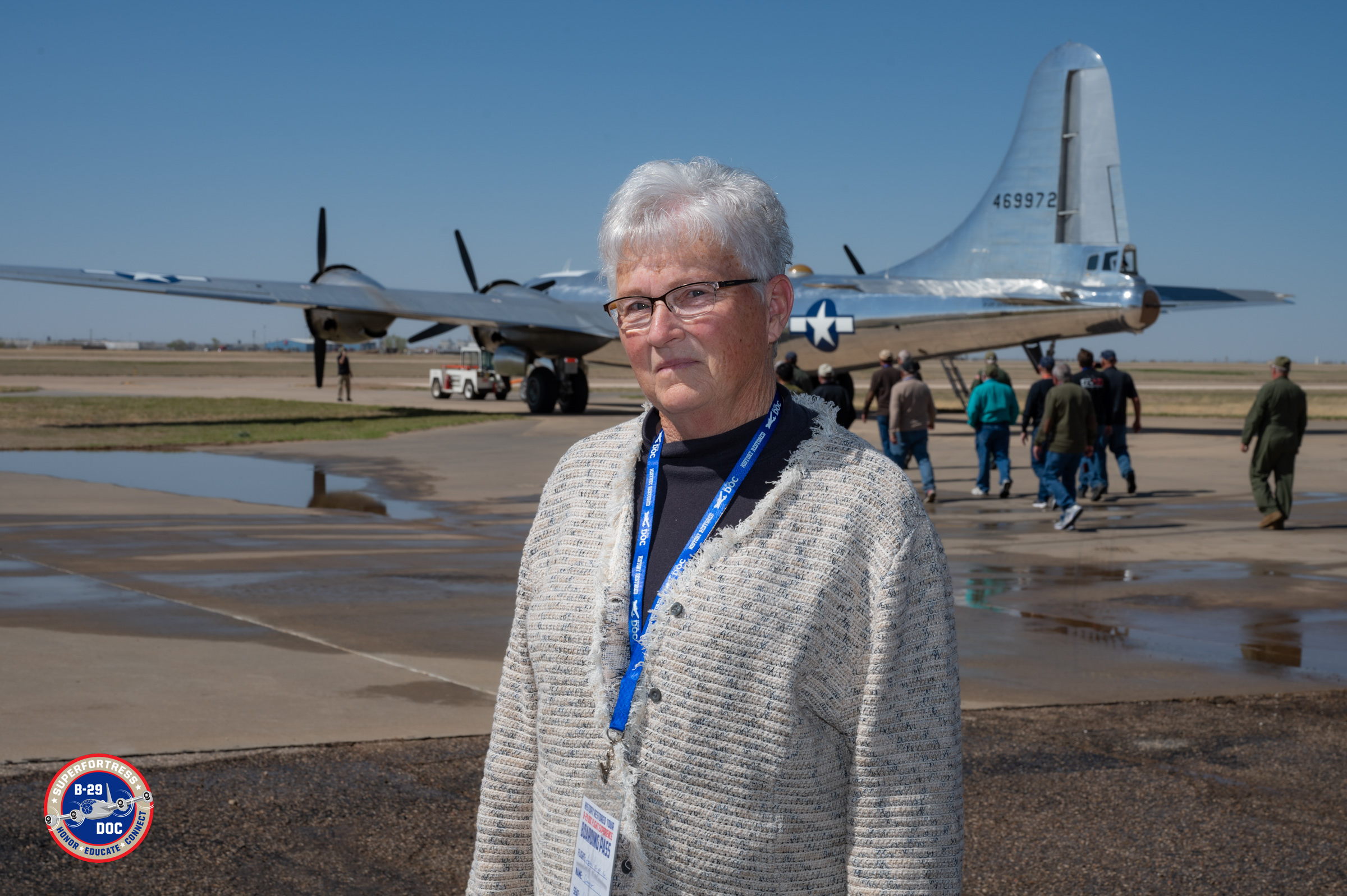 The man in the photo below is Stu Downing. His father, Scott Downing, served on a B-29 named "Mary Ann II" based on Tinian Island. Scott and his crew were shot down and he spent three months as a POW. Upon returning to the U.S., he later served as a war crimes prosecutor.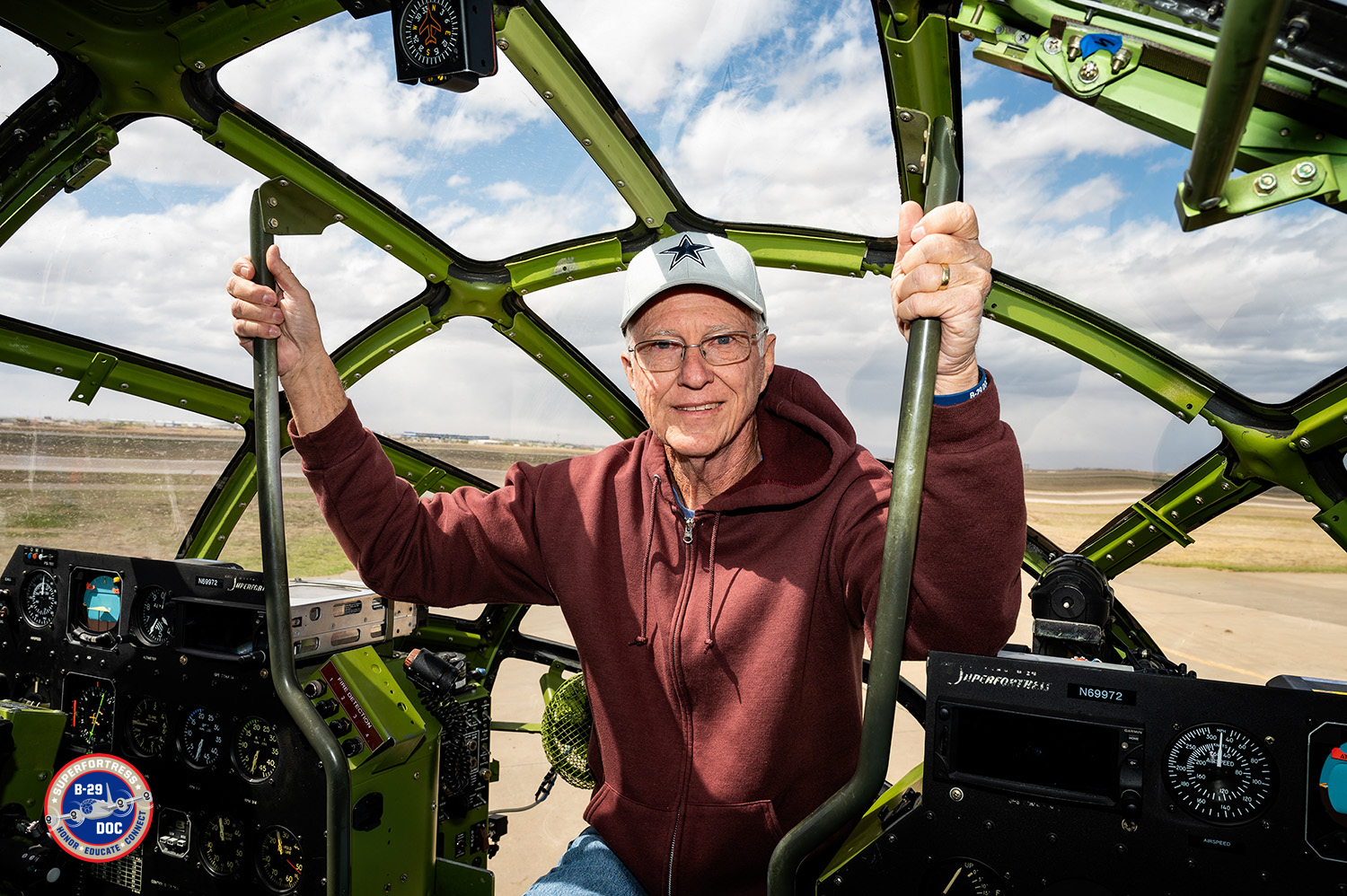 The next photo is Sheri Price sitting and she's sitting in her father's seat. Her father, Brig. Gen. Jack Martin, was a B-29 pilot and flew multiple bombing missions over Japan during WWII. He was based in Okinawa and Guam.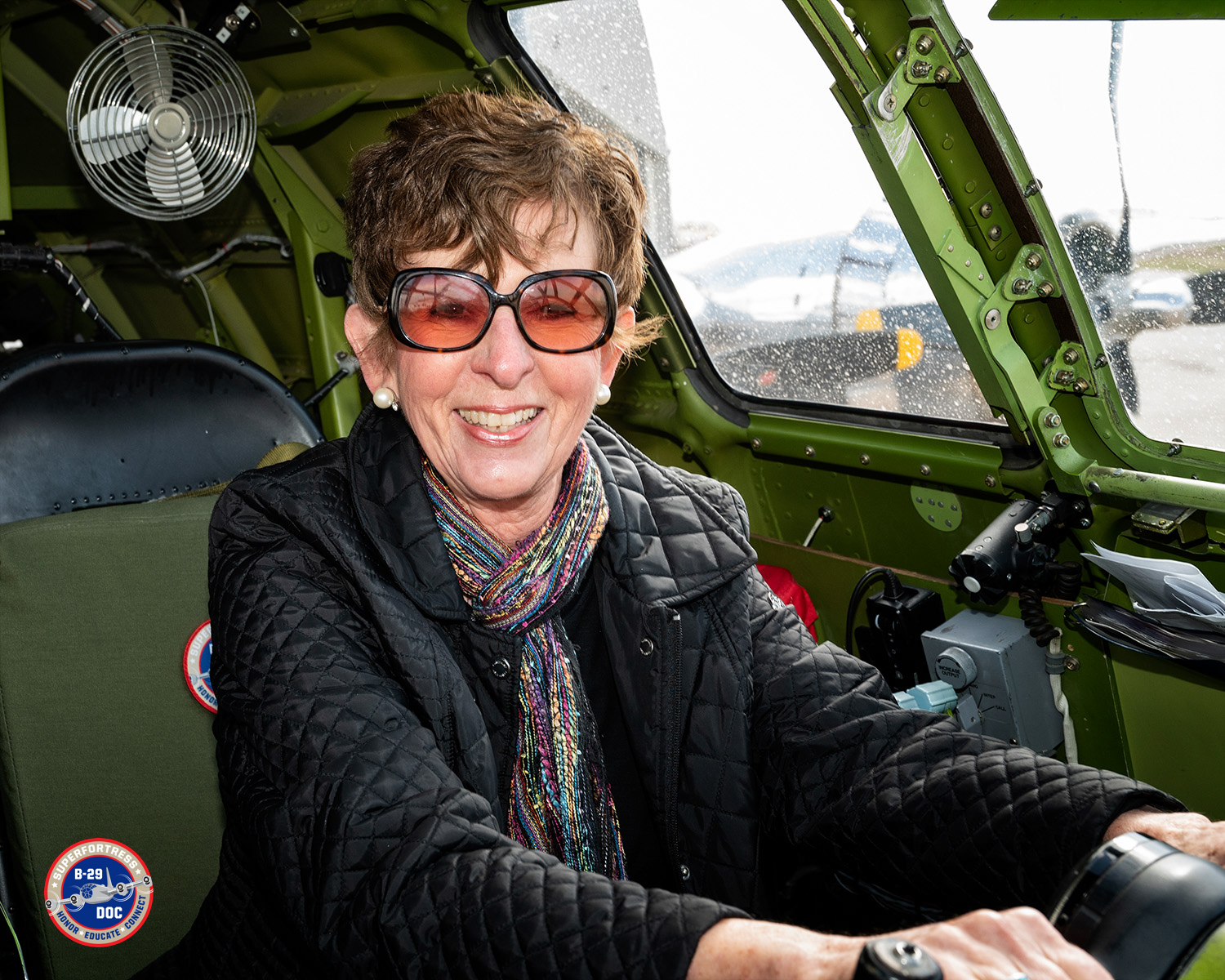 Below, meet David Sougstad. David's father, Orris Sougstad, was a bombardier on a B-29 stationed in Guam and Saipan and flew missions over Japan during WWII.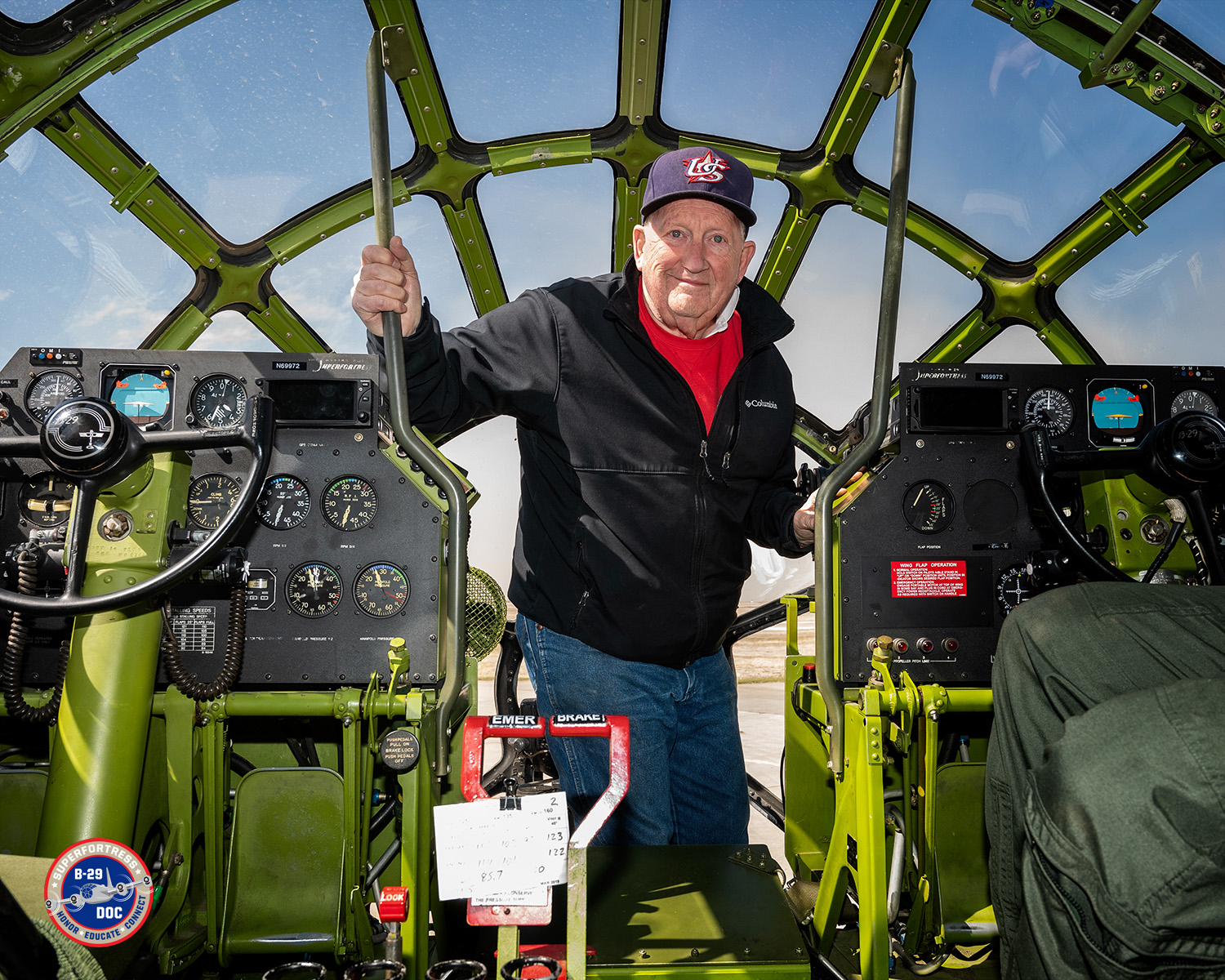 It was certainly humble for our team to hear the stories of these heroes from their families!
Not surprising, but it's really dusty and dry in the west Texas panhandle (just like it is in Kansas!) and we noticed Doc was getting really dusty and dirty. Following a few muddy rain sprinkles on Thursday, Doc needed a bath. Perhaps more important though, the wings were so dusty and slick, it was becoming a safety concern for our flight engineers to execute dipping the tanks and pumping fuel. So, we called in a favor with the Amarillo Airport Fire Department! Click here or on the video below to watch.
You can't see it very well in the video, but the water pouring off the wings looked like chocolate milk because it was so dirty! After the bath, we were able to wipe the aircraft down to minimize spotting. Thanks again to these guys for providing the Doc bath!
The next few days we will be in San Marcos, TX, at the home of the CAF Central Texas Wing. The CAF CENTEX Wing is the proud home of the C-47 known as "That's All…Brother" and a few other vintage airplanes, including an AT-6, BT-13, C-45 and B-25 "Yellow Rose."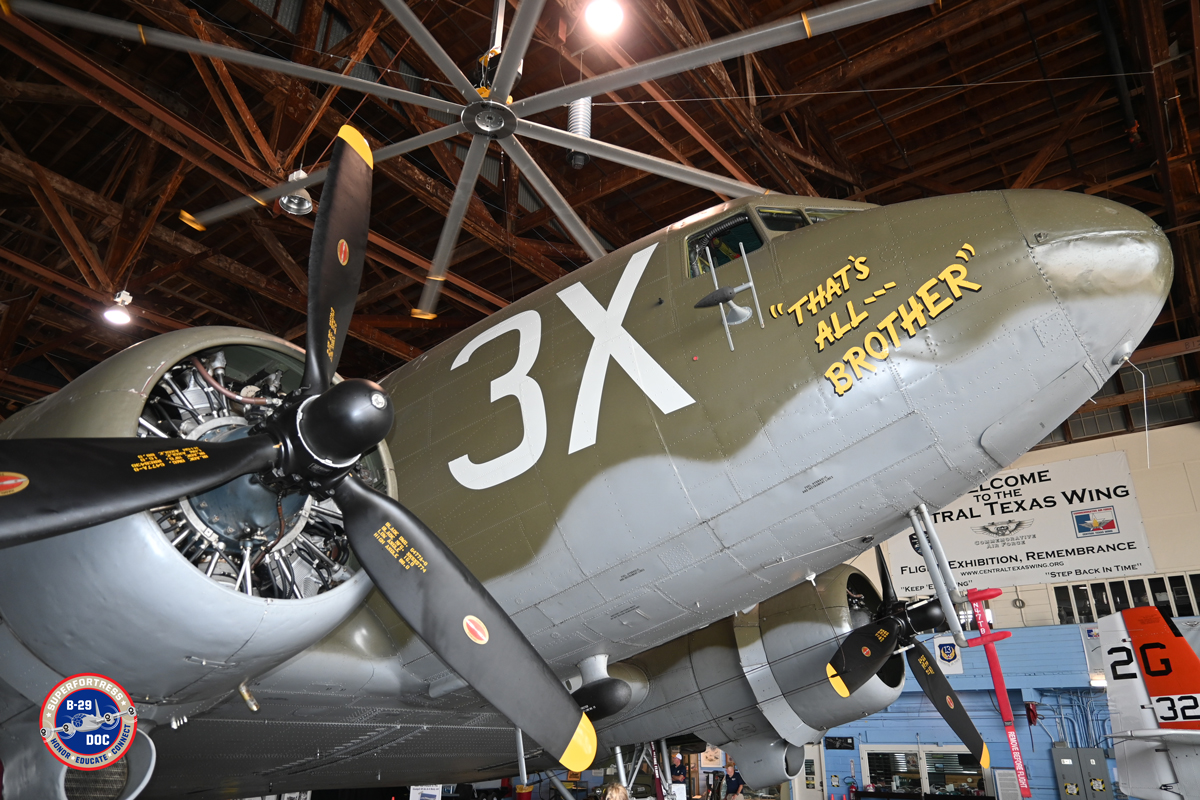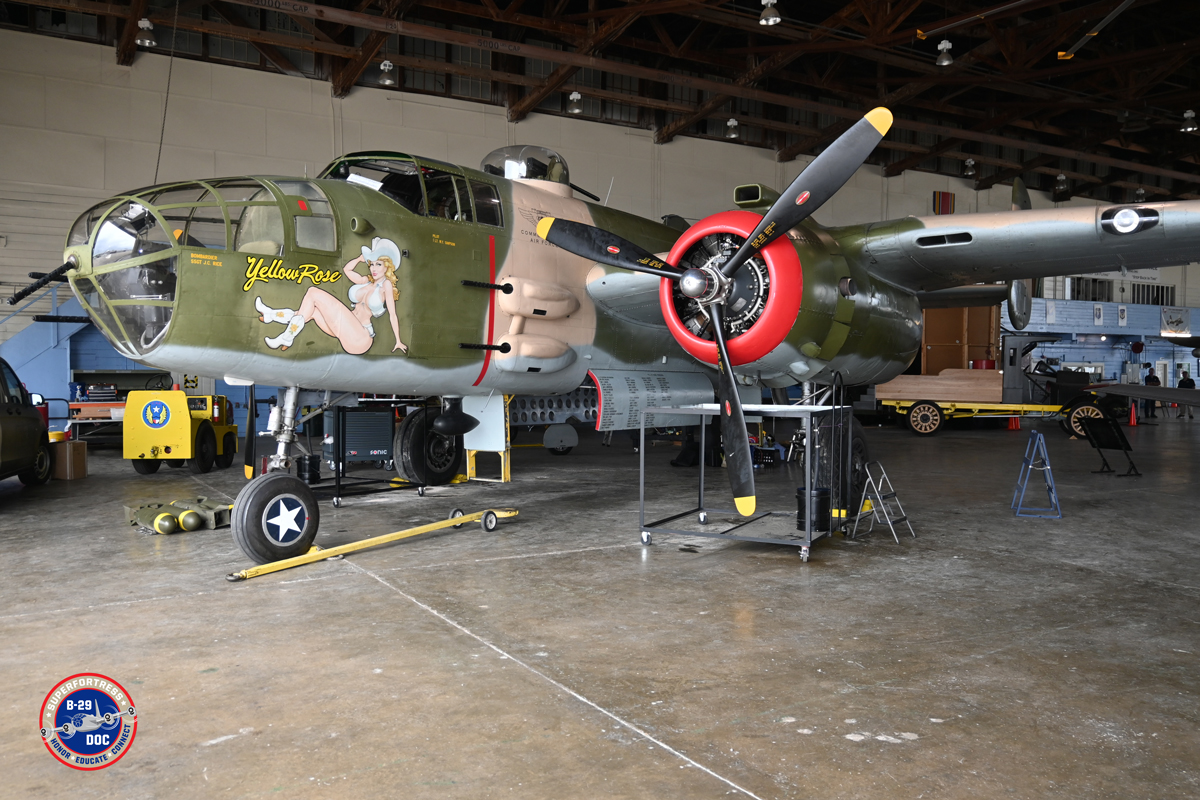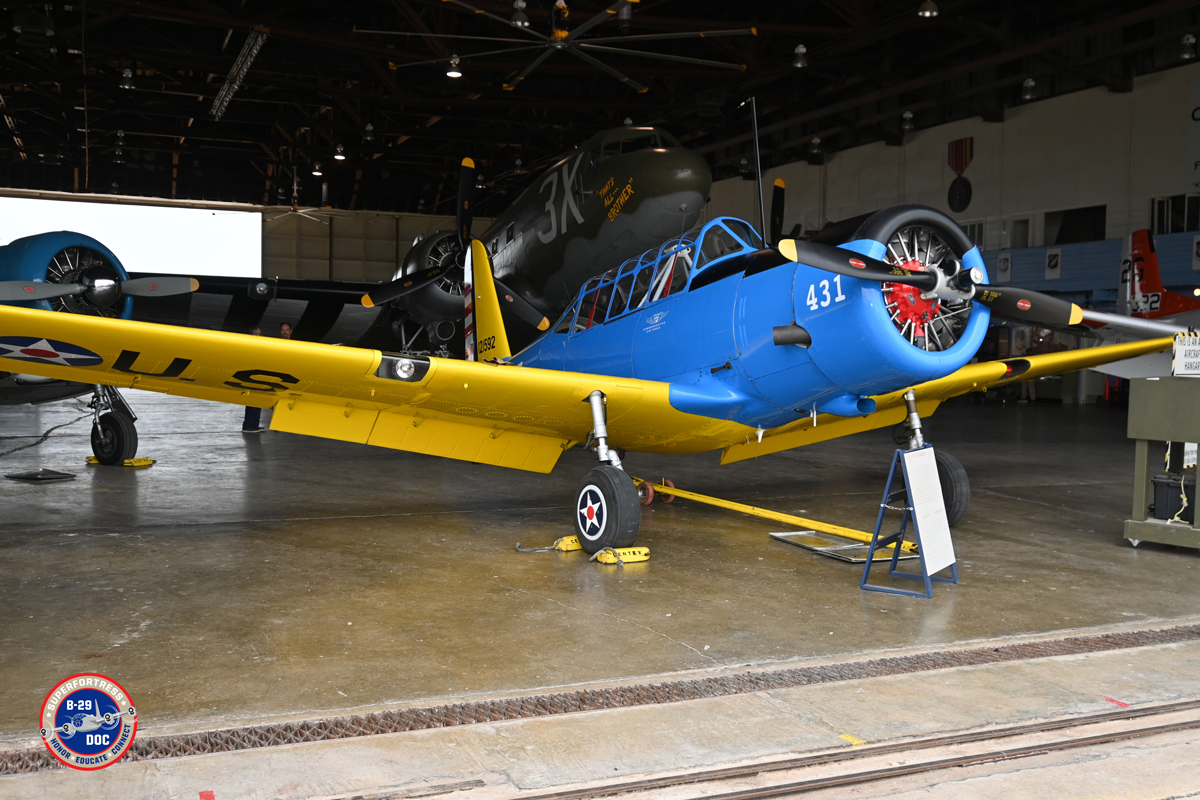 We are looking forward to spending a few days with the CENTEX family before we head back north to Abilene for the weekend and then on to Sweetwater for the 2023 WASP Fly-In.
As you can see, our team has been working hard on tour and of course, this mission would not be possible without our ENTIRE team of volunteers. Their hard work and commitment to our mission is THE difference maker in our ability to continue to keep Doc flying and sharing the legacy of our restoration team, our volunteers and the Greatest Generation!
Written by: Josh Wells, B-29 Doc Executive Director & General Manager
Photos by: Brett Schauf (T&J Studios / Brett Photo)