Fly through the skies in B-29 Doc, a rare World War II bomber! Experience a piece of history 8,000 feet up, as you find yourself where veterans once sat as they fought for freedom.
Each B-29 Doc Flight Experience will last approximately 90 minutes and include a 30-minute ride. Prior to takeoff, passengers will experience a crew briefing and learn more about the history of the B-29 and role it played in U.S. history. Passengers will also get to hear and see the sights and sounds of engine starts and run-ups prior to takeoff.
Seat Locations and Pricing
Each B-29 Doc Flight Experience flight has nine seats: Bombardier ($1,500), Cockpit/Pilot Observer ($1,200), Navigator ($1,200) and six Gunner seats ($600 each). The bombardier, cockpit/pilot observer and navigator seats are in the forward section (front) of the aircraft, while the six gunner seats are in the aft section of the aircraft. Each seat provides its own unique, one-of-a-kind experience with seat-specific views and experiences.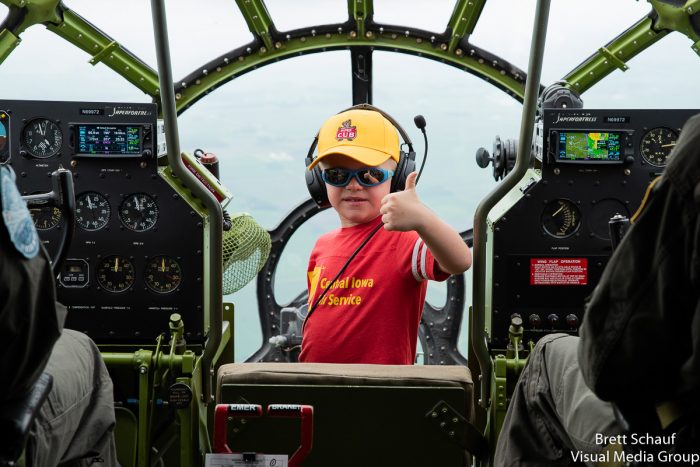 Gift Certificates Available
Looking for the perfect gift? B-29 Doc Flight Experience gift certificates are available. Call the B-29 Doc Box Office at 316-260-4312, option 3, to learn more and to purchase a gift certificate. Purchasing a gift certificate allows the person who receives the gift to select a flight in the future, or even upgrade to another seat for an additional cost.

2022 B-29 Doc Flight Experience Schedule
Click an event below for ticket sales.
Is your event sold out? You can join the wait list here.
Sept. 27 & 28: Palm Springs, CA
Oct. 1 & 2: Inyokern, CA
More tour locations and flights will be announced soon!
Passenger restrictions and refund policy
Each passenger must be able to climb a 6′ ladder and enter the crew entry door, which is 19″ wide and 32″ tall in the aft section. Passengers must also be able to climb through the pressure bulkhead door (circle) which is 29.5″ inches in diameter. For the forward section, passengers must be able to climb a 6′ ladder and enter through the forward crew entry door, which is 37″ x 29″. All passengers onboard B-29 Doc must also be able to sit in a seat with a seatbelt fastened and must be able to respond to commands from the flight crew, if necessary, during flight.
All B-29 Doc Flight Experience sales are final. If there is a need to delay or change the flight time or date due to weather, sky conditions, aircraft maintenance or airport operations, we will reschedule all passengers for either later in the day or the next day. Every attempt will be made to keep the flights on time and as scheduled, especially as it relates to the date of the flight. If a passenger is not able to delay the flight or reschedule to another flight, the ticket will be refunded. That decision will be made on the day of the flight. Additionally, if the passenger has a medical condition or diagnosis that interferes with the passenger's ability to fly in B-29 Doc, a refund will be issued. All ticketed passengers are responsible for their own travel to and from the location of the flight departure; all passengers are required to arrive at the flight departure site no later than one hour prior to the scheduled flight departure. We also offer flight ticket transfers, but that must be handled 24 hours prior to the flight.
What is the cost to operate a B-29 Superfortress?
It's one of the most common questions we receive: How much does it cost to operate Doc?
Well, when most people go to the gas station, the cost ranges from $50-$100 depending upon how many gallons of gas you purchase and the price of gas. When we go to the gas station to get fuel for Doc, well, it's a bit more complicated (and expensive)!
On average, Doc burns approximately 450 gallons of 100LL (avgas) per flight hour. And, on average, the price per gallon of 100LL is $5.70. That means for only one hour of flying time, it costs approximately $2,500 in fuel alone.  But wait, there's more!
In addition to fuel and oil costs, we must also take into consideration propeller, engine and maintenance reserves and costs.
So, all-in, the estimated cost per flight hour is about $3,600. And, we typically fly about 10-15 hours per month so…yeah, it's a big number.
Why do we do it?  That's simple: Honor. Educate. Connect.
What's is like to ride in B-29 Doc?
That's a great question! Many of our riders say it's a breathtaking, overwhelming and once-in-a-lifetime, bucket list experience. Click on the video below for a peek inside during the flight, but we promise…the real thing is MUCH better!
Honor. Educate. Connect.
The mission of Doc's Friends is to HONOR the men and women who sacrificed so much for the freedom of others, including those who designed, built, maintained and flew the B-29 during and after WWII. CONNECT people with the rich heritage of the B-29 and allow aviation enthusiasts to experience the thrill of a B-29 up close. EDUCATE today's and future generations on the contributions of the Greatest Generation during wartime.
Experience A Ride in Doc B-29