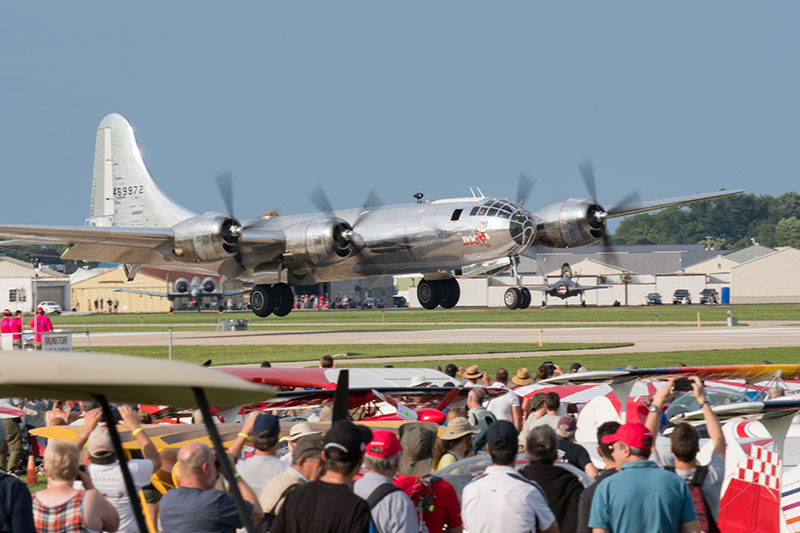 Flying into the hearts and minds of the next generation…
The task of restoring Doc spanned more than two decades from the Mojave Desert in California to its birthplace in Wichita, Kansas. Volunteers spent more than 450,000 hours restoring the majestic warbird to give it life for generations to come. 
Doc's mission today is to HONOR the men and women who sacrificed so much for the freedom of others, including those who designed, built, maintained and flew the B-29 during and after WWII. CONNECT people with the rich heritage of the B-29 and allow aviation enthusiasts to experience the thrill of a B-29 up close. EDUCATE today's and future generations on the contributions of the Greatest Generation during wartime.
B-29 Doc, up-close and personal; the experience of a lifetime!
B-29 Doc itself is one of only two remaining B-29 Superfortresses still flying today. Builtin 1944 as one of 1,644 B-29s manufactured by the Boeing Company, Doc's Friends has given new life to the warbird that helped deliver absolute victory to America and its allies during World War II. Each year, the aircraft logs more than 100 flight hours and travels to cities across the United States for air shows and B-29 Doc History Restored Tours stops, which include allowing people to get an up-close and personal look inside a B-29.  Additionally, B-29 Doc Flight Experience rides give warbird enthusiasts a unique look into the warbird that helped protect freedom.
Your donation, no matter the size, will go directly to supporting Doc's mission and long-term goals. Whether you donate to the operations fund for flight and maintenance operations, or if you want to be involved in the B-29 Doc Hangar and Education Center, your involvement is key to the success of Doc's mission. At this time, B-29 Doc and Doc's Friends, Inc., is a 100% volunteer-led organization, which means all revenues generated by the aircraft tours and donations are used to fund the operation and sustainment of B-29 Doc.
The Legacy and Mission of B-29 Doc
Doc is a B-29 Superfortress and one of 1,644 manufactured in Wichita during World War II. Doc was found in 1987 sitting and rotting away in the Mojave Desert. Since then the historic warbird has been restored to flying status, serving as a flying museum.
Learn More