The Patriots Plaza at the B-29 Doc Hangar, Education & Visitors Center is the centerpiece for all who visit the facility and serves as a foundation to place a lasting memorial for a loved one, honor a veteran or add your message of support to those who have dedicated their lives to serve our nation to protect freedom, along with those who have volunteered to keep B-29 Doc flying.
Join Doc's Legacy of Honor.
Each engraved brick (4″x8″) or granite stone (8″x8″) will have personal message about for whom it's dedicated.  All proceeds of this fundraiser will go directly toward the cost of keeping Doc flying for generations to come.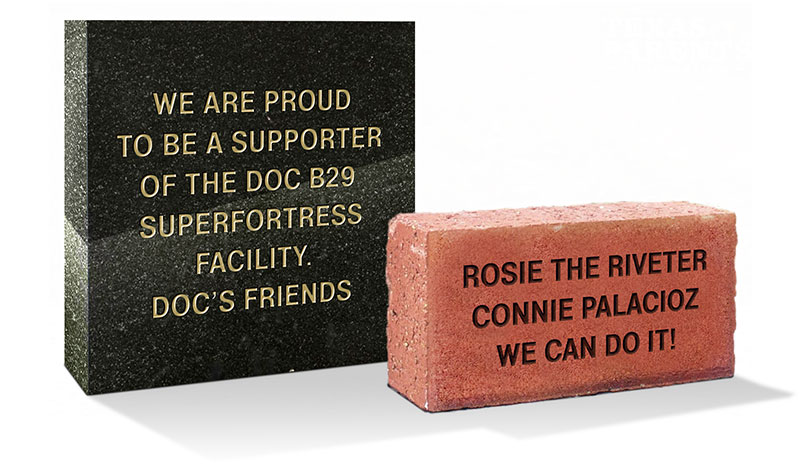 Since 2000, hundreds of volunteers from Wichita's unique aviation workforce, military and the community have tirelessly worked to restore this B-29 warbird. These volunteers have spent hundreds of thousands of hours to preserve the rich history of Doc. Countless organizations and individuals have generously donated financial and in-kind contributions to keep Doc alive. Purchasing a brick or granite paver is your chance to help keep Doc flying for generations to come!
The B-29 Doc Hangar, Education and Visitors Center provides a unique and one-of-a-kind look into aviation history. Located in Wichita, Kan., at Eisenhower National Airport, the 42,000 sq. ft. facility is an interactive experience for all ages.
B-29 Doc serves as the backdrop for the public to enjoy bits of history, science, technology, engineering and mathematics that go hand-in-hand with aviation. As a real-life maintenance center, B-29 Doc volunteers will be actively working to maintain the historic warbird while visitors watch, ask questions and learn about the marvels of B-29 Doc.
Purchase Your Engraved Bricks