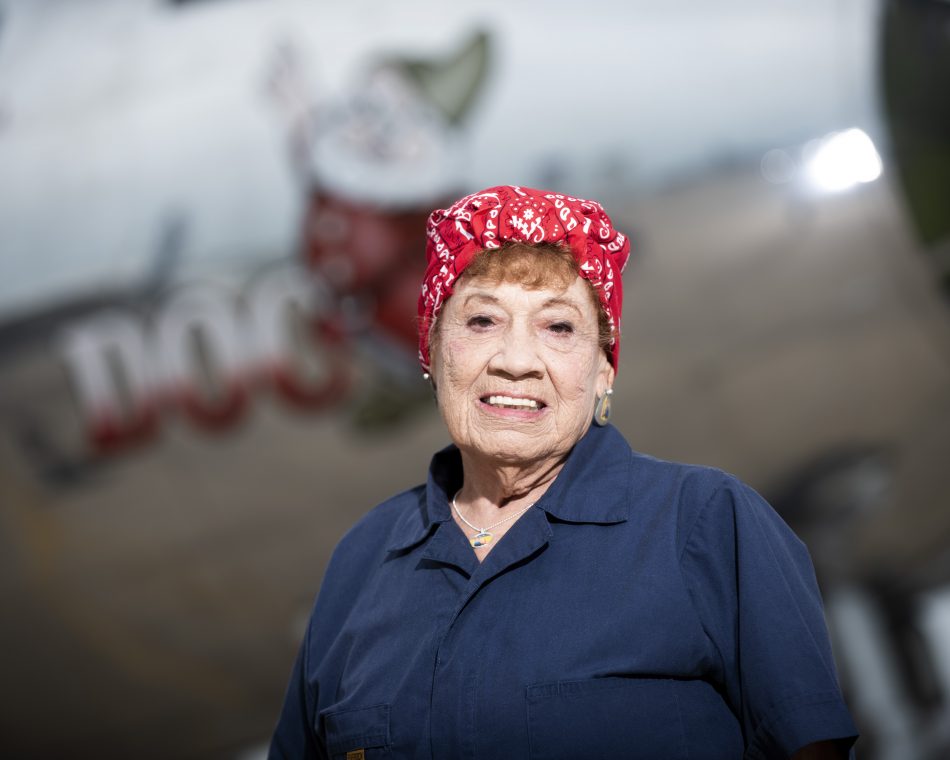 Our own 'Rosie the Riveter' Connie Palacioz will join a group of World War II heroes participating in a historic panel discussion during the Arsenal of Democracy Victory Gala to kick-off the event in Washington, D.C., for the National 75th WWII Commemoration program.
Connie will join Lieutenant Colonel Robert Vaucher (U.S. Army Air Corps, U.S. Army Air Forces and USAF), Commander Dean Laird (U.S. Navy) and Sergeant Paul Hilliard (U.S. Marine Corps) to talk about the war in the Pacific Theater. The discussion will be hosted by award-winning broadcaster David Hartman. Click here for the official press release, which includes information about all of the panelists.
At the age of 18, Connie joined the workforce at Boeing in Wichita, Kansas, as a riveter on the B-29 Superfortress during WWII. She was part of the team that manufactured the B-29 known as "DOC" in 1944, which will participate in the Arsenal of Democracy Flyover May 8. Since Doc's rescue from the Mojave Desert and return to Wichita in 2000, Connie has been a member of the volunteer restoration team who joined together to restore Doc to flight over 16 years.  In the years since Doc's return to flight in 2016, Connie remains an active volunteer at the Doc hangar in Wichita, and she's also a regular member of the team who travels to air shows around the country with the aircraft.
The Arsenal of Democracy Victory Gala will honor, remember and celebrate the heroes who fought and served in the global conflict in the air, on land and sea, those who worked and sacrificed on the home front, and those who suffered the horrors of the Holocaust. This event will take place in the historic Signature Flight Support Hangar 7 at Ronald Reagan Washington National Airport on Thursday, May 7, 2020. Individual seating and tables for the gala are available for purchase at https://ww2flyover.org/gala.
Following the historic flyover event on May, B-29 Doc Flight Experience rides will be available Sunday, May 10 and Monday, May 11 at Manassas Regional Airport. Details about the flight experience and information on booking seats can be found here.
LOOKING FOR A GIFT THAT WILL LEAVE A LASTING IMPACT?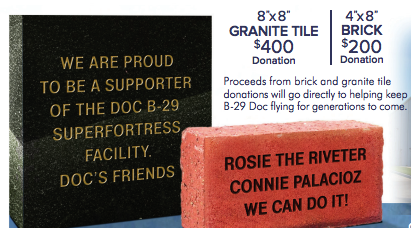 Join Doc's legacy of honor.
The Patriots Plaza at the B-29 Doc Hangar, Education & Visitors Center is the centerpiece for all who visit the facility. Purchase your brick or granite paver today as a tribute to an aviator on your shopping list and leaving a lasting message of support to those who have dedicated their lives to serve our nation to protect freedom, along with those who have volunteered to keep B-29 Doc flying.
→ Click here to order your brick or paver today!