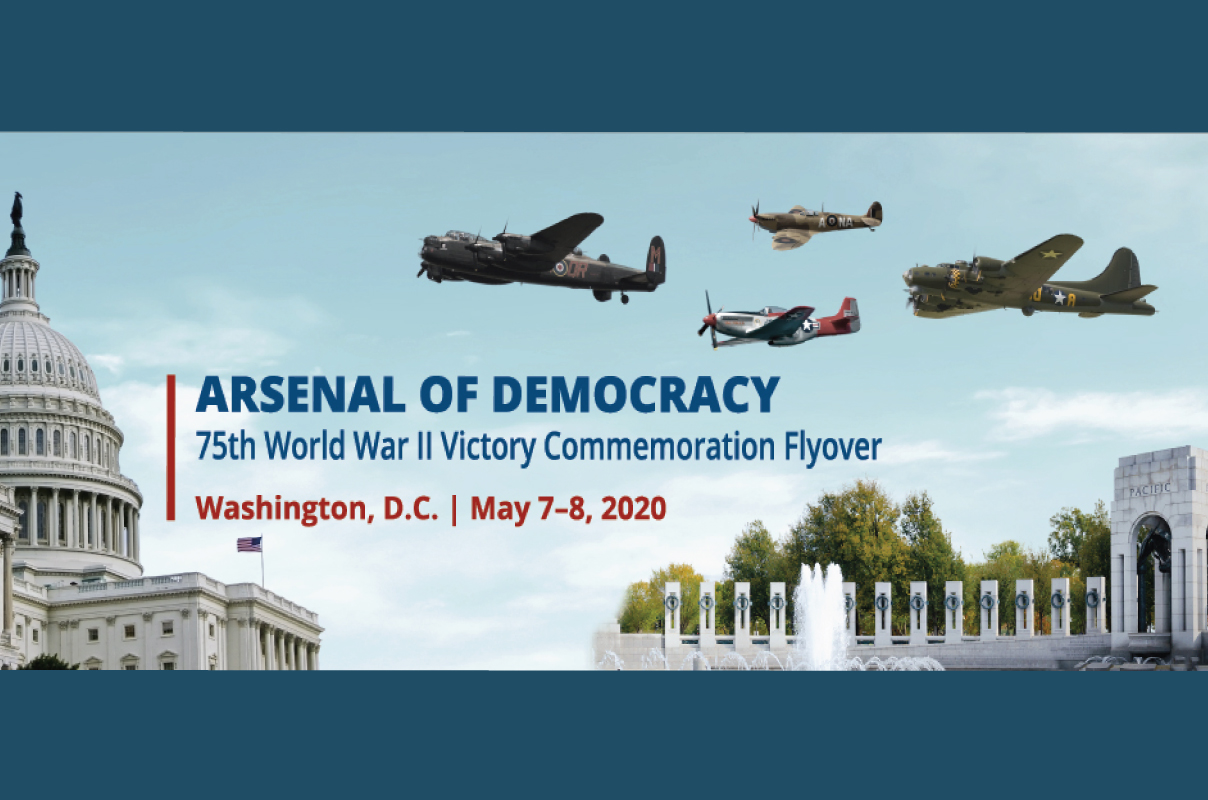 B-29 Doc, one of only two remaining B-29 Superfortresses still flying today, will participate in the 2020 Arsenal of Democracy Flyover in Washington, D.C., May 7-8, 2020. 
The event commemorates the 75th anniversary of the end of World War II and will include more than 20 different types of vintage military aircraft. An estimated 100 World War II-era aircraft will fly in sequenced warbird formations representing the war's major battles, from the Battle of Britain through the final air missions in Japan.
"Participating in this event means partnering with multiple organizations and warbird operators whose shared mission of honoring the Greatest Generation will ensure the preservation of its legacy," said Josh Wells, Doc's Friends Executive Director and General Manager. "It's a continuation of our industry's combined mission to educate future generations about the significance of our nation's war heroes and ensure their memory lives on forever. The event also provides a grand stage for lessons on STEM education that will inspire the next generation of aviators and those who will continue our nation's commitment to flight."
Doc will be stationed at Manassas Regional Airport and activities around the event will begin Wednesday, May 6 and continue through Saturday, May 8. The World War II Victory Commemoration Flyover is scheduled for Friday, May 8. More information and the complete schedule for all the events surrounding the flyover, including its fundraising campaign, are available at www.ww2flyover.org. 
"Five years ago as we were working to complete the restoration on Doc, I remember thinking it would be a humbling experience to have the opportunity to participate in a ceremony of this magnitude," said Ken Newell, Doc's Friends Chief of Aircraft Maintenance and pilot. "Being able to share the sky over our nation's capital with dozens of other warbirds to commemorate the victory of the Greatest Generation will be a highlight for our entire team."
B-29 Doc Flight Experience rides will also be available while Doc is stationed at Manassas Regional Airport Saturday, May 9 and Sunday, May 10. Rides are scheduled for 9 a.m. and 11 a.m. both days. For more details about the B-29 Doc Flight Experience and to purchase tickets, visit www.b29doc.com/rides. 
Additional tour stops surrounding Doc's travel to Washington, D.C., will be announced soon.