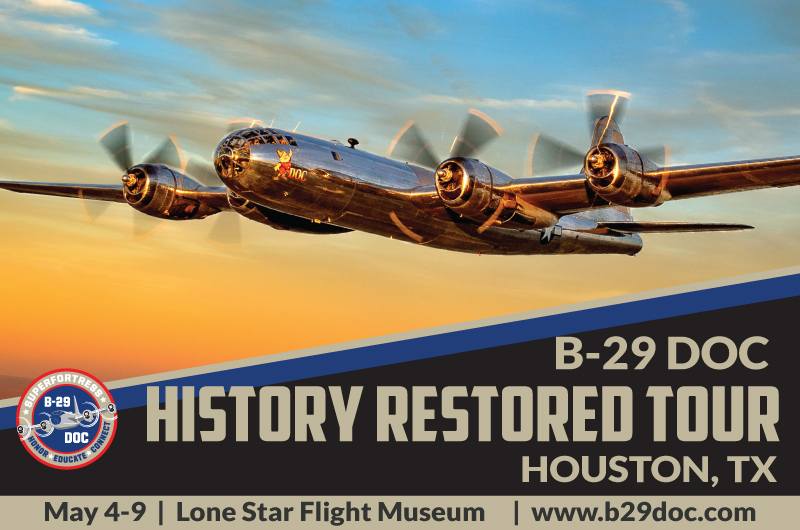 The B-29 Doc History Restored Tour will land at the Lone Star Flight Museum in Houston, Texas, May 4-9, 2021.
Doc will arrive in Houston, Monday, May 3 and will be available for ground and cockpit tours Wednesday, May 5 through Friday May 7, from 9 a.m. to 4 p.m. each day.
B-29 Doc Flight Experience rides will be available at 9 a.m. and 11 a.m., Saturday, May 8 and Sunday, May 9, followed by ground and flight deck tours on those days from 12 p.m. to 4 p.m. Admission for the static display event and flight deck tours will be $5 per person in addition to the Lone Star Flight Museum general admission ticket. General admission tickets start at $9.95 with senior and military discounts.
B-29 Doc Flight Experience tickets are on sale now at www.b29doc.com/rides.
"The Lone Star Flight Museum's mission of preserving history, while inspiring and educating future generations matches our mission with B-29 Doc," said Josh Wells, B-29 Doc general manager and executive director. "We are excited to bring B-29 Doc to Houston and partner with the Lone Star Flight Museum to give people an up-close and unique experience with one of the historic bombers that delivered victory and protected freedom during World War II."
B-29 Doc is one of 1,644 B-29 Superfortresses built by the Boeing Company in Wichita, KS, during World War II. It's also one of only two B-29s still airworthy and flying today.
LSFM President and CEO, Doug Owens added, "We are looking forward to welcoming B-29 Doc to the museum. Doc is such an impressive aircraft and a WWII legend. This is an amazing opportunity for our members, visitors and supporters to experience the B-29 Doc up close and personal. As supporters of Doc's Friends, we are proud to join in their efforts to honor, educate and connect people with the history of WWII and the sacrifices made by those who served. I hope Houstonians of all ages come out and take part in this rare opportunity."
B-29 Doc visitors can enter the event through the Lone Star Flight Museum at 11551 Aerospace Ave., Houston, TX 77034. Museum tickets can be purchased on site or online at LoneStarFlight.org.
The tour stop in Houston will wrap up a nearly four week tour that includes stops in Fayetteville, AR, Monroe, LA, Mobile, AL, and New Orleans, LA.
Click here to learn more about the Lone Star Flight Museum.
---
SHOP ONLINE!
Looking for a special gift for that warbird fan in your life?  We've added NEW merchandise, INCLUDING CHILDRENS t-shirts, to the B-29 Doc online store! Order online today and support Doc by keeping history alive with your purchase.
LOOKING FOR A GIFT THAT WILL LEAVE A LASTING IMPACT?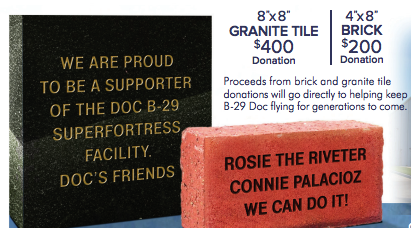 Join Doc's legacy of honor.
The Patriots Plaza at the B-29 Doc Hangar, Education & Visitors Center is the centerpiece for all who visit the facility. Purchase your brick or granite paver today as a tribute to an aviator on your shopping list and leaving a lasting message of support to those who have dedicated their lives to serve our nation to protect freedom, along with those who have volunteered to keep B-29 Doc flying.
→ Click here to order your brick or paver today!