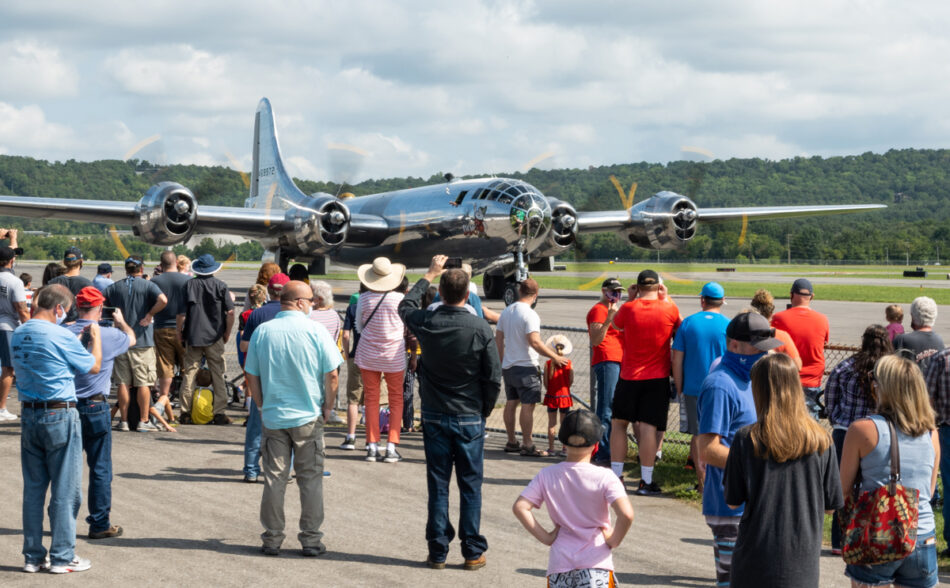 The B-29 Doc tour planning team has announced the addition of the Arkansas Air & Military Museum at Drake Field in Fayetteville to the historic warbird's 2021 tour schedule.
Doc, one of only two B-29 Superfortresses still flying, will arrive at the Arkansas Air & Military Museum Thursday, April 15, and will be on static display Friday, April 16, through Sunday, April 18. B-29 Doc Flight Experience rides will be available Saturday and Sunday, April 17 and 18.
"We are thrilled to welcome B-29 Doc back to northwest Arkansas for a second time," said Laci Shuffield, Arkansas Air & Military Museum executive director. "Having a B-29 on the ramp at Drake Field, in addition to the availability of our unique museum artifacts, will make for a one-of-a-kind springtime experience for aviation and warbird fans throughout the Fayetteville area."
The museum will be open Friday, Saturday and Sunday from 8 a.m. to 4 p.m. Admission to the event, which includes access to the museum, as well as the aircraft ramp and cockpit tours, is $30 for a family, $15 for adults and $10 for children 12 and under. All proceeds will benefit B-29 Doc as well as the Arkansas Air & Military Museum.
"Visiting the Arkansas Air & Military Museum and Drake Field with B-29 Doc is a unique experience and tour stop for us," said Josh Wells, B-29 Doc general manager and executive director. "The museum's hangar at Drake Field represents a remaining piece of World War II history that was home to a pilot training depot for the U.S. Army Air Forces. Bringing the B-29 to Drake Field helps to further tell the story of our nation's heroes from the Greatest Generation, and those who are serving our nation to protect freedom today."
BOOK YOUR SEAT ON B-29 DOC TODAY!
Tickets for B-29 Doc Flight Experience rides are on sale now at www.b29doc.com/rides. Rides are scheduled for 9 a.m. and 11 a.m. on April 17 and 18. Ground and flight deck tours for B-29 Doc will be available following the ride flight operations, at approximately noon on both days.
More information about any COVID-19 protocols for visitors to the event will be released as that information becomes available.