The 2020 flying season has come to a close for B-29 Doc and that means our team is now in winter maintenance mode.
While 2020 wasn't what we all planned for regarding tour stops and airshow appearances, our mission was still a success thanks to the hard work and dedication of our volunteers, and those who joined us for a ride flight or abbreviated tour stop.
Those tour stops included these cities in nine states: Oklahoma City, Omaha, Branson, Fayetteville, Cincinnati, Washington, D.C./Northern Virginia, Terre Haute, Great Bend and of course, Wichita. In all, Doc traveled more than 3,200 nautical miles over some 53 flight hours. Here's a map of what the 2020 season looked like for Doc: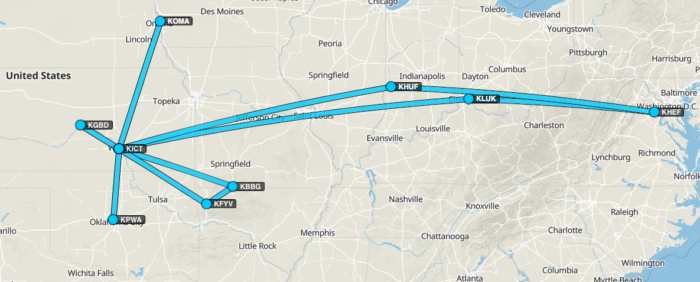 By comparison, the 2019 flying season tallied nearly 100 flight hours.
Now, the process of getting Doc ready for the 2021 flight season begins as the B-29 Doc maintenance team enters the scheduled winter maintenance period. The nearly five-month-long period will include annual inspections, routine engine maintenance and other scheduled maintenance items to ensure Doc remains airworthy and ready for 2021 flight operations.
Doc officially entered winter maintenance following a Veterans Day flyover in Wichita, KS. Here's a quick video clip of Doc engine starts and taxi before entering the hangar for the winter.
Speaking of winter maintenance, you can keep an eye on our volunteers and maintenance team with the LIVE VIDEO stream from inside the B-29 Doc Hangar, Education and Visitors Center. Click here to watch the stream.
---
SHOP ONLINE!
Looking for a special gift for that warbird fan in your life?  We've added NEW merchandise to the B-29 Doc online store! Order online today and support Doc by keeping history alive with your purchase.
LOOKING FOR A GIFT THAT WILL LEAVE A LASTING IMPACT?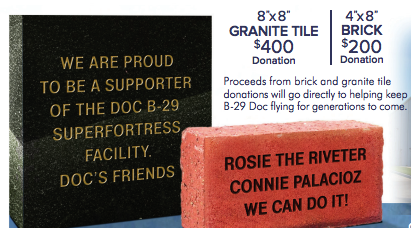 Join Doc's legacy of honor.
The Patriots Plaza at the B-29 Doc Hangar, Education & Visitors Center is the centerpiece for all who visit the facility. Purchase your brick or granite paver today as a tribute to an aviator on your shopping list and leaving a lasting message of support to those who have dedicated their lives to serve our nation to protect freedom, along with those who have volunteered to keep B-29 Doc flying.