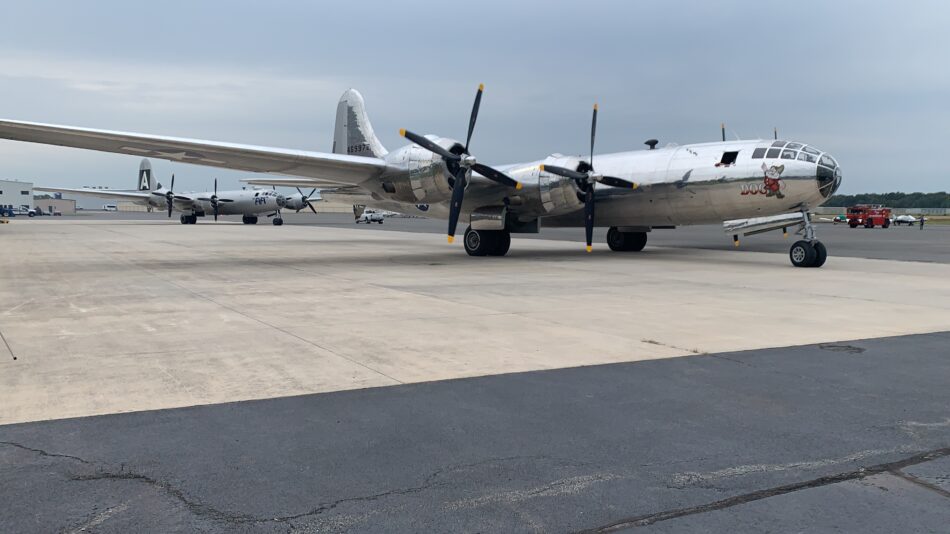 Poor weather conditions in Washington, D.C., have forced the cancelation of the 2020 Arsenal of Democracy Flyover (AOD) event.
The event to commemorate the 75th anniversary of the end of World War II was postponed on Friday due to weather conditions and was rescheduled for Saturday. Poor visibility and low clouds in northern Virginia continued Saturday morning and event planners were forced to cancel the event altogether.
"Unfortunately the weather is not going to safely allow the aircraft to fly today through Washington, D.C., airspace," the AOD Executive Committee said in a news release announcing the cancelation. "Since our authorization to fly through that restricted airspace will expire today, we won't be able to reschedule the flying portion of the program."
At 10:00 AM EDT, the AOD team will present a video tribute including the rarest WWII aircraft and interviews with veterans participating in the Arsenal of Democracy event. The video can be viewed online at www.ww2flyover.com and it will be available for replay via YouTube by clicking here. 
"While we are disappointed that the weather did not cooperate to allow us to honor the Greatest Generation and commemorate the end of World War II with the flyover, we stand together with the Arsenal of Democracy Executive Committee and support the decision to cancel the 2020 event," said Josh Wells, Doc's Friends general manager and executive director. "Despite all the planning and hard work that goes into preparing for an event of this magnitude, you can't change the weather. And the safety of our crews and the protection of the national treasures they fly must be the top priority."
The 2020 Arsenal of Democracy Flyover was originally scheduled for May to coincide with the 75th anniversary of Victory in Europe Day. Due to the COVID-19 pandemic, the event was rescheduled for September. 
"The amount of planning that was involved and coordination between the event planners and multiple organizations, along with several federal regulation and security agencies in Washington, D.C., was nothing short of spectacular. The event would have been a once-in-a-lifetime experience for the crews of the more than 60 warbirds that were scheduled to execute the flyover mission, along with the World War II veterans that were scheduled to fly in B-29 Doc during the mission. Even though we were not able to execute the flyover, we are committed to continuing the legacy of our nation's World War II heroes and the Greatest Generation by sharing their stories and to continue to fly B-29 Doc for generations to come." 
The Arsenal of Democracy Executive Committee extends thanks to presenting sponsors the Bob and Dolores Hope Foundation and Department of Defense. Additional sponsors and event planners include General Aviation Manufacturers Association (GAMA), National Air Traffic Controllers Association (NATC), International Council of Air Shows (ICAS) and Commemorative Air Force (CAF).