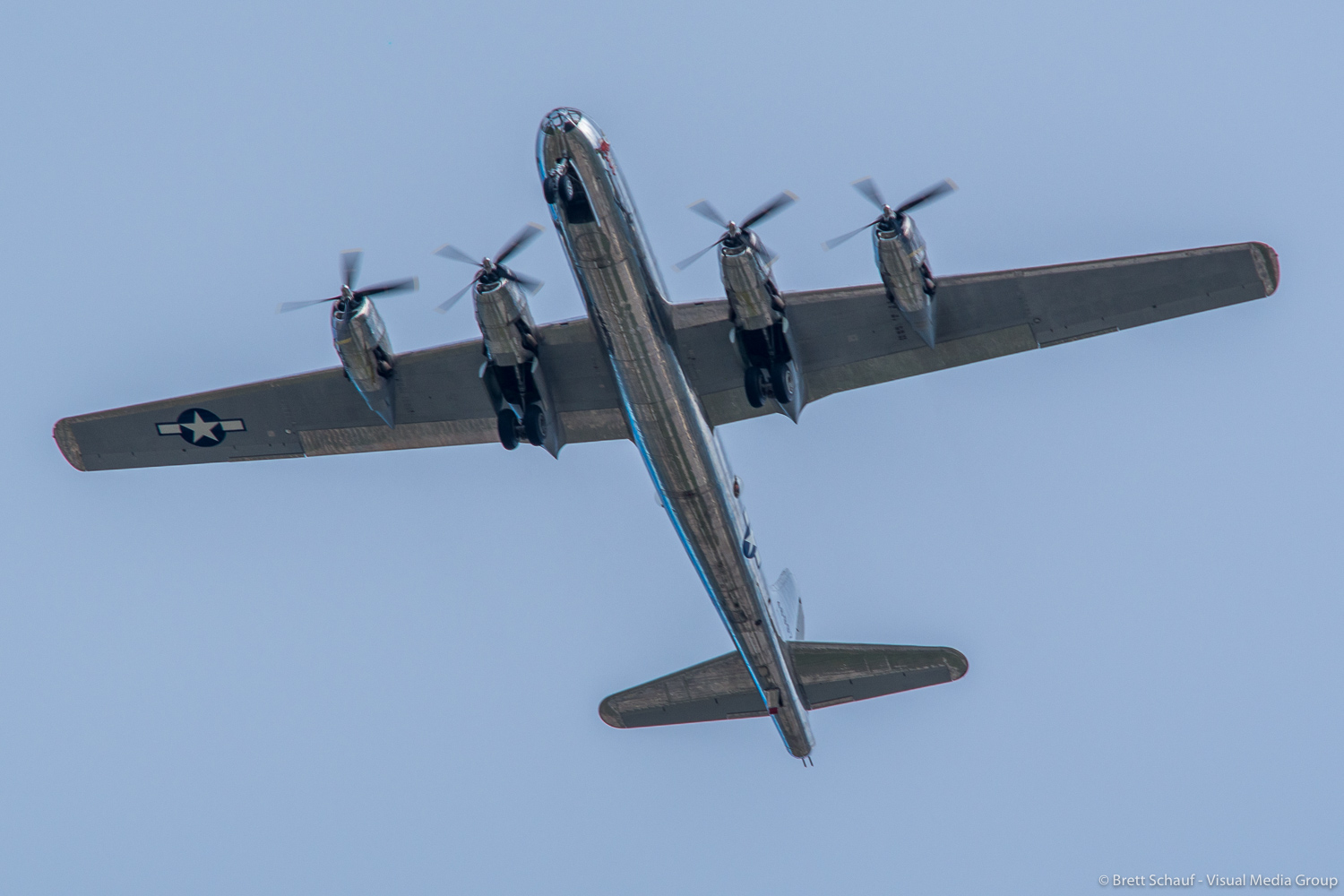 The B-29 known as Doc successfully completed its second flight since being restored to airworthy status.
Doc's second flight lasted approximately 52 minutes at an altitude of four to five thousand feet on a flight pattern east of Wichita, Kans. The historic warbird took off from McConnell Air Force Base in Wichita just after 10 a.m. Central Time and landed just before 11 a.m, Saturday, Oct. 1.
"This flight was successful and it gave us another opportunity to put some time on the airplane as we continue to make our way through the flight test campaign and meeting FAA requirements," said Jim Murphy, Doc's Friends Restoration Project Manager. "The airplane's engines and control surfaces performed as expected."
Doc was accompanied by a chase plane with spotters and a camera crew for purposes of recording the event, as well as providing a complete look at the plane in flight for the restoration and maintenance crews.
"Each time we fly we learn more about this historic warbird," said Murphy. "While the engines and all of the flight control surfaces performed as expected, we found a few minor issues that we will need to continue to fine-tune and maintain as we work through the flight test schedule.  Today we found a small issue on a landing gear motor but it was nothing major. Finding these types of fine-tuning necessities is what the flight test campaign is all about.  The flight test crew as well as our volunteer restoration and maintenance crews have done an amazing job on this project. Thanks to this team, we are getting closer to being able to fly Doc further, farther and eventually, make Doc's mission of being flying museum to honor our nation's heroes a reality."
Follow Doc's status, photos and videos on Facebook and Twitter.
[justified_image_grid flickr_user=93625693@N05 flickr_photoset=72157673411360641]