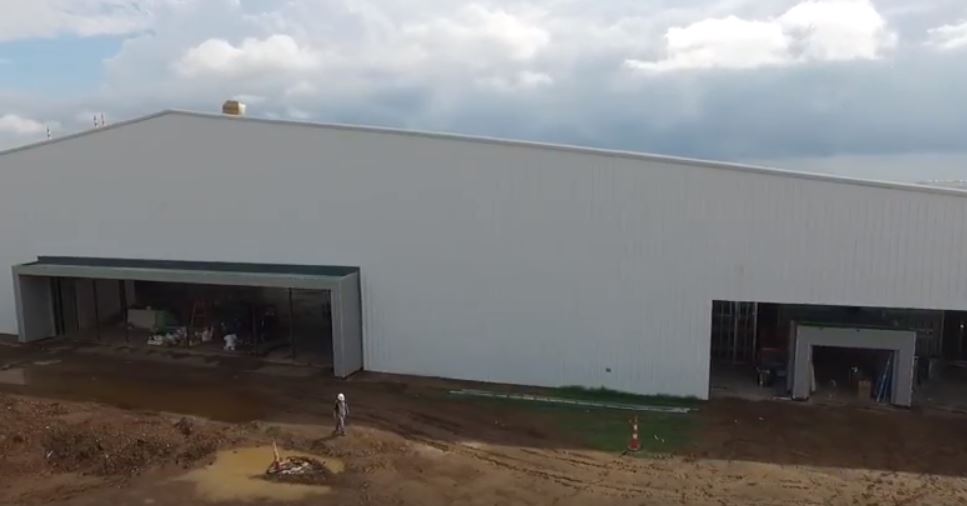 Construction is moving along as scheduled on the B-29 Doc Hangar and Education Center in Wichita, KS. The hangar door has been installed and this week, painters began to paint the ceiling and interior walls of the new maintenance hangar and education center for B-29 Doc.
The 32,000 sqft. facility is on-schedule and on-budget, and construction is scheduled to be completed by November 5.
"The Doc team is making plans to move out of the current temporary hangar and into the new facility through the month of November," said Josh Wells, Doc's Friends spokesman. "It will take a few weeks to move all of our maintenance gear into the new hangar and get it organized. After that, we plan to schedule an open house for the public to come in and see Doc's new home and observe for the first time our volunteers working on the historic warbird as they begin the scheduled winter maintenance operation."
Details on the winter maintenance schedule, as well as a public open house and grand opening, will be released in the coming weeks. The hangar will also be open to the public through the winter months, as well as throughout 2019 and beyond.
"We are working out the details on hangar hours, as well as our tour plans for 2019 with Doc right now," Wells said. "We know that the 2019 tour season will include multiple air shows, along with multiple ride flight weekends, across the country. Details on all of that will be released before the end of the year."
Meanwhile, you can still purchase a brick or granite paver to honor a loved one, or to simply say you're a part of the Doc's Friends family! Click here to learn how you can get involved today!