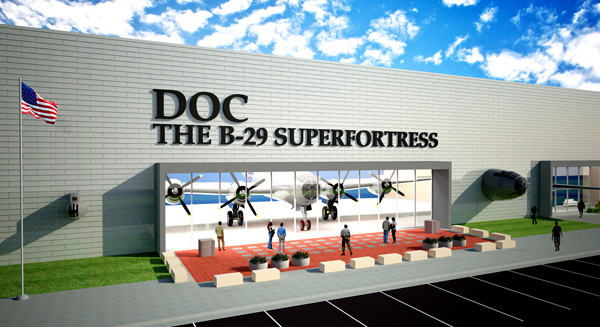 Construction remains on schedule for the  B-29 Doc Hangar and Education Center in Wichita, Kan.
Crews poured the slab foundation of the 32,000 sq.ft. facility this week, and steel for the pre-fabricated metal building will begin going up the week of May 28.  Click here or watch the video below for a time-lapse capture of the construction progress during the latest concrete pour.
Get Involved!
Meanwhile, we still need your help to carry out our mission. So far, we have raised $5.2 million for the B-29 Doc Hangar and Education Center that we are building at Eisenhower National Airport in Wichita. While we are confident we have enough money to start and finish construction on the building, we still need to raise the last $1.5 million to help us ensure the facility has the tooling, furnishings and gear to be a world-class facility to help us educate and connect future generations to the history of the B-29 Superfortress and its important role in our nation's history.
One of the most unique ways you can get involved is by purchasing a personalized brick or paver that will be installed in the front courtyard area of the B-29 Doc Hangar and Education Center. CLICK HERE to purchase your brick or paver today!