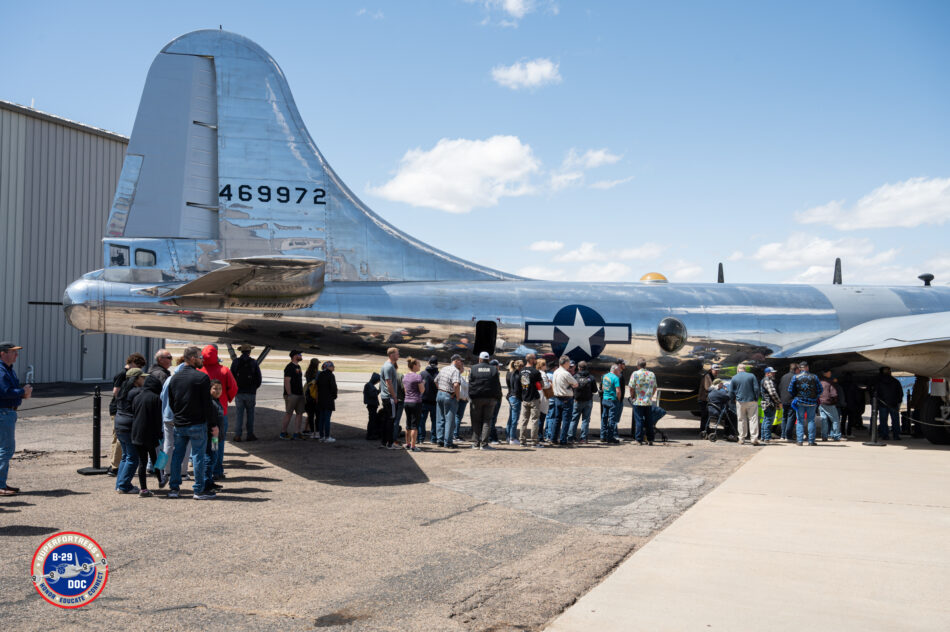 Due to cold temperatures in Amarillo, TX, Sunday morning, April 16, the B-29 Doc History Restored Tour stop schedule has been altered.
On Sunday, April 16: Ground and cockpit tours for B-29 Doc will be available from 9 a.m. to 2 p.m., with the last ground tour ticket being sold at 2 p.m. This will allow the tour line to completely cycle through the airplane prior to the scheduled ride flights at 4 p.m. and 5:30 p.m.
Both ride flights for Sunday, April 16, are SOLDOUT, but we are taking names for a waitlist for possible rides on Monday, April 17. Email experience@b29doc.com to add your name to the waitlist, or call the box office at 316-358-9894.
Meanwhile, more than 500 people greeted B-29 Doc and its crew on Saturday, April 15 at the Texas Air and Space Museum in Amarillo. In addition to ground and cockpit tours, the team hosted two B-29 Doc Flight Experience rides.