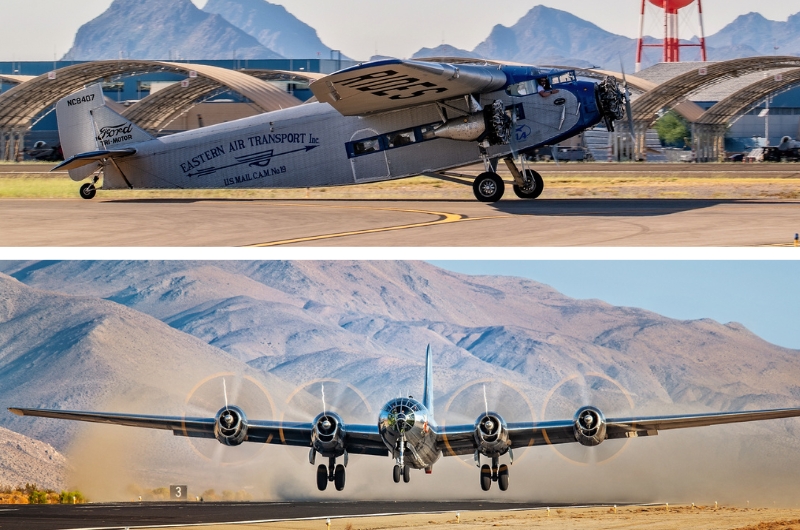 Two historic aircraft are spending the weekend in Tucson, Arizona, giving aviation and warbird enthusiasts a unique opportunity to get up close and personal with history.
B-29 Doc is one of only two B-29 Superfortress aircraft still flying today out of nearly 4,000 that were built during World War II. The EAA's Ford Tri-Motor 4-AT was known as the first luxury airliner in the 1920s. It redefined world travel and marked the beginning of commercial flight.
The EAA's Ford Tri-Motor
The Ford Tri-Motor Tour led by the EAA team will be hosted by the EAA's Chapter 81 in Tucson. Tri-Motor ride flight experiences will be available in Tucson beginning Thursday, Sept. 28 through Sunday, Oct. 1. Flights on the Tri-Motor will run continuously throughout the day (Thursday, from 2-5 p.m., Friday through Sunday, 9 a.m. to 5 p.m.). Ticket prices range from $65 to $95 and can be booked online by clicking here. The Tri-Motor will operate from the Million Air FBO, located at 1840 E Valencia Rd, Tucson, AZ 85706.
B-29 Doc
The B-29 Doc History Restored Tour is in Tucson at the same time as the EAA Ford Tri-Motor. Visitors to Doc will be able to climb inside the historic B-29 with ground and cockpit tours, as well as experience a flight on the B-29 Doc. Ground and cockpit tours for B-29 Doc are available Wednesday, Thursday and Friday, Sept. 27-29, from 10 a.m. to 4 p.m. each day. B-29 Doc Flight Experience Rides are available Saturday and Sunday, Sept. 30 and Oct. 1 at 9 a.m. and 11 a.m. both days, followed by ground and cockpit tours from 12:30 p.m. to 4 p.m. both days. The public access for B-29 Doc will be at Executive Air, located at 1951 E Airport Dr, Tucson, AZ 85756.
Tickets for B-29 Doc Flight Experience rides are available at www.b29doc.com/rides, while tickets for ground and cockpit tours for Doc can be purchased at the gate.
BOOK YOUR SEAT ON HISTORY TODAY!
Saturday, Sept. 30: 11 a.m. (SOLD OUT)
Questions for either aircraft can be directed to: