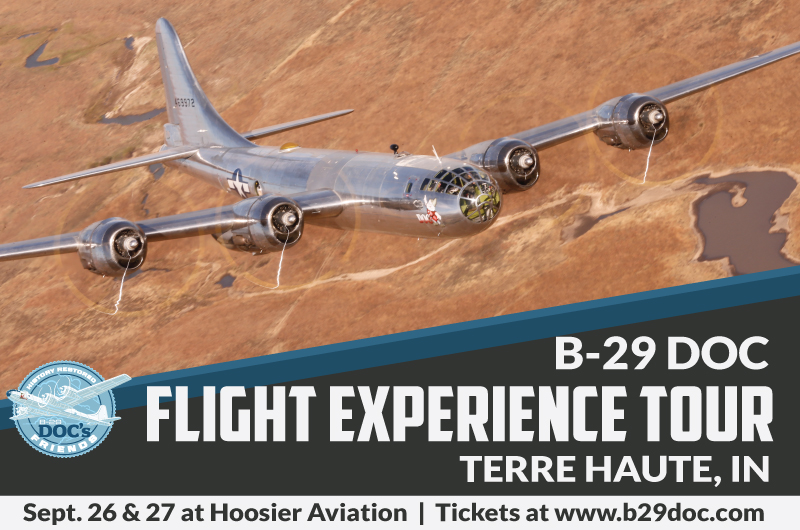 The B-29 Doc Flight Experience Tour will land in Terre Haute, IN, for B-29 Doc Flight Experience rides Sept. 26 and 27, 2020.
Doc will arrive at Terre Haute Airport Saturday, September 26, and will be available for warbird rides Saturday evening, Sept. 26 and Sunday morning, Sept 27. The tour stop in Terre Haute will be hosted by Hoosier Aviation (581 S Airport St, Terre Haute, IN 47803).
The flight schedule for the B-29 Doc Flight Experience rides will be 5 p.m. and 6:30 p.m., Sept. 26 and 9 a.m. and 11 a.m., Sept. 27. For details about the B-29 Doc Flight Experience and to purchase ride tickets, visit www.b29doc.com/rides. 
Doc's Friends, Inc., is taking all reasonable precautions to protect the B-29 Doc crew as well as passengers in the fight against the spread of COVID-19. All B-29 Doc Flight Experience passengers will be required to wear a mask (one will be provided to each passenger) during the flight. Additionally, the aircraft and all contact surfaces inside the aircraft will be sanitized/disinfected prior to each flight.
---
SHOP ONLINE!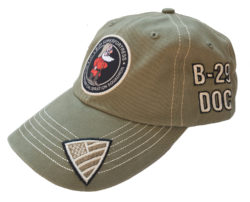 Looking for a special gift for that warbird fan in your life?  Shop the B-29 Doc online store and let our team ship your gift. Online orders are still being processed during the COVID-19 health situation. Just released: The B-29 Doc Vintage Radar Calibration Squadron Hat! B-29 Doc was a member of the 1st and 102nd Radar Calibration Squadron during its service time for the U.S. Army Air Corp and U.S. Air Force. This hat proudly displays the original squadron nose art for Doc and honors the member of the squadron. Order one today!
---
Live Stream: Inside the B-29 Doc Hangar
Keep an eye on B-29 Doc! Now you can take a live look inside the B-29 Doc Hangar, Education and Visitors Center in Wichita, KS. The camera feed below is live and shows the aircraft in the hangar. Click here to look inside! NOTE: If the hangar is empty, click here to view Doc's schedule to see where the aircraft is located.