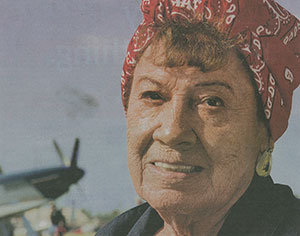 Story and photo by Frederick A. Johnsen (AirVenture Today)
Connie Palacioz began working on B-29 Superfortress bombers at Boeing in Wichita in1943, and she's still at it.
Connie, now 88, volunteered to help rebuild the B-29 nicknamed Doc when it was trucked to Wichita in 2000. Fresh out of high school in 1943, she began riveting the nose sections of the bullet-shaped Superfortresses a few weeks later. She was a quick study in a Boeing trade school, and her instructor pronounced her ready to work on the new bombers after two weeks of training.
Connie is the very emblem of Rosie the Riveter, representing women from all walks of life who toiled in defense plants to help win World War II. She recalled that when she first reported for duty in Wichita, a 30-mile bus ride from her home in Newton, Kansas, her shift was short of buckers. A bucker backs the work of a riveter on the other side of the panel being riveted, holding a steel tool carefully in place to ensure the rivet properly deforms to do its job.
Connie's supervisor said the only person available was a black woman nobody else wanted to work with; she was assigned to pick up trash in the plant. Connie said she would work with the other woman, named Jerri Wordan. "She was good. Afterwards, everyone wanted her to buck for them," Connie explained. But the team of Palacioz and Wordan remained together. Wordan sometimes made suggestions to a toolmaker on the shift so he could give her special bucking bars to reach difficult nooks in the B-29 structure.
"The war ended; We got laid off in August of 1945," Connie said. Connie got married, raised four kids in Newton, and went to beauty school in 1958, working many years thereafter as a hairdresser.
But her flair for building heavy bombers never quite left.
"When I heard they were going to restore Doc, I went and volunteered," she said. "And now we're done with all the riveting."
These days Connie is working on copying blueprints, and she figures soon she will be polishing Doc as the big bomber gets nearer to flying status. She says she has already asked to fly on the B-29 when it is ready.
And that flight could come next year, according to some of the volunteer crew working to refurbish Doc in a borrowed Wichita hangar. Jeff Turner, chairman of the non­profit group Doc's Friends, said the goal of flying Doc to Oshkosh in 2014 is in sight, but as much as $2 million more needs to be raised to make it happen.
The Doc project has been in Wichita since 2000, but only this year was it turned over to the new 501(c)(3) nonprofit foundation. That lengthy gestation may be attributed to the stewardship of project organizer and founder Tony Mazzolini, who wanted to ensure any foundation taking on Doc had the right vision. "I needed to make sure I put the aircraft into the right hands for the future," Mazzolini explained.
When refurbished, Doc will be only the second flyable B-29 in the world. Its ambitious restoration and service as a living memorial is documented on the group's website: www.B-29Doc.com.