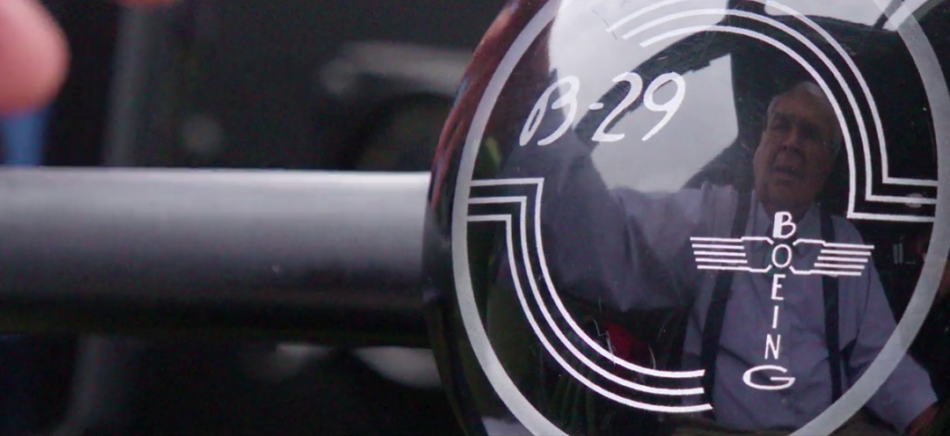 Retired U.S. Air Force pilot Lt. Col. Bob Vaucher, like all of our nation's heroes who have served and continue to serve to protect freedom, has a story. In September during the Arsenal of Democracy event in Washington, D.C., the B-29 Doc team helped Lt. Col. Vaucher relive his story and help preserve it for generations to come.
Lt. Col. Bob Vaucher was the man who took delivery for the U.S. Army Air Corp of the first B-29 Superfortress from Boeing that was built in the Wichita factory during the war. Vaucher's military career included flying 117 combat missions during his 46 months of service, and he was awarded two Distinguished Flying Crosses, among other decorations. Vaucher led the "show of force" formation of 525 B-29s that flew over the Japanese surrender ceremony aboard the USS Missouri on September 2, 1945.
On Sept. 26, Lt. Col. Vaucher was once again on board a B-29 and he shared his story as he relived his service as a B-29 commander. Click on the video player below, or click here, to watch the video with the now 101-year-old hero. (video credit: Arsenal of Democracy, ICAS, AOPA and Doc's Friends, Inc.)
Despite weather conditions that prevented the flyover event along the National Mall, there was still plenty to celebrate during the events surrounding the Arsenal of Democracy Flyover. Dozens of World War II aircraft from around the country gathered and flew during a practice mission, which was captured by video teams from AOPA, ICAS, CAF and Doc's Friends.  You can watch the "Mega Clip" that was captured and edited by the AOPA team by clicking here.
---
SHOP ONLINE!
Looking for a special gift for that warbird fan in your life?  We've added NEW merchandise to the B-29 Doc online store! Order online today and support Doc by keeping history alive with your purchase.
LOOKING FOR A GIFT THAT WILL LEAVE A LASTING IMPACT?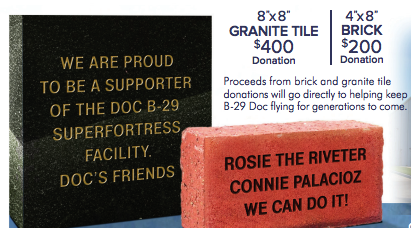 Join Doc's legacy of honor.
The Patriots Plaza at the B-29 Doc Hangar, Education & Visitors Center is the centerpiece for all who visit the facility. Purchase your brick or granite paver today as a tribute to an aviator on your shopping list and leaving a lasting message of support to those who have dedicated their lives to serve our nation to protect freedom, along with those who have volunteered to keep B-29 Doc flying.