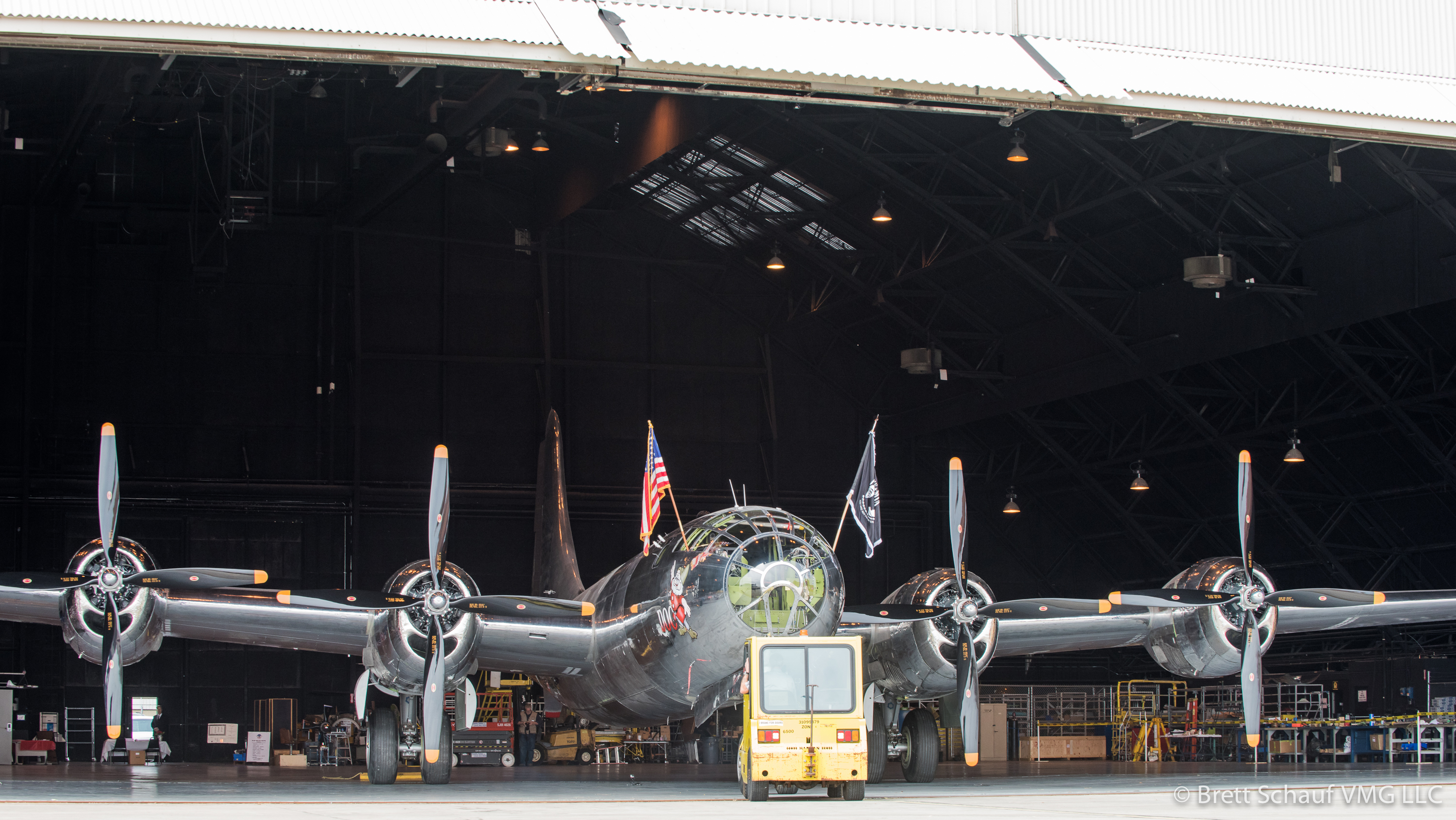 By: Doc's Friends
Seventy years ago today in 1945, a B-29, one of 1,644 manufactured in Wichita during World War II, rolled off the assembly line at Boeing and was delivered to the U.S. Army Air Forces. Today that same aircraft was rolled out and "delivered" again, in commemoration of its restoration and progress back toward flying condition. More than 200 supporters came to watch it shine as it once again rolled out in the city of its birth.
Click here for a gallery of photos from the rollout ceremony.
"Many of us, especially our dedicated volunteers, have waited a very long time to see this day because it means Doc is that much closer to being ready to fly again," said Jeff Turner, Chairman, Doc's Friends. "Doesn't the aircraft look great? Can you imagine how much better Doc will look when it's back in the air?"
On track to fly later this year, Doc will be one of only two restored B-29s in flying condition.
Spirit AeroSystems President and CEO Larry Lawson helped to reenact the original delivery of Doc to the Army Air Forces today, as he presented Colonel James Dermer, Vice Commander, 22nd Air Refueling Wing, McConnell Air Force Base with a special replica B-29 horn button. Horn buttons from the yoke of aircraft were often kept as souvenirs by pilots, crew, and mechanics following the war.
"We know you will display these replica B-29 horn buttons proudly at the base," said Lawson. "Having spent most of my career serving the needs of our nation's armed forces, it is my distinct privilege to be with you today to honor both the legacy of our veterans, and the tireless efforts of volunteers to preserve an important piece of history. Doc represents the sacrifices of 'the greatest generation,' to whom all Americans owe their freedom."
Colonel Dermer commented, "McConnell Air Force Base is very lucky to have such caring neighbors with such enthusiasm for aviation history. Our Airmen feel the support of the "Air Capital of the World" every day in the communities where we live, work and play around Wichita. Doc is in great hands!"
Part of a squadron of eight WWII era B-29s named for Snow White and the Seven Dwarfs, "Doc" was eventually decommissioned in 1956, and parked in the California Mojave desert where it served as a ballistic target on a China Lake Naval Air Warfare Center Weapons range.
That's where aviation enthusiast Tony Mazzolini found it in 1987. Restoration began in California and resumed when the plane returned to Wichita in 2000. Along with other historians, Tony knew Doc needed to be rescued.
"Even back then, there weren't many of these beauties left," said Tony Mazzolini. "Saving it from that situation in the desert was one thing, but the dream was always to restore Doc to flying condition and turn it into a flying museum to help keep the memories alive. That's why we brought it to back to Wichita, where it was first built and delivered."
Over the past 15 years, hundreds of volunteers have worked on Doc. Skilled workers and retirees from Boeing and Spirit AeroSystems, veterans, active duty military and others wanting to honor those who served, have spent tens of thousands of hours on Doc's restoration. Countless individuals and organizations also made financial and in-kind contributions to keep the project going.
When the restoration hit a long snag due to a poor economy and no available hangar space, a group of local Wichita business leaders and aviation enthusiasts formed a nonprofit organization, Doc's Friends. Doc's Friends restarted the restoration, and Boeing donated a hangar. The aircraft is now very close to being flight-worthy.
"It's good to see the progress because we are running out of time to get this done for the volunteers, many of whom have been with the project since the beginning, and are in their 80s," said Turner.
The Doc's Friends project is divided into three phases:
Complete the restoration and get Doc flying.
Secure a permanent home for the aircraft.
Operate it as a flying museum.
Doc's Friends estimates it will take $7-9 million to finish the restoration, get the aircraft flying, and secure permanent hangar space. The organization has committed to keeping the aircraft in Wichita.
You can learn more about the history of the project, see photos and videos, donate or volunteer via the Doc's Friends website: www.b-29doc.com.
###
Doc's Friends is a 501c3 non-profit board managing the restoration of the Boeing B-29 Superfortress known as Doc. The group was formed in 2013 and is led by retired Spirit AeroSystems CEO Jeff Turner along with other Wichita business leaders. Doc's Friends is committed to returning this World War II warbird to the air to honor previous generations, educate current and future generations and connect the world to the rich heritage of aviation. You can find more information about Doc's Friends at www.b-29doc.com.