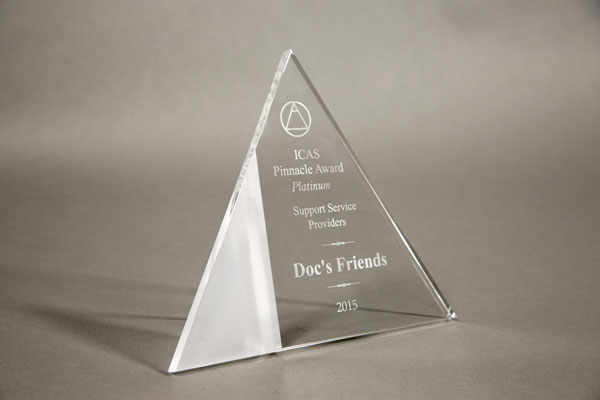 From the International Council of Air Shows website (www.airshows.aero)
The International Council of Air Shows (ICAS) presented platinum and gold Pinnacle Awards to 10 outstanding air show programs in six categories today in front of nearly 1,000 industry professionals during a special awards luncheon at its 48th annual convention.
The ICAS Pinnacle Awards program recognizes performer, support services and air show organizer programs that demonstrate ingenuity, achievement and professionalism. The award presentation seeks to make these ideas available to the greater air show community around the world to advance the industry and stimulate positive change.
Doc's Friends was a Platinum Recipient in the "Support Services Providers" category for 2015.
ICAS recognized Doc's Friends for the work in the final stage of the restoration effort. During the last two years, Doc's Friends, a Wichita-based non-profit organization, has led the final stage of the restoration effort. But additional funding was needed to finally put the aircraft back in the air. So, with the specific goal of increasing support for this program among the general public, Doc's Friends launched a Kickstarter crowdfunding campaign to raise more than $137,000 in less than a month. They supported this unique fundraising drive with an unprecedented promotional campaign that included press releases, website content, social media posts, and advertising. Within 30 days, the campaign had raised nearly $160,000 from more than a thousand different supporters, half of whom were engaging in the project for the first time.
"We began the Pinnacle Awards program in 2014 to seek out and recognize our industry's best and most innovative ideas," said John Cudahy, ICAS President and CEO. "What we saw today are ideas and programs that are useful, practical, marketable, and most of all, things that can be adopted and adapted by every performer, event organizer and support service provider to enhance their business and bring air shows and aviation to the greater communities in which they do business."
A panel of air show industry subject matter experts assessed each entry based exclusively on the information contained in the submitted entry packet. Each submission was considered on its own merit and scored individually on its purpose, innovation, feasibility, project planning and documentation, and overall execution.