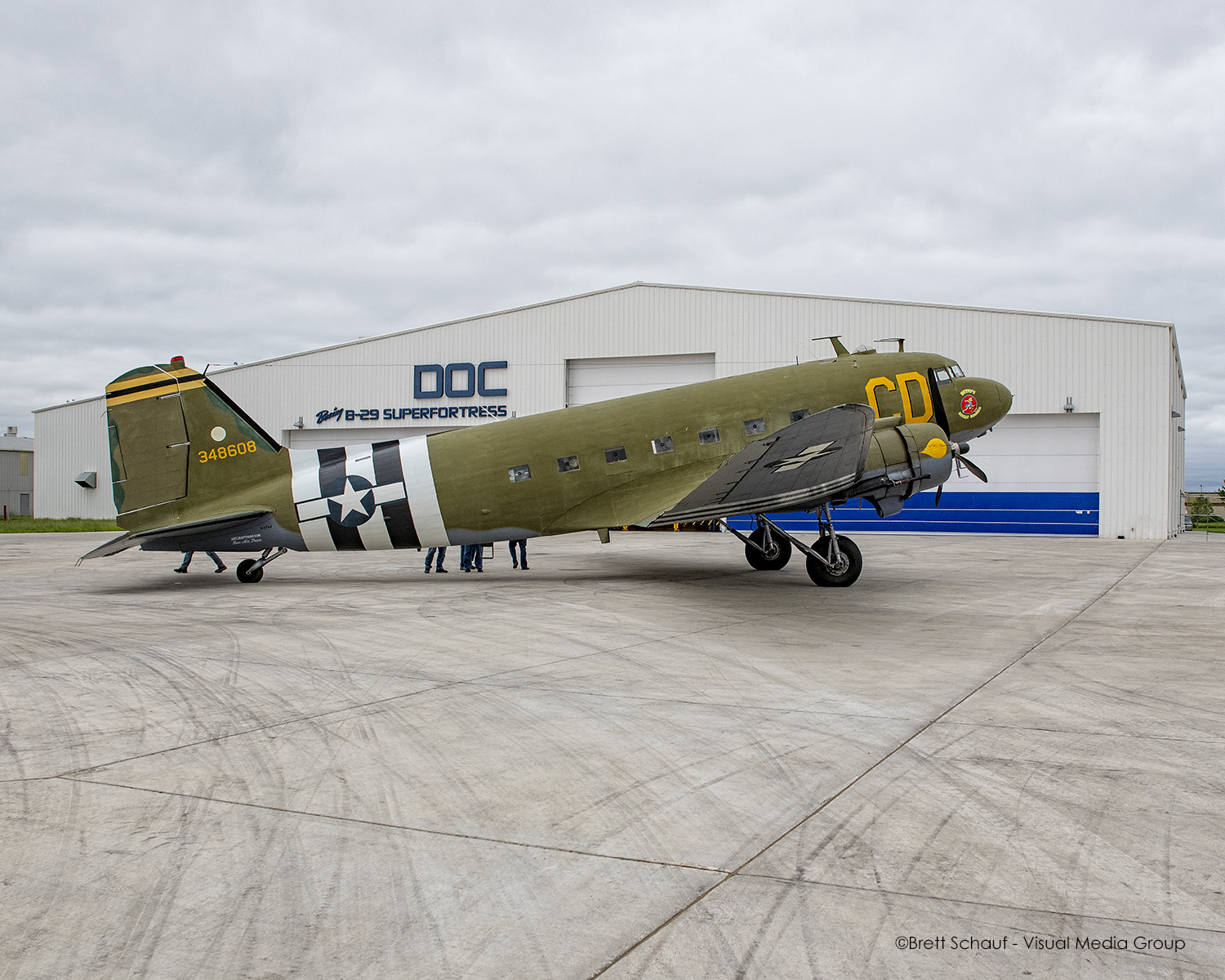 Warbird and aviation enthusiasts in Wichita will get an exclusive look at one of the restored C-47 aircraft that made the trip earlier this month to Europe to commemorate the 75th Anniversary of D-Day.
The C-47 known as "Besty's Biscuit Bomber" will make a stop at the B-29 Doc Hangar, Education and Visitors Center in Wichita on its way back from Europe Saturday, June 29 and Sunday, June 30 The open house event will feature cockpit tours of the C-47, along with cockpit tours and B-29 Flight Experiences on B-29 Doc. North American T-6 Texan rides will also be available during the two-day event.
"Having three World War II-era aircraft in Wichita at the same time is a special treat for warbird and aviation enthusiasts," said Josh Wells, Doc's Friends executive director and general manager. "Partnering with another group whose mission matches our mission of honoring the Greatest Generation, while educating future generations, is core to the overall objective of keeping warbirds like Doc and Betsy's Biscuit Bomber airworthy and flying for generations to come. It will be a unique and one-of-a-kind event that will provide up-close access to three of the most unique World War II aircraft still flying today."
Based in Paso Robles, California, Besty is one of the lowest flight time, most authentic World War II Skytrains in airworthy condition. The Douglas C-47 Skytrain operated from every continent and participated in every major battle during World War II and was utilized in numerous roles, including hauling cargo, transporting troops, dropping paratroopers and towing gliders.
Doors will open both days at 9 a.m. and close at 5 p.m. Admission will be $15 for adults and $10 for children ages 12 and under. Admission fee includes cockpit tour access to both aircraft, as well as access to the B-29 Doc Hangar, Education & Visitors Center. B-29 Doc Flight Experience tickets, as well as T-6 Texan Flight Experience tickets can be purchased online at www.b29doc.com/rides, or purchased in person the day of the event. Questions about the event can be directed to experience@b29doc.com.
About Doc's Friends
Doc's Friends is a 501c3 non-profit board managing the operation of the Boeing B-29 Superfortress known as Doc. The group was formed in 2013 and is led by retired Spirit AeroSystems CEO Jeff Turner along with other Wichita business and community leaders: Charlie Chandler, Jack Pelton, Steve Clark, Lynn Nichols, Brad Gorsuch, Ron Ryan, Tim Buchanan, Jeff Peier, Esq., Mark Paolucci, Tony Mazzolini, Jim Murphy, Sam Frey, Scott Flemming and Josh Wells.
About the B-29 Doc Hangar, Education & Visitors Center
The B-29 Doc Hangar, Education and Visitors Center provides a unique and one-of-a-kind look into aviation history. Located in Wichita, Kan., at Eisenhower National Airport, the 42,000 sq. ft. facility is an interactive experience for all ages. Open Tuesday and Thursday from 9 a.m. to 2 p.m., Saturday from 9 a.m. to 1 p.m., B-29 Doc serves as the backdrop for the public to enjoy bits of history, science, technology, engineering and mathematics that go hand-in-hand with aviation. As a real-life maintenance center, B-29 Doc volunteers will be actively working to maintain the historic warbird while visitors watch, ask questions and learn about the marvels of B-29 Doc.
About C-47 Skytrain "Betsy's Biscuit Bomber" and the Gooney Bird Group, LLC
Betsy's Biscuit Bomber is owned and operated by the Gooney Bird Group, LLC, a registered California 501c3 nonprofit organization and maintained by a team of dedicated volunteers. The aircraft calls Estrella Museum at Paso Robles Municipal Airport home. The Gooney Bird Group is an organization dedicated to preserving and maintaining airworthy historical aircraft to educate current and future generations of the engineering achievements and personal sacrifices that the service members of the United States of America have made.