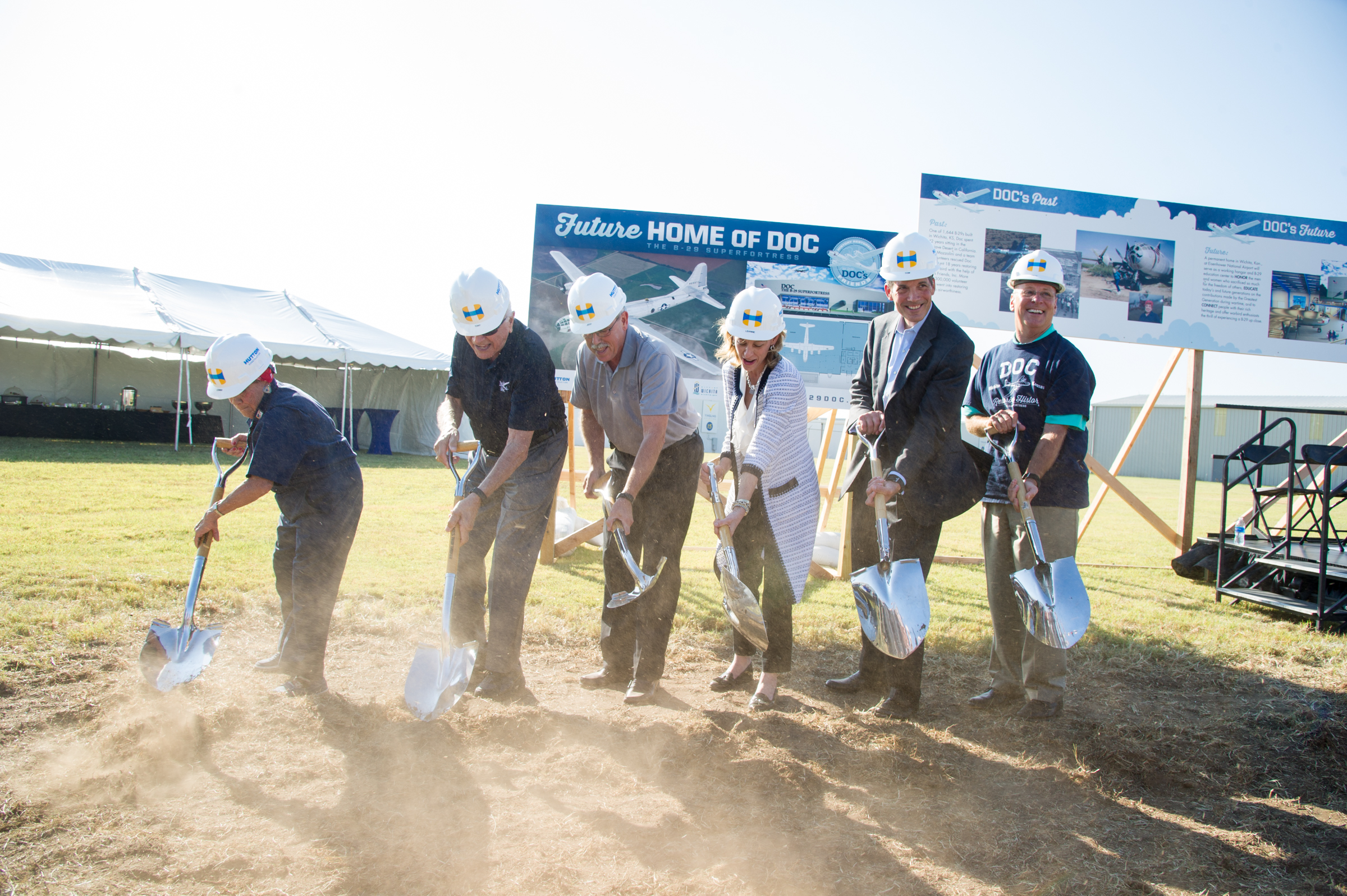 Doc's Friends, Inc. has announced a major gift from Boeing that will ensure the B-29 Doc Hangar and Education Center becomes a reality at Wichita's Eisenhower National Airport. Executives from Boeing and Spirit AeroSystems joined Doc's Friends, Inc. board members and volunteers to make the announcement, and officially break ground on the 32,000 sq. ft. facility.
"We took a big step toward reality for Doc's ultimate mission," said Jeff Turner, Doc's Friends, Inc. board chairman. "Thanks to this major contribution from Boeing, we are able to break ground on the future home of B-29 Doc. The B-29 Doc Hangar and Education Center will be the centerpiece of our mission of honoring those who designed, built, flew and maintained the B-29 Superfortress to protect our freedom. The facility will also be the foundation to educate and connect generations to come about the important role the B-29 played in our nation's history, and the technological marvel it became during its time."
The new home for Doc will be an interactive B-29 hangar and education center, giving generations to come a one-of-a-kind opportunity to enjoy and experience this prominent figure in our nation's history. Doc will act as a back drop inside the facility for the public to enjoy up-close and hands-on bits of science, technology, engineering and mathematics that go hand in hand with aviation.
"Boeing is proud to honor the past and inspire the future with our sponsorship of this permanent home for Doc," said Leanne Caret, president and CEO of Boeing's Defense, Space & Security division. "This gift not only highlights the revolutionary advances in technology that were embodied in the B-29, but also recognizes the countless individuals who designed, built and flew this magnificent machine. It's especially meaningful to celebrate that legacy here in Wichita, where Doc first rolled off the production line and where generations of Boeing employees spent their careers building some of the finest aircraft ever made. It's our hope that visitors of every age will come away with a better understanding of history as well as a greater appreciation for the opportunities that lie ahead in aerospace and beyond."
Major construction on the estimated $6.5 million project is expected to begin in October and it's estimated that construction will be mostly complete within eight to 10 months. Hutton Construction will serve as the construction management firm and Wichita architecture firm Schafer, Johnson, Cox and Frey has been working on the design of the structure over the past 18 months.
Spirit AeroSystems also announced a major gift today, totaling more than a quarter of a million dollars in a cash contribution, in addition to previous company contributions and in-kind fabrication, logistics and fundraising support. Over the life of the program Spirit's gift totals more than $1M.
"The B-29 is a part of our company's rich heritage and having the ability to ensure B-29 Doc has a permanent home in Wichita is important to Spirit and our community," said Spirit AeroSystems President and CEO Tom Gentile. "It's important for future generations to learn about Wichita's aviation history and unique place as the Air Capital of the World. Our employees—and hundreds of others who worked in Wichita's aviation industry—have spent hundreds of thousands of hours restoring this majestic warbird. Their work and dedication deserves a home and a place to be showcased."
With the gifts from Boeing and Spirit AeroSystems, and an additional commitment from the City of Wichita, Doc's Friends has more than $4.5 million in funds raised for the project. Doc's Friends board members and several local contributors have also made significant gifts toward the project. The remaining balance is expected to be raised through a public campaign before the end of the year.
About Doc's Friends
Doc's Friends is a 501c3 nonprofit board managing the operation of the Boeing B-29 Superfortress known as Doc. The group was formed in 2013 and is led by retired Spirit AeroSystems CEO Jeff Turner along with other Wichita business and community leaders: Charlie Chandler, Jack Pelton, Steve Clark, Lynn Nichols, Brad Gorsuch, Ron Ryan, Tim Buchanan, Jeff Peier, Esq., Mark Paolucci, Tony Mazzolini, Jim Murphy, Sam Frey, Scott Flemming and Josh Wells.