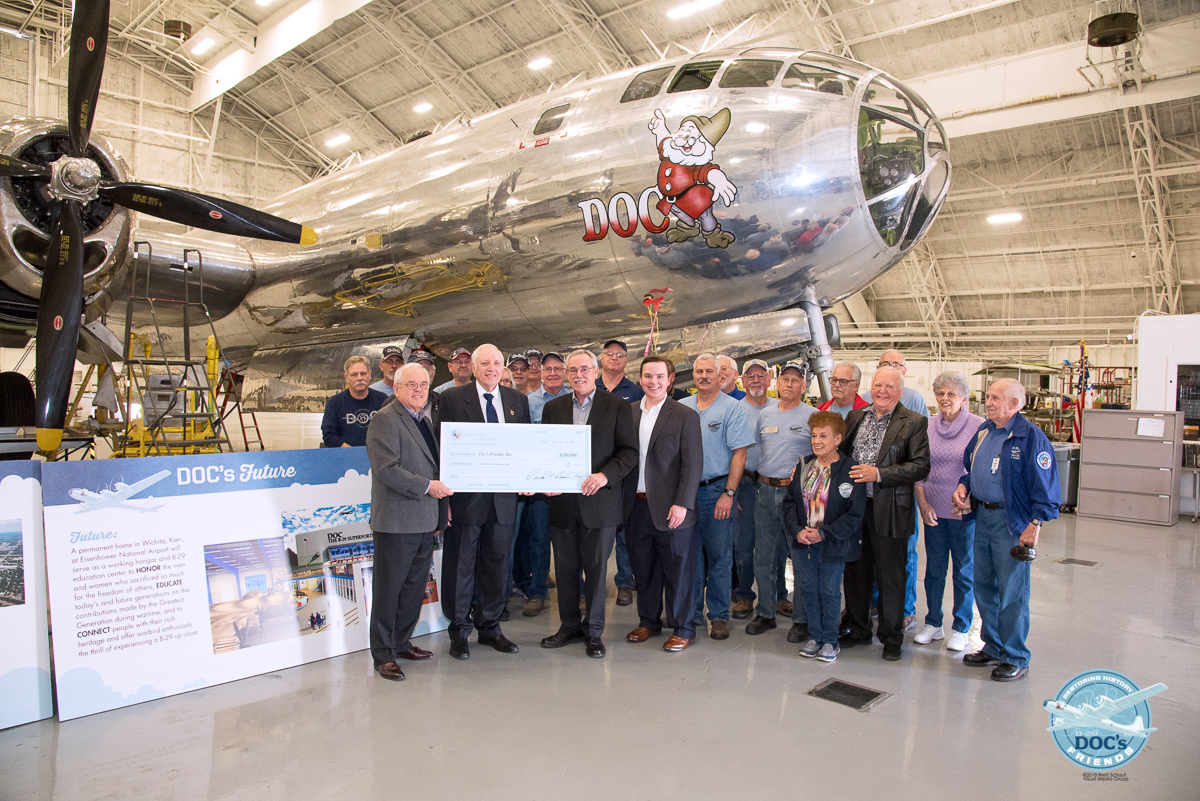 Doc's Friends, Inc. today (Feb. 28, 2018) announced a major gift from Sedgwick County to help fund the B-29 Doc Hangar and Education Center at Wichita's Eisenhower National Airport.
"Sedgwick County is proud to support a permanent home for Doc, one of only two B-29 that are flying today," said Sedgwick County Commission Chairman David Dennis. "That B-29 was built here in Wichita and the crews trained here in Kansas. It is part of this region's history and part of a bigger story that will be preserved and told to future generations."  
Sedgwick County Commissioners approved a $200,000 contribution to Doc's hangar fund and commissioners presented Doc's Friends board members and volunteers with a check at Doc's temporary hangar location in Wichita.
"Doc's mission to honor those who served our nation, educate future generations and connect people to Wichita's historic role in our nation's aviation industry is what visitors will experience when they visit the B-29 Doc Hangar and Education Center," said Doc's Friends Board Chairman Jeff Turner. "We are extremely thankful and honored that the Sedgwick County Commissioners recognize the importance of keeping Doc in Wichita where it was built and restored."
The new home for Doc will be an interactive B-29 hangar and education center, giving generations to come a one-of-a-kind opportunity to enjoy and experience this prominent figure in our nation's history. Major construction on the estimated $6.5 million project is expected to begin in early March and it's estimated that construction will be mostly complete within eight to 10 months.