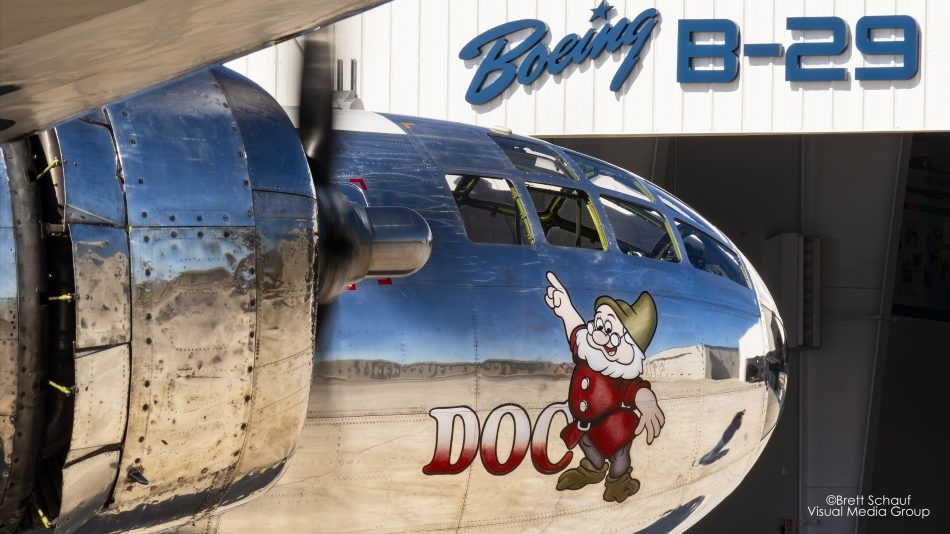 Doc's Friends has announced a partial 2019 tour schedule for B-29 Doc. The 2019 tour season will include a return trip to EAA AirVenture in Oshkosh, WI.
June 15-16, 2019:  Wings Over Whiteman, Whiteman Air Force Base, MO
July 19-21, 2019:  Heavy Bombers Weekend, Madison, WI
July 22-28, 2019: EAA AirVenture, Oshkosh, WI
Oct. 26-27, 2019: Sheppard Air Force Base Open House, Wichita Falls, TX
Additional tour stops will be announced in the coming weeks as negotiations for air shows and ride flight stops are finalized.
"This list is only one-third of our 2019 air show tour schedule," said Josh Wells, Doc's Friends general manager and executive director. "We've already specifically come to agreements with two more air shows in the midwest that we are working to announce in the coming weeks. Additionally, our team is working to plan a tour that would take the warbird west to California to visit where Doc was rescued from the Mojave Desert. In addition to the air show tour, we will add ride experience stops that will include Kansas, Missouri, Oklahoma, Texas and beyond."
Meanwhile, this past weekend at the B-29 Doc Hangar, Education and Visitors Center in Wichita, the B-29 Doc team hosted pilot and flight crew training. During the weekend training session, the crew logged more than five hours of flight time.


The first B-29 Doc Experience ride flight weekend of 2019 will be April 13 and 14 in Wichita, where all seats are currently sold out. A few tickets remain for the Doc Experience flight weekend of April 27 and 28. Details can be found at www.b29doc.com/rides.