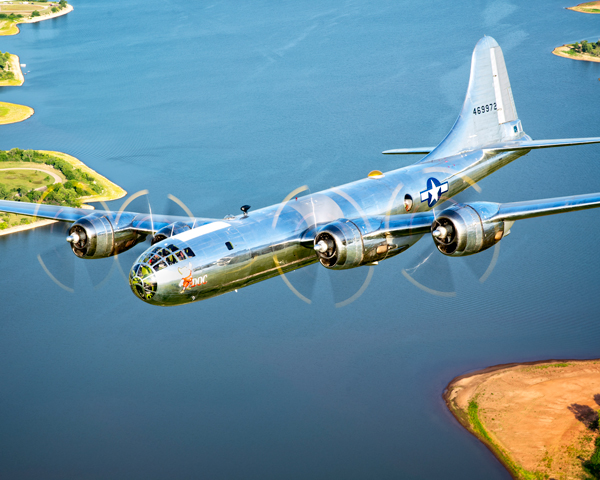 Additional ride flight opportunities have been added to the B-29 Doc flight schedule for Wichita, KS, Midland, TX, and St. Louis, MO as part of the B-29 Doc Experience under the FAA's Living History Flight Experience (LFHE) program.
"The B-29 Doc Flight Experience provides a unique perspective into what it was like for our nation's war heroes to fly in a B-29 Superfortress to protect freedom during one of our nation's greatest challenges," said Josh Wells, director, B-29 Doc's Friends. "Passengers will experience the sights and sounds of the B-29 that only a few have ever been able to experience. A ride on Doc will change your perspective on aviation and the heroes of World War II."
Each B-29 Doc Flight Experience will last approximately 90 minutes and include a 30 minute ride. Prior to takeoff, passengers will experience a crew briefing and learn more about the history of the B-29 and the role it played in U.S. history. Passengers will also get to hear and see the sights and sounds of engine starts and run-ups prior to takeoff.
Meanwhile construction continues to be on-schedule for the B-29 Doc Hangar and Education Center which is expected to be completed in mid to late October.  
→ Click here to learn how you can get involved to raise the last $1 million for the project. 
The hangar will give the public an opportunity to see first-hand what the B-29 Doc volunteers do to maintain the historic warbird. The education center portion of the hangar will include hands-on learning experiences that highlight the science, technology, engineering and mathematics (STEM) that created the world's first high-altitude, all-electric bomber. Children and students, as well as adults of all ages, will learn more about the Greatest Generation and the men and women who designed, built, flew and maintained the B-29 to protect freedom around the world.  The photos below were taken July 19, 2018
"Doc's mission is to honor those who served our nation, educate future generations and connect people to Wichita's historic role in our nation's aviation industry and freedom around the world. The B-29 Doc Hangar and Education Center will be the catalyst in connecting today's generation with the Greatest Generation. It will give all visitors, young and old, a one-of-a-kind and hands-on learning experience about the B-29 and its critical role in shaping the world we know today," Wells said.