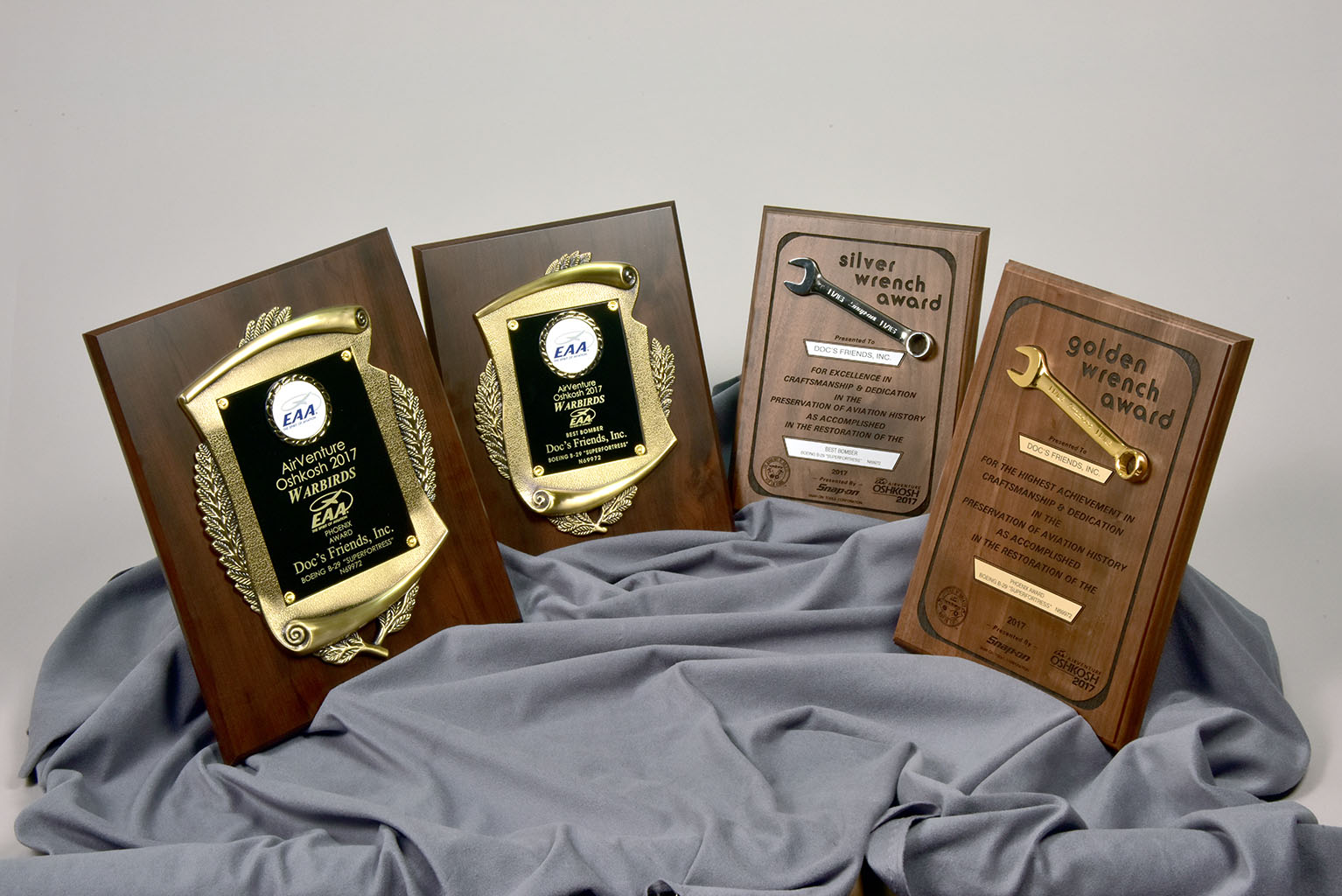 After 16 years of restoration and more than 350,000 hours of dedicated volunteer work, B-29 Doc and Doc's Friends were recognized by EAA AirVenture Oshkosh with two Lindy Awards in the warbirds category.
Each year at the air show in Oshkosh, WI, hundreds of aircraft are entered into the competition for the annual Lindy Awards. The awards named after aviator Charles Lindbergh are given to the "best of the best" aircraft at AirVenture. There are six categories: homebuilts, warbirds. vintage, ultralights, seaplanes and rotorcraft. B-29 Doc was entered in the warbirds category and judged on during the show on its looks, craftsmanship, restoration and overall maintenance.
The judges recognized Doc and the Doc's Friends volunteers with the "Best Bomber Award" and the "Phoenix Award."  The Phoenix Award is given to the recognize the "highest achievement in craftsmanship and dedication in the preservation of aviation history accomplished in restoration."
"Being recognized by the EAA at Oshkosh is humbling and celebrates the true dedication and heroism of our volunteers," said Jim Murphy, Doc's Friends Program Director. "Without our volunteers and their dedication over the past 17 years, this restoration project would have never been completed. As a team, we are honored to accept these awards and we're proud of what our team has accomplished. Doc truly is a treasure and these awards recognize all the work, support and dedication from everyone who has been involved, including those who helped Tony Mazzolini recuse Doc from the California desert."
B-29 Doc and a team of crew and volunteers spent nine days at the air show in Oshkosh. During the show, volunteers greeted thousands of visitors and warbird enthusiasts with cockpit tours, restoration stories, merchandise sales and flight demonstrations.