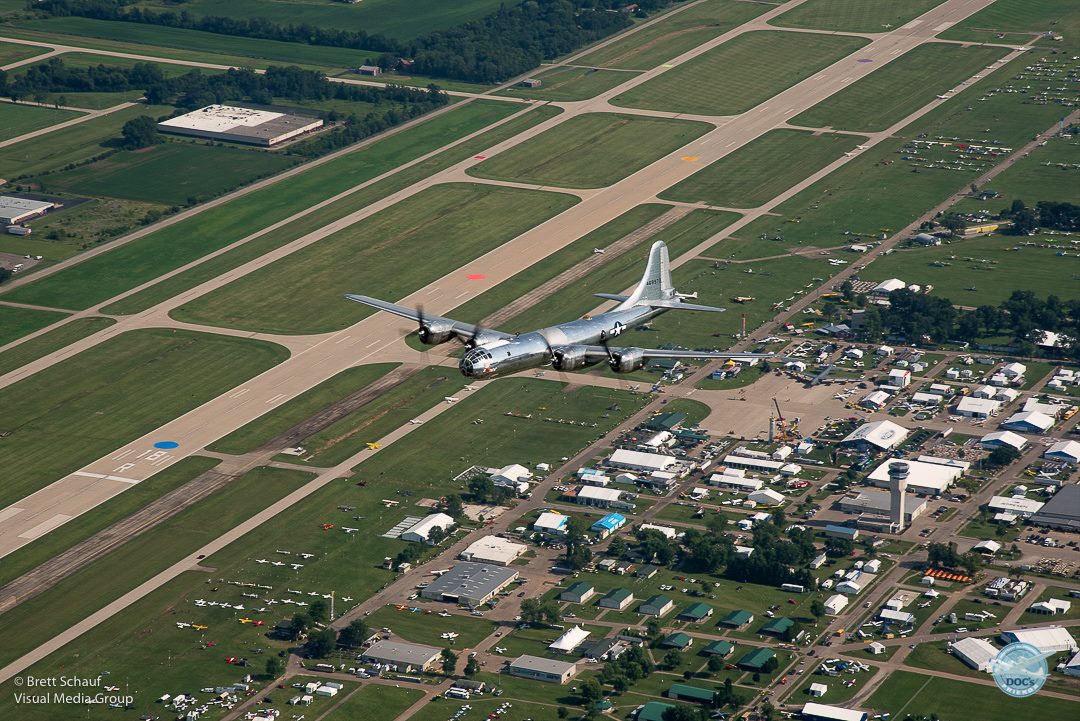 Doc's arrival at EAA AirVenture in Oshkosh, WI happened in the middle of mass arrivals but for a minute, the world's busiest airport this week seemed to stand still.
B-29 Doc made its first-ever appearance in Oshkosh Saturday, July 21, kicking off a week-long stay at AirVenture 2017.
The thousands who were sitting by their tents and campers watching the mass arrivals flocked to the sides of the runways and got close to the fences to watch as Doc landed Saturday afternoon. Even the air traffic controllers paused their chatter to watch Doc land.
The crew made multiple passes over the field at Wittman Airport before landing.
Prior to the stop at Oshkosh, Doc and its crew spent Friday, July 21 in Cedar Rapids, IA to visit employees of Rockwell Collins during an open house event. More than 1,500 Rockwell Collins employees and their families stood in line for more than two hours to see inside the restored warbird.
Last Monday, Doc's Friends revealed plans to build a 32,000 sq. ft. hangar on the grounds of Wichita's Eisenhower National Airport. Construction on the estimated $6.5 million dollar project is expected to begin in September of this year and be completed in September 2018. Doc's Friends announced during a press conference that more than $4.5 million has been raised during a silent fundraising phase.
The public can be a part of the capital fundraising campaign through a brick/paver honor campaign or via Kickstarter.