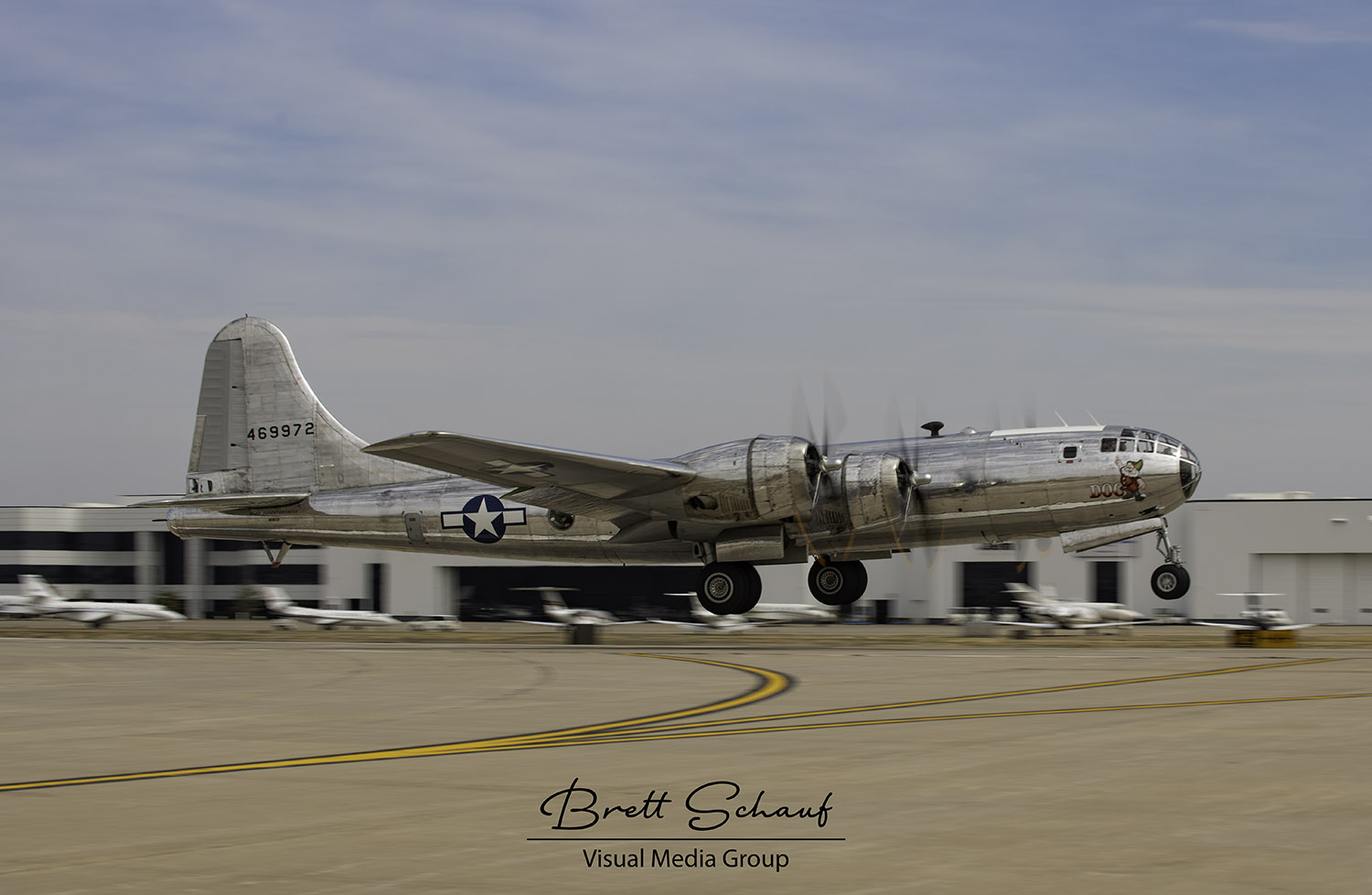 B-29 Doc is officially out of winter maintenance following the first flight for the warbird in 2019. Today's (Friday, March 22) maintenance check flight lasted about 60 minutes and the crew reported normal operation following the four-month winter maintenance program.
"Each year during the winter months, our volunteer B-29 Doc maintenance team performs yearly systems checks and routine maintenance to keep Doc is flying condition," said Josh Wells, Doc's Friends general manager and executive director. "Today's successful flight marks the beginning of our 2019 flying season."
The flight lasted about an hour and included multiple takeoffs and landings to check the warbird's systems and to train crew members.
"This year's winter maintenance included propeller inspection and overhaul, which led to additional work over the past few months," said Ken Newell, Doc's Friends chief of aircraft maintenance. "In addition to propeller work, our team spent time inspecting all of the aircraft's systems, including flight controls, landing gears and engines to ensure the aircraft is safe to operate now and well into the future."
Today's flight is not the only flying planned for the historic B-29 known as Doc this weekend. The Doc's Friends aircrew will be involved in multiple training flights over the weekend, all originating out of Doc's new home at Eisenhower National Airport. The public can visit the B-29 Doc Hangar, Education & Visitors Center Saturday, March 23 from 9 a.m. to 1 p.m. and weather permitting, will be able to view engine starts prior to the training flights.
"It's always exciting to fly Doc," said Mark Novak, Doc's Friends chief pilot. "But there's something extra special about the first flight the year. The aircraft's systems are in tip-top shape and that's a tribute to the hard-working men and women who consistently volunteer and are dedicated to keeping Doc airworthy and alive for generations to come."
Admission to visit the B-29 Doc Hangar, Education & Visitors Center is $10 per person, plus $5 for cockpit access, or $20 per family (up to five people) and an additional $10 for cockpit access.