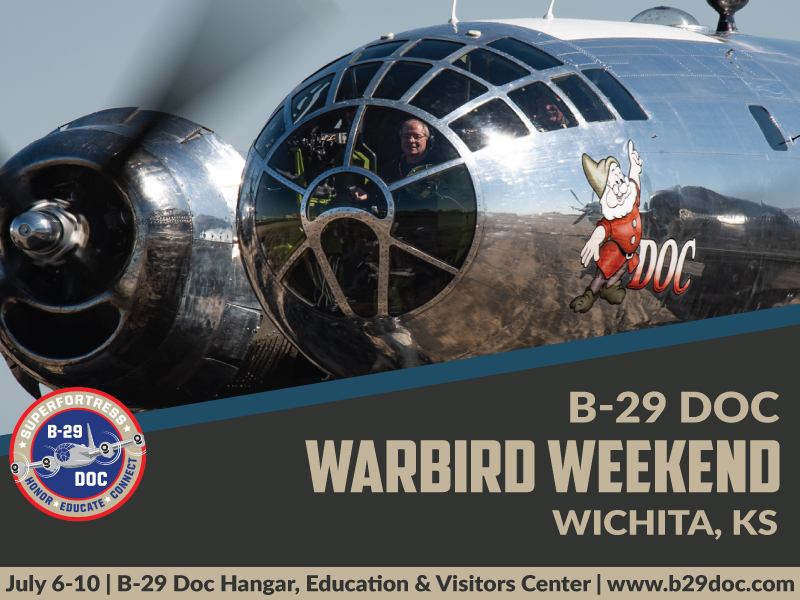 The lineup for the B-29 Doc Wichita Warbird Weekend July 6-10, 2022, at the B-29 Doc Hangar, Education and Visitors Center in Wichita has been finalized.  
The five-day event will feature nine vintage and historic warbirds and aircraft, including four airplanes that will have ride flight opportunities. It will also include a Saturday night concert in the hangar (July 9), featuring the Echos Band, that will play music from the 1980s to provide fun for all ages. A food truck and beverages will be available during the evening event on July 9. Admission throughout the week, including the evening concert event, will be $10 per person or $20 per family.
The aircraft attending the July 6-10 event will be:
Aircraft Available for Ride Flights and Static Display
B-29 Doc (Doc's Friends, Wichita, KS)

B-25 Berlin Express (EAA: Oshkosh, WI)

Stearman PT-13 (CAF Heart of America Wing: Gardner, KS)

Cessna UC-78 Bobcat (CAF Jayhawk Wing: Wichita, KS)



Aircraft Available for Static/Ground Display
Cessna L-19

North American Aviation T-6 Texan

Beech Staggerwing

Fairchild PT-26

Taylorcraft L-2
In addition to the aircraft on display and operating ride flights, the Kansas Women in Aviation Hall of Fame and Exhibit, along with the B-29 Doc Hangar, Education and Visitors Center will be available for tour.
General admission to the event at the B-29 Doc Hangar, Education and Visitor Center will be $10 per person or $20 per family and doors will be open the following dates and times for the Warbird Weekend event:
July 6, 7 & 8 (Wednesday, Thursday and Friday)
9 a.m. to 4 p.m.
July 9 (Saturday)
8 a.m. to 10 p.m. (concert begins at 7 p.m.)
July 10 (Sunday)
10 a.m. to 4 p.m.
"This is the second year for our Warbird Weekend event at the B-29 Doc Hangar, Education and Visitors Center and we are very excited about the aircraft that will be participating," said Josh Wells, B-29 Doc executive director. "The event will provide those in the Wichita area a unique opportunity to get up-close and personal with some of the most unique warbirds and airplanes still flying today. We are thrilled to partner with the EAA, and the CAF's Heart of America Wing and Jayhawk Wing, to host this event as part of our joint mission to honor the Greatest Generation and continue to share and honor the legacy of those who fight to defend our freedom."
General admission tickets for the ground and static displays, as well as the Saturday night concert, can be purchased at the door. Ride flight tickets for B-29 Doc can be purchased at www.b29doc.com/rides or by calling the box office at 316-358-9894. B-25 Berlin Express ride flight tickets are available for purchase at www.flytheb25.org or by calling 800-359-6217. Ride tickets for the PT-13 Stearman can be purchased by calling 913-209-8027, or they can be purchased the day of the event. Ride tickets for the UC-78 Bobcat can be purchased by calling 316-655-0257, or they can be purchased the day of the event.
---
About Doc's Friends and B-29 Doc
Doc's Friends, Inc., is a 501c3 non-profit board managing the operation of the Boeing B-29 Superfortress known as Doc. Doc is a B-29 Superfortress and one of 1,644 manufactured in Wichita during World War II. It is one of only two remaining B-29s that are still airworthy and flying today.  The mission of Doc's Friends is to HONOR the men and women who sacrificed so much for the freedom of others, including those who designed, built, maintained and flew the B-29 during and after WWII. CONNECT people with the rich heritage of the B-29 and allow aviation enthusiasts to experience the thrill of a B-29 up close. EDUCATE today's and future generations on the contributions of the Greatest Generation during wartime.
About EAA
The Experimental Aircraft Association (EAA) is based in Oshkosh, Wisconsin, and embodies The Spirit of Aviation through the world's most engaged community of aviation enthusiasts. EAA's 240,000 members and 900 local chapters enjoy the fun and camaraderie of sharing their passion for flying, building and restoring recreational aircraft. For more information on EAA and its programs, call 800-JOIN-EAA (800-564-6322) or go to www.eaa.org. For continual news updates, connect with www.twitter.com/EAA. 
About B-25 Berlin Express
EAA's B-25 Mitchell bomber represents the hundreds of these medium bombs used by the Allies during World War II in campaigns around the world. Its restoration was completed in 2019 and it is now painted in the markings of the Berlin Express, the airplane it portrayed in the movie Catch-22. More information is available at FlyTheB25.org. 
About Commemorative Air Force (CAF)
The CAF was founded to acquire, restore, and preserve in flying condition a complete collection of combat aircraft flown by all military services of the United States, as well as selected aircraft of other nations, for the education and enjoyment of present and future generations of Americans. More than just a collection of airworthy warplanes from the past, the CAF's fleet of historic aircraft, known as the CAF Ghost Squadron, recreate, remind, and reinforce the lessons learned from the defining moments in American military aviation history.