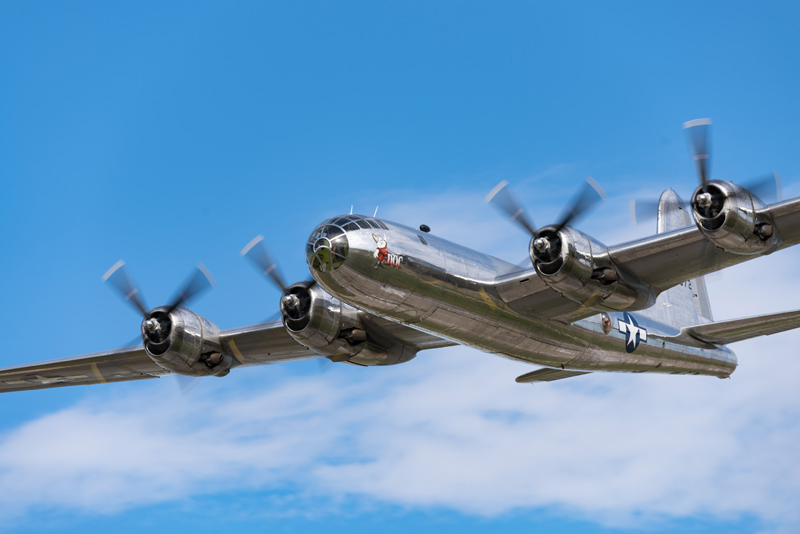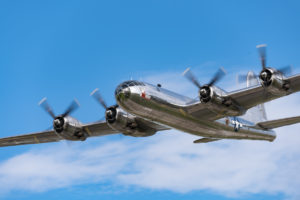 B-29 Doc will kickoff the Riverfest 2017 Safelite AutoGlass Sundown Parade Friday, June 2, Doc's Friends, Inc. and Wichita Festivals, Inc. announced today. The restored B-29 warbird will flyover the parade route at 6:30 p.m. to start the parade in downtown Wichita.
"Throughout the past 17 years, hundreds of Wichita volunteers have spent hundreds of thousands of hours restoring Doc and we are honored to recognize their effort and celebrate the start of Riverfest 2017 with Doc's hometown community,"  said Jim Murphy, Doc's Friends, Inc. program manager. "Seeing and hearing Doc roar over downtown Wichita will be something truly unique and special for festival goers."
Doc's flight path will be from north to south over the parade route, with a secondary pass if time and weather conditions allow. Additionally, the flyover is dependent upon weather conditions and the flight schedule could change with little notice.
On Saturday, June 3, Doc's Friends, Inc., along with Spirit AeroSystems, will host a public open house in Wichita from 10 a.m. to 4 p.m. The event  will give the public an up-close and first-hand look at the historic warbird. The admission fee includes a cockpit tour and lunch on a first-come, first served basis. The family-friendly event will include live entertainment, opportunities to meet with volunteers and wartime heroes and activities for children. All proceeds from the open house entry fee will benefit Doc's hangar fundraising effort.
Admission prices for the public event June 3 are as follows:
Ages 12+: $20
Children, Ages 5-11: $10
Children, Under 5: Free
Seniors, Age 65+: $10
Military ID: $10
The event will be held in the Northwest Hangar on the Air Capital Flight Line property at 3800 S. Oliver. Parking will be available along Oliver in the marked parking lots adjacent to Spirit AeroSystems. A parking map and event detail will be released on the Doc's Friends website prior to the event.
More information about Doc's 2017 tour schedule is available online at www.b-29.com/events.