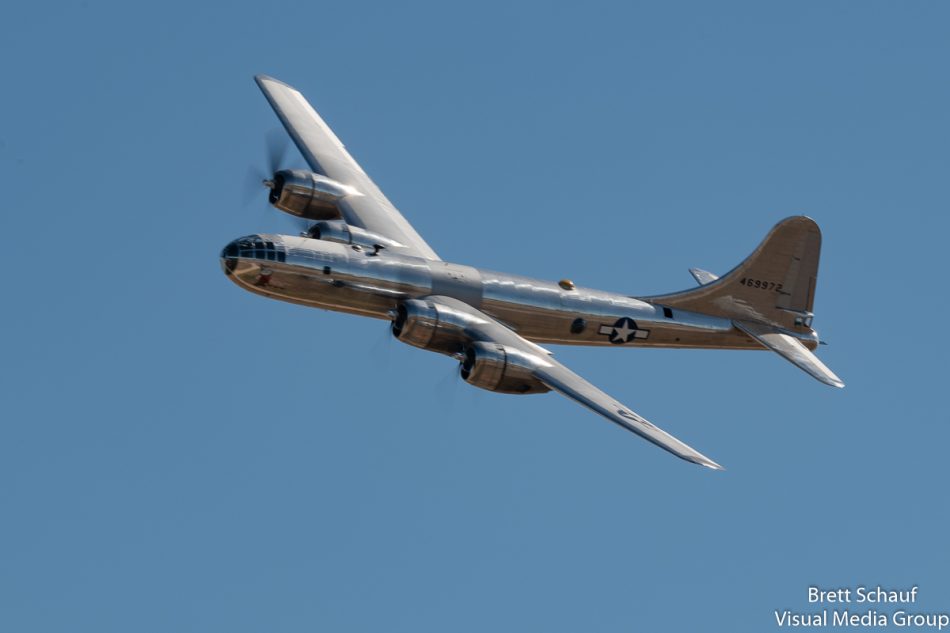 B-29 Doc will be part of a four aircraft flyover event to salute hospital workers and medical personnel, as well as first responders and communities fighting the battle against COVID-19, Wednesday, May 6. 
Team McConnell (McConnell Air Force Base, Wichita) will lead the flyover with two KC-135 Stratotankers, followed by a KC-46 Pegasus tanker and then B-29 Doc. The flight path will bring the aircraft over Wichita, Derby, Newton, Andover, Garden Plain, Haysville and El Dorado, including 11 local hospitals. The flyover will last approximately one hour, beginning in Newton at around 10:20 a.m., following the route outlined on the map below.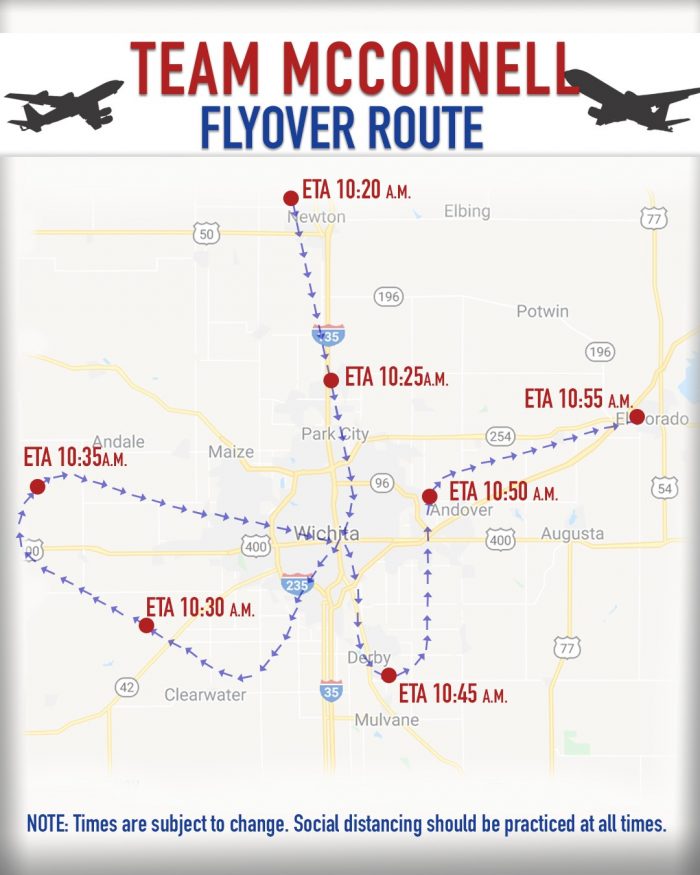 "Team McConnell takes great pride in being part of this community," said Col. Richard Tanner, 22nd Air Refueling Wing commander. "We are thrilled to have the opportunity to show our appreciation and solidarity to the thousands of heroes who are working tirelessly to battle COVID-19."
The flyover salute is a total force effort between the 22nd ARW, the Air Force Reserve 931st Air Refueling Wing and the Kansas Air National Guard 184th Wing, all located on McConnell Air Force Base.
The flight also symbolizes more than 70 years of aviation in the air capital of the world, featuring the Air Force's newest tanker and the World War II heavy bomber.
"We are humbled and honored to join our nation's warfighters at McConnell Air Force Base and be a part of Operation American Strong to salute those who have been battling the virus on the front lines, as well as to recognize those essential workers who have been keeping the grocery store shelves stocked, making deliveries and keeping our communities going during the pandemic," said Josh Wells, Doc's Friends, Inc., executive director and general manager.
In an official press release, McConnell Air Force Base leadership says the Air Force has extensively planned and implemented measures to ensure the force and individual units remain ready to carry out their respective missions. Air Force flyovers are conducted at no additional cost to the taxpayer and serve as training for pilots.
Meanwhile, the B-29 Doc team is making plans for the reopening of the B-29 Doc Hangar, Education and Visitors Center to the public as part of Phase II of the Kansas Reopening Plan. More information about the reopening date for Doc's home in Wichita will be released in the coming days, but it will not reopen until it is safe to do so following the advice and planning from local and state health officials in Wichita, Kansas. The reopening will include increased social distancing measures, along with increased sanitizing practices throughout the facility and inside the aircraft to protect Doc's volunteers and maintainers, as well as the public.
"The safe operation of our organization, as well as the health of our visitors to the B-29 Doc Hangar, Education and Visitors Center is a top priority as we look at reopening to the public in Wichita," Wells said. "We will take a slow and cautious approach to reopen. Additionally, we are taking a look at our 2020 airshow and tour schedule in the wake of several airshows being canceled or postponed due to COVID-19 and restrictions on public gatherings. More information on possible schedule updates, including B-29 Doc Flight Experience rides, will be released soon."
The B-29 Doc Hangar, Education and Visitors Center has been closed since early March when the COVID-19 pandemic began. Since then, nine events and tour stops on Doc's 2020 schedule have been canceled or rescheduled.
SHOP ONLINE!
Looking for a special gift for that warbird fan in your life?  Shop the B-29 Doc online store and let our team ship your gift. Online orders are still being processed during the COVID-19 health situation.
LOOKING FOR A GIFT THAT WILL LEAVE A LASTING IMPACT?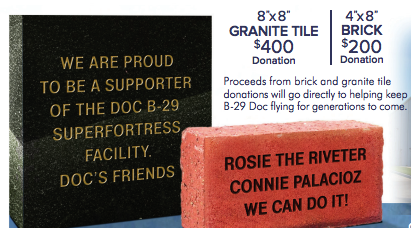 Join Doc's legacy of honor.
The Patriots Plaza at the B-29 Doc Hangar, Education & Visitors Center is the centerpiece for all who visit the facility. Purchase your brick or granite paver today as a tribute to an aviator on your shopping list and leaving a lasting message of support to those who have dedicated their lives to serve our nation to protect freedom, along with those who have volunteered to keep B-29 Doc flying.
→ Click here to order your brick or paver today!