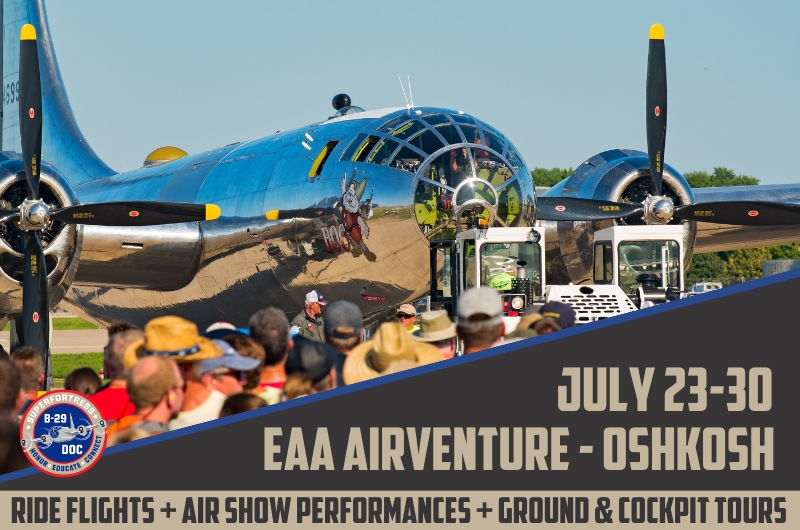 B-29 Doc will make a return trip to EAA AirVenture in Oshkosh, WI, this summer as a featured performer and static display aircraft on Boeing Plaza.
Doc, one of only two remaining B-29 Superfortress aircraft in the world that is still airworthy and flying, will also participate with the EAA in providing aircraft rides in Appleton alongside the EAA's B-25 Berlin Express during the week.
"Our thanks to the Doc team for creating these added flight experiences during AirVenture week," said Sean Elliott, EAA's vice president of advocacy and safety. "Bringing together the opportunity to fly aboard one of only two airworthy B-29s left in the world while at Oshkosh will be an unforgettable moment for everyone. AirVenture attendees are in for a treat as well, as they will see this magnificent aircraft over their heads more than ever before!"
B-29 Doc will operate its B-29 Doc Flight Experience rides July 24-27 in Appleton, WI, and will perform in the AirVenture air show through the week before arriving on the show grounds Thursday evening, July 27, to be on static display for ground and cockpit tours Friday through Sunday, July 28-30. Ride flight tickets and merchandise for Doc will be available for purchase at the Bomber Shack in Warbird Alley at AirVenture beginning Monday, July 27.
NEW THIS YEAR: B-29 Doc ride passengers will have access to the EAA ride flight shuttle, which will depart from the EAA showgrounds and transport ride passengers to and from Appleton International Airport!
"Our mission with B-29 Doc is to honor the Greatest Generation and those who designed, built, flew and maintained warbirds to protect freedom at home and abroad–while at the same time–ensuring the legacies of these heroes are not forgotten," said Josh Wells, B-29 Doc executive director. "We are humbled once again to be a part of EAA AirVenture and to be able to join other performers and attendees to share in the greater mission of inspiring future generations of aviators. In addition, working with the EAA team this year to provide B-29 Doc Flight Experience ride passengers with ground transportation to and from the AirVenture show grounds will allow even more access to the unique experience of getting up close and personal with these historic warbirds."
B-29 Doc Flight Experience tickets are on sale now for the week of EAA AirVenture. Information about rides and flight ticket information can be found here: www.b29doc.com/rides.
Information about EAA AirVenture and the 2023 event can be found here: www.eaa.org/airventure
Event Details for the B-29 Doc History Restored Tour at EAA AirVenture 2023
B-29 Doc will arrive at Appleton International Airport Sunday, July 23, and will host B-29 Doc Flight Experience Rides Monday, July 24 through Thursday, July 27. The flight path for the Doc ride flights will be over the EAA AirVenture showgrounds (as air traffic allows). Doc will arrive at Whitman Field on the EAA show grounds Thursday evening (July 27) and will be featured on Boeing Plaza Friday, Saturday and Sunday, July 28-30, for static ground and cockpit tours. For details about B-29 Doc Flight Experience Rides, visit www.b29doc.com/rides.
---
About Doc's Friends and B-29 Doc
Doc's Friends, Inc., is a 501c3 non-profit board managing the operation of the Boeing B-29 Superfortress known as Doc. Doc is a B-29 Superfortress and one of 1,644 manufactured in Wichita during World War II. It is one of only two remaining B-29s that are still airworthy and flying today.  The mission of Doc's Friends is to HONOR the men and women who sacrificed so much for the freedom of others, including those who designed, built, maintained and flew the B-29 during and after WWII. CONNECT people with the rich heritage of the B-29 and allow aviation enthusiasts to experience the thrill of a B-29 up close. EDUCATE today's and future generations on the contributions of the Greatest Generation during wartime.
About the B-29 Doc History Restored Tour and B-29 Doc Flight Experience
Each year, B-29 Doc travels to cities across the United States to allow aviation enthusiasts a chance to B-29 Doc up close and personal. Doc's annual tour mission includes an average of 100 flight hours, beginning in early April and spanning through the summer until late October. Tour stops include ground and flight deck tours, as well as B-29 Doc Flight Experiences. The B-29 Doc Flight Experience will last approximately 90 minutes and includes a 30-minute ride. Prior to takeoff, passengers will experience a crew briefing and learn more about the history of the B-29 and the role it played in U.S. history. Passengers will also get to hear and see the sights and sounds of engine starts and run-ups prior to takeoff.
About EAA AirVenture
For 51 weeks a year, EAA is an international community of more than 240,000 members that nurtures the spirit of flight through a worldwide network of chapters, outreach programs, and other events. But for one week each summer, EAA members and aviation enthusiasts totaling more than 500,000 from 80 countries attend EAA AirVenture at Wittman Regional Airport in Oshkosh, Wisconsin, where they rekindle friendships and celebrate the past, present, and future in the world of flight. The World's Greatest Aviation Celebration® has it all when it comes to aircraft. Warbirds. Vintage. Homebuilts. Ultralights. Some you would normally find in a hangar at your local airport, others so unique they are the only one of their kind. You name it, there's likely an example of it at Oshkosh.
About EAA
The Experimental Aircraft Association (EAA) is based in Oshkosh, Wisconsin, and embodies The Spirit of Aviation through the world's most engaged community of aviation enthusiasts. EAA's 240,000 members and 900 local chapters enjoy the fun and camaraderie of sharing their passion for flying, building and restoring recreational aircraft. For more information on EAA and its programs, call 800-JOIN-EAA (800-564-6322) or go to www.eaa.org. For continual news updates, connect with www.twitter.com/EAA.