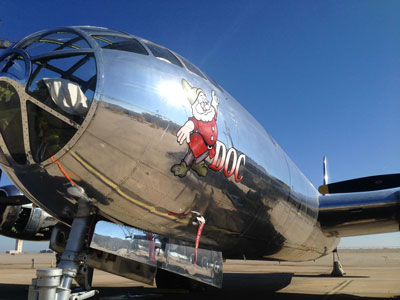 B-29 Doc remains on schedule for first flight Sunday, July 17. The restored Boeing B-29 Superfortress will take off and land from the non-joint-use runway at McConnell Air Force Base, adjacent to where the restoration team has spent the last 16 years restoring the warbird.
The final decision to fly on Sunday is dependent upon weather conditions, including wind and ceiling, along with assurance from the flight crew and ground crew regarding the performance of the B-29 during final ground testing.
"Getting the plane safely in the air and then back on the ground again is our top priority," said Jim Murphy, Doc's Friends Restoration Program Manager. "While we do not see now, or expect any issues with the plane in the coming days, we will remain vigilant in checking systems and conditions up to the minute we plan to takeoff. If everything goes as planned, Sunday will be a spectacular day for the volunteers who have worked hundreds of thousands of hours to restore this plane."
Doc's flight and ground crews expect to have wheels up at 8:30 a.m. CDT.  The flight can be viewed by the public from locations along 47th Street South near Oliver in Wichita, including parking lots on the southwest corner of 47th Street South and Oliver. A live webcast will also be available at www.b-29doc.com/firstflight.
Due to security restrictions at the active air force base, as well as security access at Doc's home at Air Capital Flight Line, runway and ramp access to the public will not be granted.
Flight plans could change with little or no notice. The public is encouraged to subscribe online at https://www.b29doc.com/signup/ to receive information regarding any schedule changes for first flight. Information about scheduling and flight data will also be provided on the B-29 Doc social media channels.