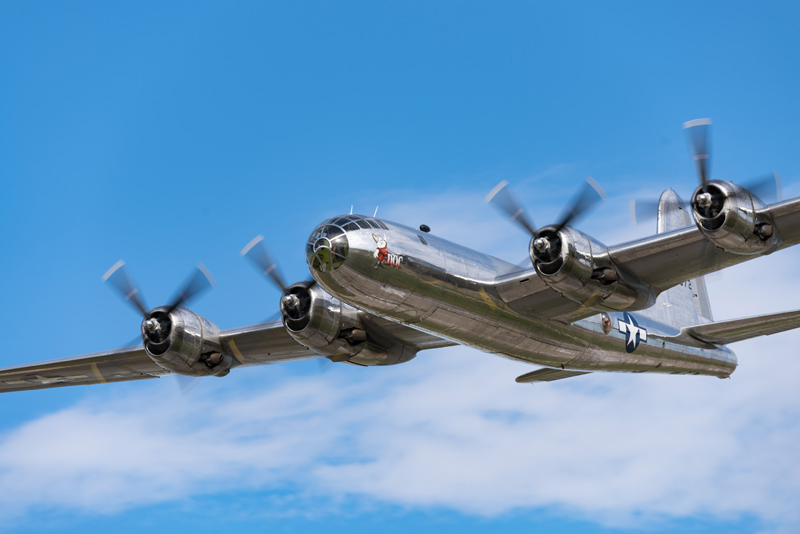 B-29 Doc logged a successful maintenance flight today, clearing the way for the restored warbird's first air show stop this weekend for the Defender's of Liberty Air Show at Barksdale Air Force Base in Louisiana.
"The airplane performed perfectly," said Jim Murphy, Doc's Friends Program Director. "Our flight today was significant because it was the last step of our winter maintenance program that has been delayed by weather for the past month. We were able to confirm what we've know for several weeks: Doc is ready to kickoff the 2017 tour schedule."
The crew reported the airplane operated as expected with no concerns during flight operations Thursday. On Friday, Doc will make its way to Barksdale Air Force Base, a significant and monumental return to the base where Doc was first commissioned after being delivered to the U.S. Army Air Corp more than 70 years ago.
"Returning to Barksdale for this weekend's air show will be memorable and full of emotion," Murphy continued. "It's the first travel milestone of our mission of operating Doc as a flying museum to honor the men and women who built, maintained and flew these majestic warbirds to protect our nation. Hundreds of volunteers have poured their heart and soul into this airplane since it was pulled from the desert nearly 20 years ago. This weekend's mission to Barksdale celebrates their hard work and dedication."
Doc will participate in multiple air show formation and demonstration flights during the show in Louisiana before returning to Wichita on Sunday.
More information will be released to the public via the Doc's website at www.b-29doc.com as well as Doc's social media channels during and following the show.