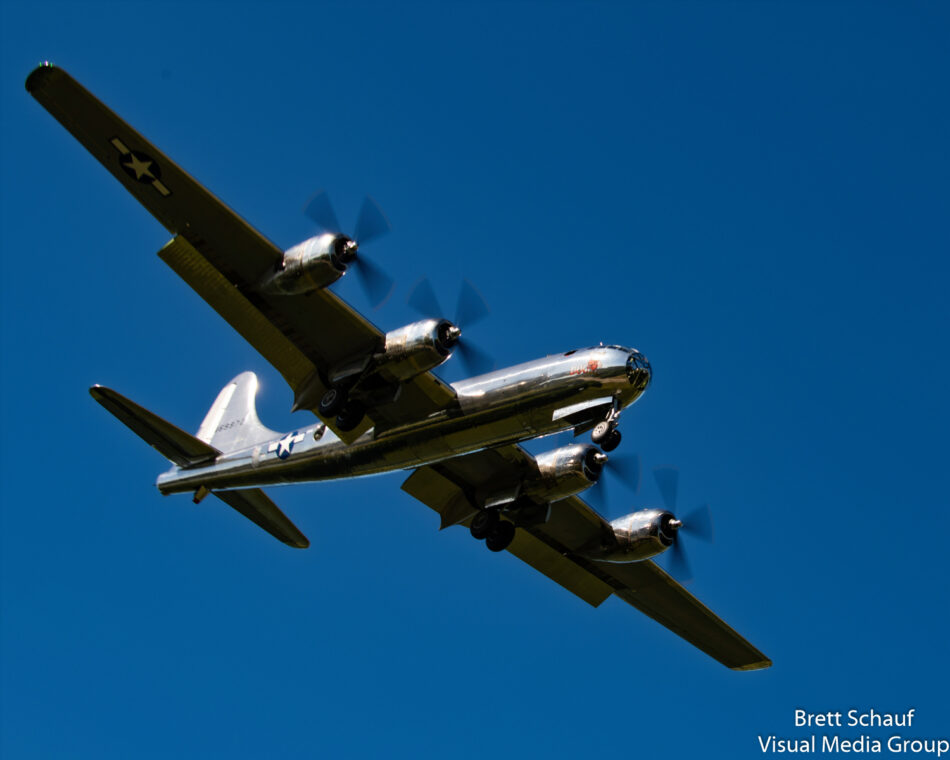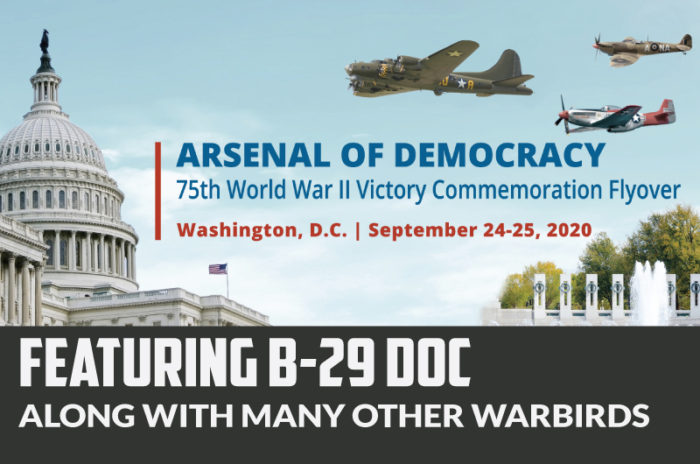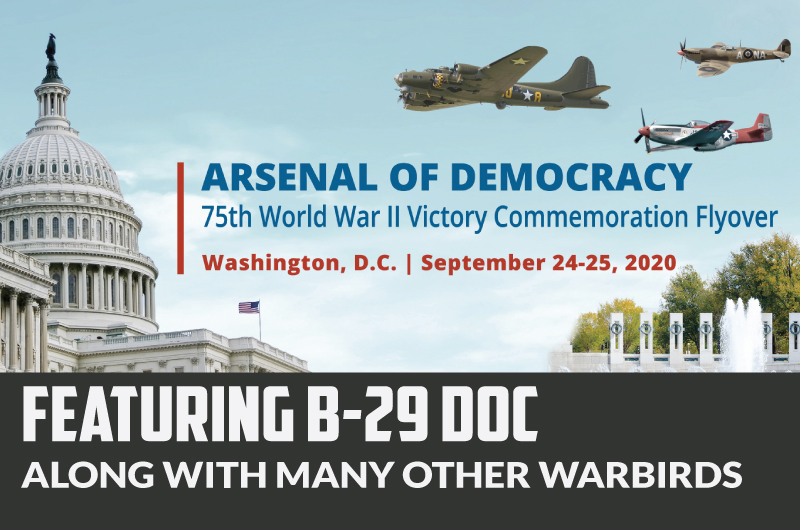 The flyover event commemorating the 75th anniversary to the end of World War II that was originally scheduled for May will happen this week in Washington, D.C.
On Friday, Sept. 25, approximately 70 World War II aircraft will fly down the Potomac River across the National Mall in a historic sequence representing the significant battles of World War II. The aircraft will be over the National Mall at approximately 11:30 AM EST, and the entire flyover will last approximately one hour.
B-29 Doc will be part of the "Onward to Victory" and "Final Act" formation with B-29 FIFI to commemorate the final offensive in the Pacific Theater of the war. The formation flyover with both Doc and FIFI will be only the third time the only two remaining B-29s that are airworthy have flown together. Previously, Doc and FIFI flew in formation at EAA AirVenture Oshkosh in 2017 and again in Great Bend, KS, in 2018.
WATCH LIVE
The event can be watched live via the web stream player below or by clicking here: https://ww2flyover.org/live/ The aerial tribute live stream will include special programming, including interviews with veterans and heroes, starting at 10:00 AM ET. Live coverage of the first formation approaching the National Mall with detailed narration will start at approximately 11:30 AM ET.
SHOP ONLINE!
Looking for a special gift for that warbird fan in your life?  Shop the B-29 Doc online store and let our team ship your gift. Online orders are still being processed during the COVID-19 health situation.
LOOKING FOR A GIFT THAT WILL LEAVE A LASTING IMPACT?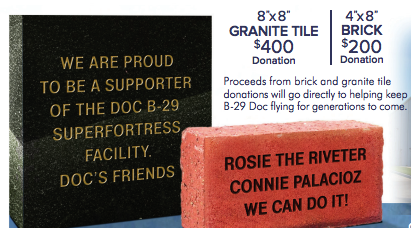 Join Doc's legacy of honor.
The Patriots Plaza at the B-29 Doc Hangar, Education & Visitors Center is the centerpiece for all who visit the facility. Purchase your brick or granite paver today as a tribute to an aviator on your shopping list and leaving a lasting message of support to those who have dedicated their lives to serve our nation to protect freedom, along with those who have volunteered to keep B-29 Doc flying.
→ Click here to order your brick or paver today!