The B-29 Doc History Restored Tour will land in Long Island, New York and the New York City metro area for ground tours and B-29 Doc Flight Experience rides May 29-31, 2020.
Doc will arrive at Republic Airport and the American Airpower Museum Thursday, May 28, and will be available for warbird rides and ground and flight deck tours during the three-day event, Friday through Sunday. The tour stop in Farmingdale, NY will be hosted by the American Airpower Museum, which will also have vintage warbird aircraft including its P-40 Warhawk, P-51 Mustang, C-47 and B-25.
"The American Airpower Museum is honored to welcome Doc on its very first visit to the New York area during this 75th anniversary year of the end of World War II," said Scott Clyman, American Airpower Museum director of events. "The B-29 was a marvel of technology in its day and played a major role in the Pacific theater, helping bring an end to World War II. Our mission is to honor veterans who flew and maintained these warbirds to preserve freedom around the world 75 years ago."
The tour stop for B-29 Doc at the American Airpower Museum will be Doc's first visit to the Empire State, and the furthest point east for the 2020 Doc tour schedule. 
"Preserving the legacy of our nation's heroes and educating future generations about the Greatest Generation is at the core of our mission with B-29 Doc," said Josh Wells, Doc's Friends executive director and general manager. "Partnering with the American Airpower Museum to bring the B-29 Doc History Restored Tour to New York will allow aviation and warbird enthusiasts in the New York City area a chance for an up-close and personal experience to see the unique aircraft that helped protect our freedom during World War II."
Event Details for B-29 Doc at American Airpower Museum at Republic Airport
Gates will open Friday, May 29 for museum access, including static ground and flight deck tours of B-29 Doc, from 9 a.m. to 4 p.m. Ground and flight deck tours on Doc will also be available Saturday, May 30 and Sunday, May 31 from 12 p.m. to 4:30 p.m., following morning ride flights. Museum admission will include access to the static display event and flight deck tours. The flight schedule for the B-29 Doc Flight Experience is 9 a.m. and 11 a.m., Saturday, May 30 and Sunday, May 31. For details about the B-29 Doc Flight Experience and to purchase ride tickets, visit www.b29doc.com/rides. 
The public can enter the event at the American Airpower Museum main entrance (1230 New Hwy, Farmingdale, NY 11735). 
"There's no better way to honor those who have served, and who continue to serve our nation, than to share these national aviation treasures across the country," Clyman said. "By honoring the Greatest Generation, educating future generations and connecting people to our nation's rich aviation heritage, we ensure the legacies of those who designed, built, flew and maintained these great warbirds live on forever."
About Doc's Friends
Doc's Friends, Inc., is a 501c3 non-profit board managing the operation of the Boeing B-29 Superfortress known as Doc. The mission of Doc's Friends is to HONOR the men and women who sacrificed so much for the freedom of others, including those who designed, built, maintained and flew the B-29 during and after WWII. CONNECT people with the rich heritage of the B-29 and allow aviation enthusiasts to experience the thrill of a B-29 up close. EDUCATE today's and future generations on the contributions of the Greatest Generation during wartime.
About the American Airpower Museum
The museum's strategic mission is the preservation of the legacy of all Americans who have sacrificed themselves to defend our liberties and to educate a new generation regarding the courage, valor and heroism of our nation's citizen soldiers by presenting the operational aircraft and armor in the museum's collection and its related displays, exhibits and programs.

LOOKING FOR A GIFT THAT WILL LEAVE A LASTING IMPACT?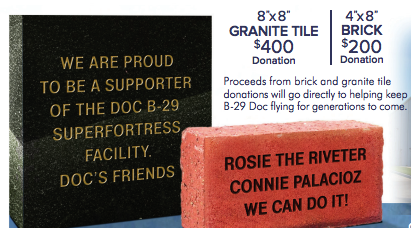 Join Doc's legacy of honor.
The Patriots Plaza at the B-29 Doc Hangar, Education & Visitors Center is the centerpiece for all who visit the facility. Purchase your brick or granite paver today as a tribute to an aviator on your shopping list and leaving a lasting message of support to those who have dedicated their lives to serve our nation to protect freedom, along with those who have volunteered to keep B-29 Doc flying.
→ Click here to order your brick or paver today!
DON'T FORGET ABOUT B-29 DOC WHEN YOU SHOP ON AMAZON.COM
Switch to AmazonSmile and help raise money for B-29 Doc. What is AmazonSmile? AmazonSmile is a website operated by Amazon with the same products, prices, and shopping features as Amazon.com.
The difference is that when you shop on AmazonSmile, the AmazonSmile Foundation will donate 0.5% of the purchase price of eligible products to the charitable organization of your choice.
→ Click here to learn more and select "DOCs Friends Inc" as your supporting charity!
AmazonSmile is a simple and automatic way for you to support B-29 Doc every time you shop, at no cost to you. When you shop at smile.amazon.com, you'll find the exact same low prices, vast selection and convenient shopping experience as Amazon.com, with the added bonus that Amazon will donate a portion of the purchase price to B-29 Doc and Doc's Friends!  It's a GREAT deal for you…and it will help keep B-29 Doc flying!