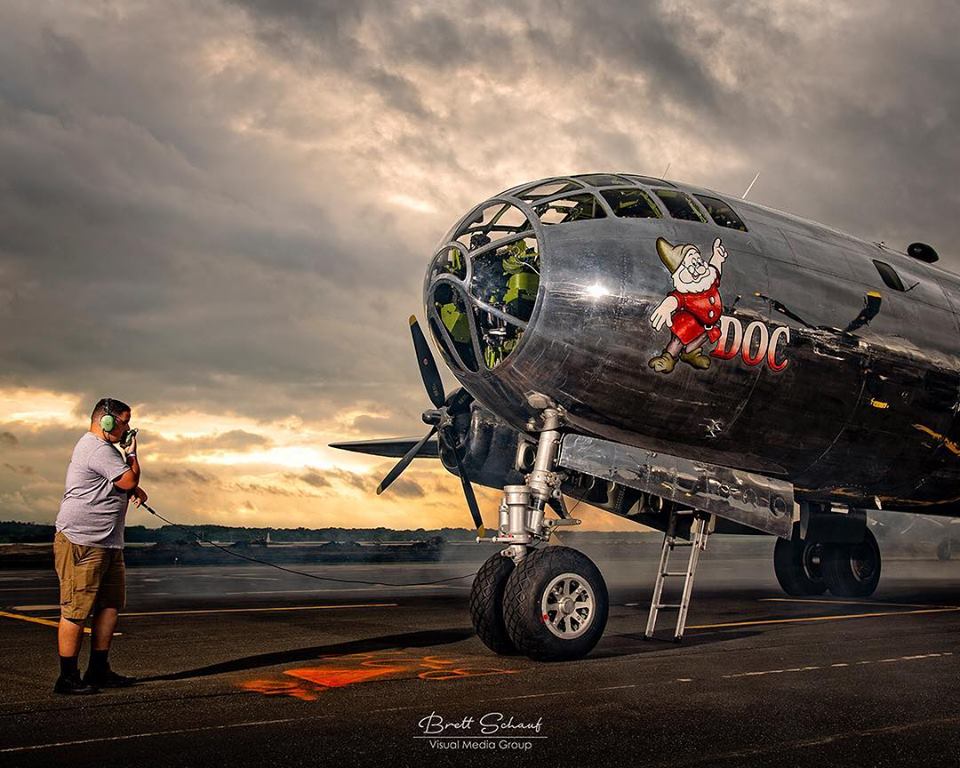 After more than two months of being closed due to the COVID-19 pandemic, the B-29 Doc Hangar, Education and Visitors Center will reopen to the public June 2. Doc's Friends, Inc., closed the facility that B-29 Doc calls home in Wichita in March to take precautions to protect the health and safety of its volunteers and flight crew teams during the public health concern with COVID-19 (coronavirus).
The process of reopening the hangar to the public is the first step in a phased approach to return to full operations for B-29 Doc. The phases will include an eventual return to full operations for the Doc team, with the resumption of B-29 Doc Flight Experience rides and a modified 2020 tour schedule, which Doc's Friends expects to be implemented by mid-to-late-June pending adherence to the Kansas Ad Astra Reopening Plan as announced by the State of Kansas and supported by local health officials in Wichita.
"We are excited to launch our plan to get back to work and carry out our mission of operating B-29 Doc as a flying tribute to our nation's heroes, as well as to allow the public to get up-close and personal with a piece of history," said Josh Wells, Doc's Friends executive director and general manager. "We are taking the reasonable precautions and implementing best practices related to COVID-19 sanitizing and social distancing in order to protect our volunteer team, our flight crews and the public. Of course, our focus is always on safety and we have a renewed commitment to ensure the resumption of our public access to the hangar, as well as our ability to offer B-29 Doc Flight Experiences, meets or exceeds the recommendations of health officials in the wake of the COVID-19 pandemic."
The phased approach to reopening the B-29 Doc Hangar, Education and Visitors Center to the public began weeks ago with the implementation of additional sanitizing and cleaning procedures. When the facility reopens beginning June 2, regular business hours of Tuesdays and Thursdays from 9 a.m. to 2 p.m., and on Saturdays from 9 a.m. to 1 p.m., will resume. Precautions also include the installation of hand sanitizing stations throughout the hangar facility, as well as the practice of social distancing protocols and mask wearing for all volunteers and visitors. Initially, large group tours will not be allowed in order to comply with reopening mandates by local and state health officials.
B-29 Doc Flight Experience rides are scheduled to resume June 20 and 21 in Wichita. Tickets still remain for these two dates that were originally part of Doc's 2020 tour schedule. Tickets can be purchased for these flights at www.b29doc.com/rides.
"We are working to schedule more ride flight days, as well as add additional tour stops and airshows to our 2020 schedule but due to the uncertainty of the long-term COVID-19 situation, those details are not yet known," Wells said.  "It's vitally important that we follow the reopening guidelines set forth by public health officials while we continue to work with event planners and tour hosts across the nation regarding our 2020 schedule for Doc. I'm confident we can find opportunities to share B-29 Doc with warbird enthusiasts while doing it with reasonable precautions in place to fight the spread of COVID-19."
More details about Doc's 2020 tour schedule will be announced in the coming weeks. B-29 Doc fans are encouraged to follow the Doc social media channels or subscribe via www.b29doc.com/signup to receive the very latest information about this year's schedule and potential airshow appearances.
SHOP ONLINE!
Looking for a special gift for that warbird fan in your life?  Shop the B-29 Doc online store and let our team ship your gift. Online orders are still being processed during the COVID-19 health situation.
LOOKING FOR A GIFT THAT WILL LEAVE A LASTING IMPACT?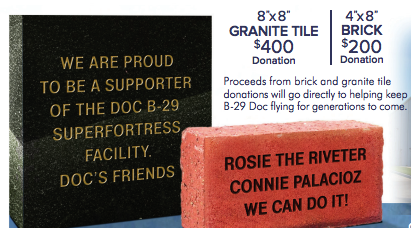 Join Doc's legacy of honor.
The Patriots Plaza at the B-29 Doc Hangar, Education & Visitors Center is the centerpiece for all who visit the facility. Purchase your brick or granite paver today as a tribute to an aviator on your shopping list and leaving a lasting message of support to those who have dedicated their lives to serve our nation to protect freedom, along with those who have volunteered to keep B-29 Doc flying.