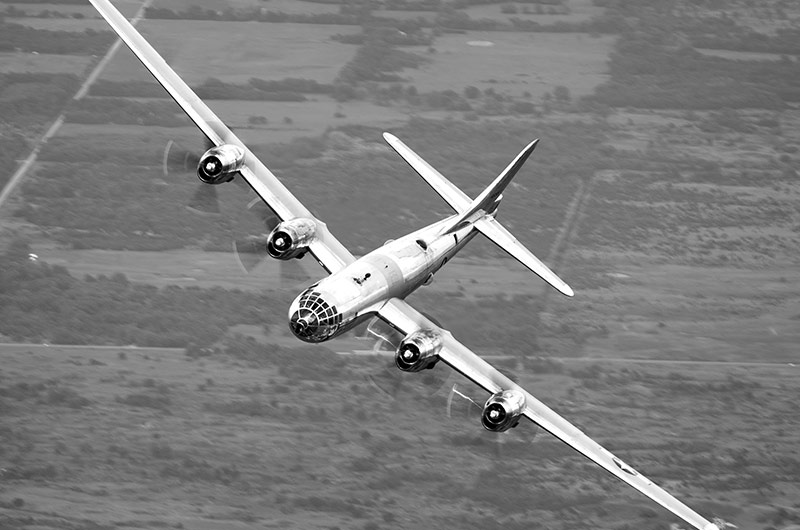 The forecast of heavy rain with chances of severe wind and hail in Kansas this weekend (Oct. 6 and 7) has forced the Doc's Friends team to reschedule the B-29 Doc Flight Experiences.
The ride flights scheduled for Oct. 6 in Wichita have been rescheduled for Oct. 20, while the rides in Topeka on Oct. 7 have been rescheduled for Oct. 21.
"Safety of our passengers, crew and the well-being of our historic warbird are a top priority in our planning for flight operations," said Josh Wells, B-29 Doc spokesman. "The threat of heavy rain, severe wind and possible hail, along with forecasted low cloud ceilings and poor visibility, would not have allowed us to safely operate B-29 Doc this weekend."
All tickets purchased and issued for this weekend's flight will be transitioned to the rescheduled dates. Tickets still remain available for flights in Wichita, Topeka and St. Louis (STL flights Oct. 12 and 13).
"In addition to our top concern for safety, we want the flight experience for our passengers to be as memorable as possible. That means reducing the risk of weather delays and schedule changes as much as possible," said Wells.
Meanwhile, construction of the B-29 Doc Hangar and Education Center continues in Wichita. Construction crews have installed the epoxy floor and the windows on the front of the hangar. Interior work, including painting, tile and carpeting, and other finish carpentry work continues. Major construction is expected to be completed by the end of October with a move-in date of the first part of November.