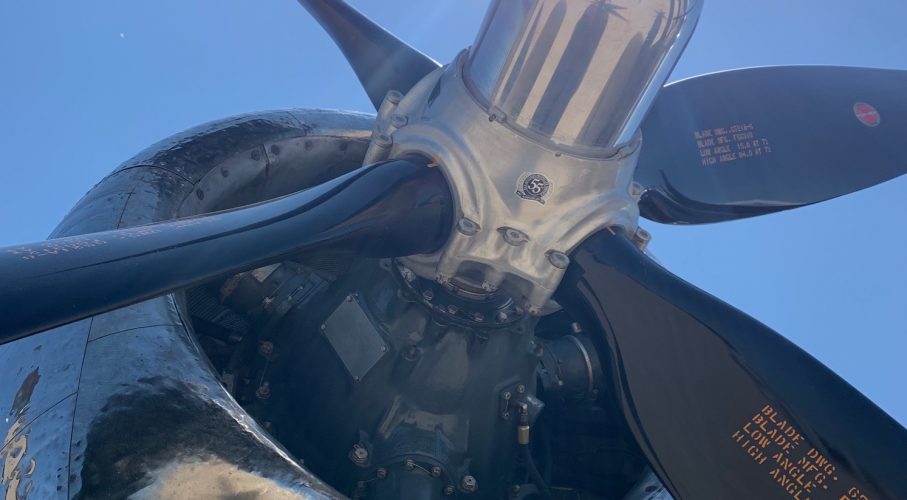 A maintenance issue has forced the cancellation of the B-29 Doc tour stop scheduled for this weekend in Denver, CO.
Doc was scheduled to depart Wichita Friday, August 22 and participate in static ground tours and B-29 Doc Flight Experience rides over the weekend at Denver's Centennial Airport, as well as participate in the 17th Annual Morgan Adams Concours d'Elegance Saturday evening gala fundraiser for pediatric cancer research.
"During a routine engine test run Wednesday, August 21, our maintenance team found a concern with one of Doc's engines that led to further inspection revealing a malfunction in one of the engine's forward cylinders," said Josh Wells, Doc's Friends general manager and executive director.  "While there's no permanent damage to the aircraft, the cylinder must be removed and replaced."
Those who have purchased B-29 Doc Flight Experience tickets for Sunday, August 25 in Denver will receive a full refund for their purchase, or they could choose to rebook their flight experience for another date and venue.
"This is the first time our tour and B-29 Doc Flight Experience schedules have needed to be significantly altered due to maintenance, but it's not uncommon in the warbird and aviation industry," Wells said. "We have the very best team of volunteers committed to maintaining and protecting Doc, and I'm confident this is only a minor setback in our tour plans for the remainder of the year."
The engine run Wednesday at the B-29 Doc Hangar, Education and Visitors Center in Wichita was part of a planned and routine engine and systems check, performed frequently by the maintenance crew to ensure the safe operation and performance of B-29 Doc.