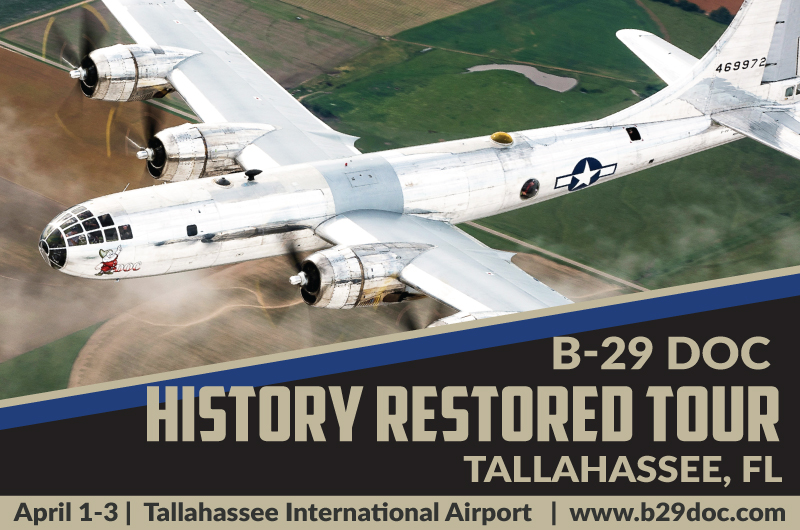 The scheduled arrival of B-29 Doc in Tallahassee, FL, for the B-29 Doc History Restored Tour at Tallahassee International Airport is now set for Thursday, March 31. The arrival has been delayed by 24 hours due to anticipated weather between Kansas and Florida.
The event will be hosted by EAA Chapter 445 at Tallahassee International Airport (3240 Capital Circle SW), Friday, April 1, through Sunday, April 3. Gates will open Friday, April 1, for static ground and flight deck tours from 9:30 a.m. to 4:30 p.m. Ground and flight deck tours will also be available Saturday, April 2, and Sunday, April 3, from 12:30 p.m. to 4:30 p.m., following morning ride flights scheduled for 9 a.m. and 11 a.m. For details about B-29 Doc Flight Experience, visit www.b29doc.com/rides.
Admission for the ground and cockpit tours in Tallahassee will be $10 per person or $20 per family and tickets will be available at the gate. The public can enter the ramp from Gate 29 on the north ramp located near 3240 Capital Circle SW, Tallahassee, FL, 32310. 
Limited tickets remain for the B-29 Doc Flight Experiences in Tallahassee. Contact the B-29 Doc Box Office at 316-260-4312, option 3, or 316-358-9894 to book ride flight seats.