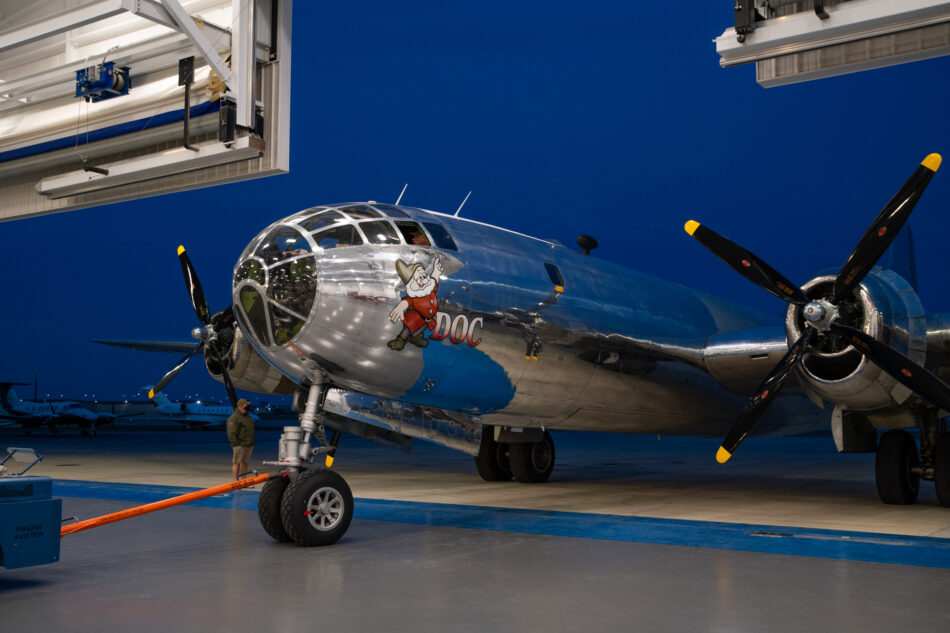 The arrival of B-29 Doc in Hastings, NE, for the Nebraska State Fly-In has been delayed for maintenance.
The B-29 Doc updated schedule for the weekend will include a Saturday, June 19, afternoon arrival in Hastings. The B-29 Doc Flight Experience rides scheduled for Saturday morning at 9 a.m. and 11 a.m. have been rescheduled for 7 p.m. and 8:15 p.m. the same day. There will be no changes to the schedule on Sunday, June 20.
"A minor maintenance item on one of our warbird's propellers has led to our delayed departure from Wichita this week," said Josh Wells, B-29 Doc general manager and executive director. "We take great pride in the care and maintenance of our aircraft and we felt it was necessary to work the propeller maintenance item before leaving for Hastings and the remainder of our busy summer tour schedule."
All ride flight ticketed passengers have been contacted and will receive updated ticket and arrival information via email if their flight time has changed on Saturday. B-29 Doc Flight Experience rides on Sunday, June 20, will be at 9 a.m. and 10:30 a.m., followed by ground and cockpit tours of the historic warbird during the air show portion of the fly-in on Sunday.