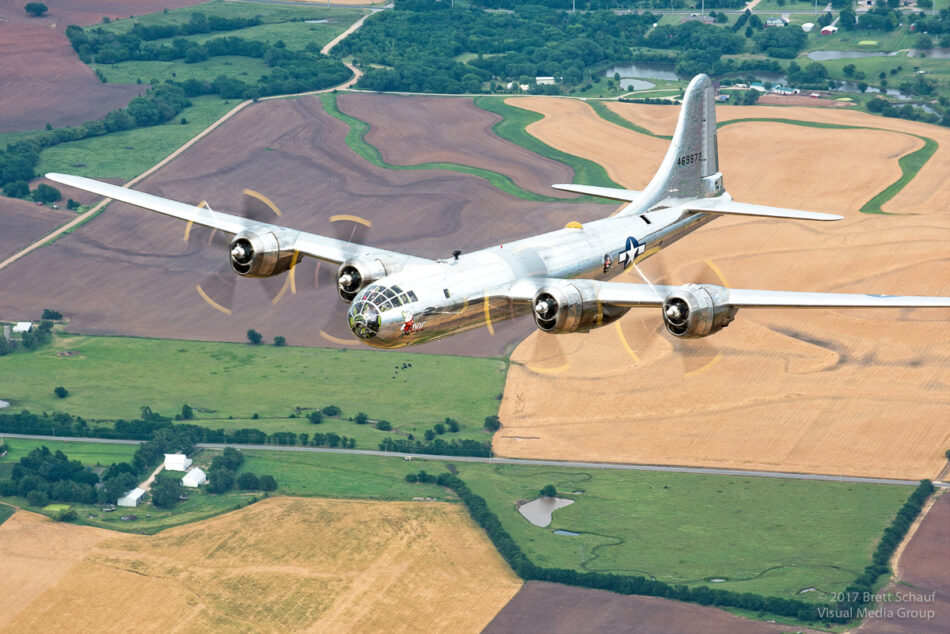 The July 2021 tour schedule for B-29 Doc has been announced and it includes stops in seven cities across six states, ending with Doc's appearance at EAA AirVenture.
Here's the list of July 2021 stops for B-29 Doc:
July 9-11: St. Louis, MO (Spirit of St. Louis Airport)
July 12-15: Terre Haute, IN
July 16-18: Cincinnati, OH (Lunken Air Field)
July 19-21: Cleveland, OH (Burke Lakefront Airport)
July 22-25: Kalamazoo, MI (Air Zoo Aerospace & Science Experience)
July 26-August 1: EAA AirVenture (Oshkosh, WI with rides in Appleton, WI)
Each tour stop will feature B-29 Doc Flight Experiences rides, as well as ground tours and flight deck access. Exact details for Doc's arrival at each tour stop, as well as times for ground tours and flight deck access, will be released prior to the events in each city.
Meanwhile, tickets for the B-29 Doc Flight Experience rides in the cities mentioned above are ON SALE NOW. Book your seat today by clicking here.
"We are excited to announce our July tour plans for B-29 Doc and even more excited as we continue planning for all of 2021," said Josh Wells, B-29 Doc general manager and executive director. "The July tour will bring Doc to six states, including a return trip to Cleveland, OH, where Tony Mazzolini, the mastermind behind Doc's rescue and restoration, calls his home."
The B-29 Doc planning team continues to work on tour plans for April, May and June, as well as August through September.
"Right now, we're optimistic about the air show industry's ability to reopen and recover from COVID-19," Wells continued. "We are actively working with air show planners and we will have more details in the coming weeks regarding Doc's tour plans for the remainder of 2021. Our team continues to work through the final stages of our planned winter maintenance period at our hangar in Wichita and remains committed to carrying out Doc's mission of honoring our nation's heroes and past generations by taking our B-29 to air shows and tours for people to get an up-close and personal look at this magnificent machine."
Fans of B-29 Doc and aviation enthusiasts can keep an eye on our volunteers and maintenance team with the LIVE VIDEO stream from inside the B-29 Doc Hangar, Education and Visitors Center. Click here to watch the stream. And if you're in the Wichita, KS, area, the B-29 Doc Hangar is open to the public Tuesday and Thursday from 9 a.m. to 2 p.m., and on Saturdays from 9 a.m. to 1 p.m.
---
SHOP ONLINE!
Looking for a special gift for that warbird fan in your life?  We've added NEW merchandise, INCLUDING CHILDRENS t-shirts, to the B-29 Doc online store! Order online today and support Doc by keeping history alive with your purchase.
LOOKING FOR A GIFT THAT WILL LEAVE A LASTING IMPACT?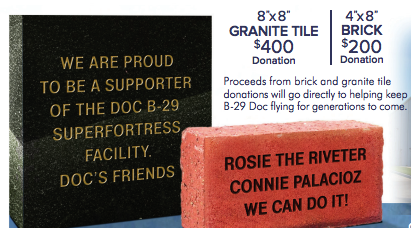 Join Doc's legacy of honor.
The Patriots Plaza at the B-29 Doc Hangar, Education & Visitors Center is the centerpiece for all who visit the facility. Purchase your brick or granite paver today as a tribute to an aviator on your shopping list and leaving a lasting message of support to those who have dedicated their lives to serve our nation to protect freedom, along with those who have volunteered to keep B-29 Doc flying.