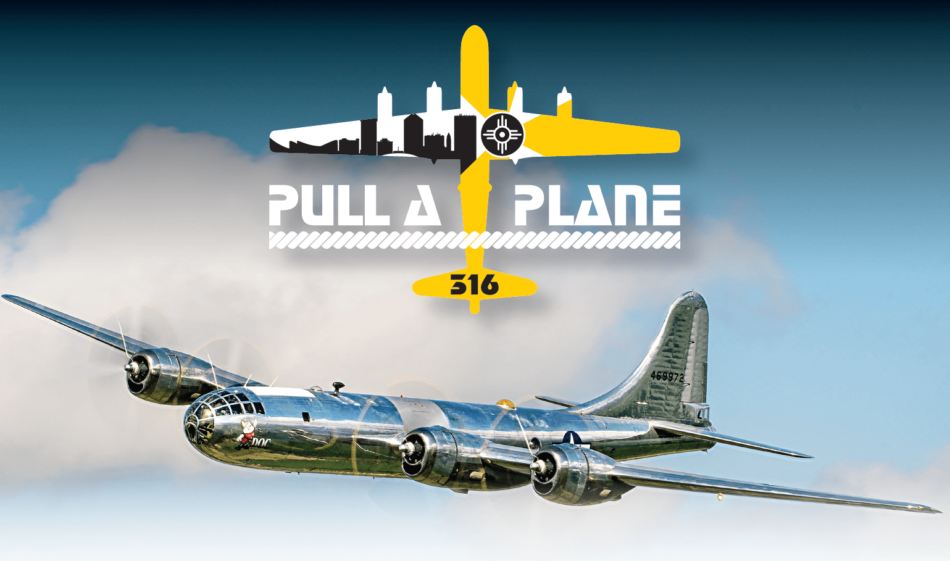 Doc's Friends and the WSU Tech Foundation will host a Pull a Plane event on Saturday, October 16 at the B-29 Doc Hangar, Education and Visitors Center at Eisenhower National Airport. Rescheduled from 2020, the unique event will feature teams of 25 people racing to pull Doc (a restored B-29 Superfortress, weighing in at nearly 80,000 pounds) 25 feet down the taxiway. The event will begin at 9 a.m. and will run throughout the day.
Each team of 25 people will raise a minimum of $2,500 in order to participate. Proceeds of the inaugural fundraiser will be shared between the WSU Tech Foundation (to support student-focused initiatives) and Doc's Friends (to help broaden Doc's operations and hangar education program). The individual who raises the most donations for the event will be rewarded with a ride in B-29 Doc.
"Now, more than ever, support for students play a critical role in providing a well-trained and highly skilled workforce for our region," said Dr. Sheree Utash, President of WSU Tech. "This is an opportunity for the community to come together to support education in a fun, unique way. I'm proud to be partnering with Doc's Friends on this event because any community can host a plane pull, but there is only one Doc and he calls Wichita 'home'."
The Pull a Plane event is family-friendly and is open to the public. In addition to the Pull a Plane event featuring B-29 Doc, educational activities (including the FutureMaker Mobile Learning Lab) will be taking place inside the hangar, and food truck vendors will be onsite.
Partnering with WSU Tech to generate excitement around aviation education, including the story of Wichita's rich aviation heritage, is a unique way to broaden the mission of both of our organizations," said Jeff Turner, Doc's Friends Board Chairman. "I'm hopeful this event inspires the next generation of great aviation professionals, whether at WSU Tech or as warbird and aviation enthusiasts who will carry on Wichita's claim as the Air Capital of the World."
Sponsorships are still available. Learn more and register a team at www.pullaplane.com.