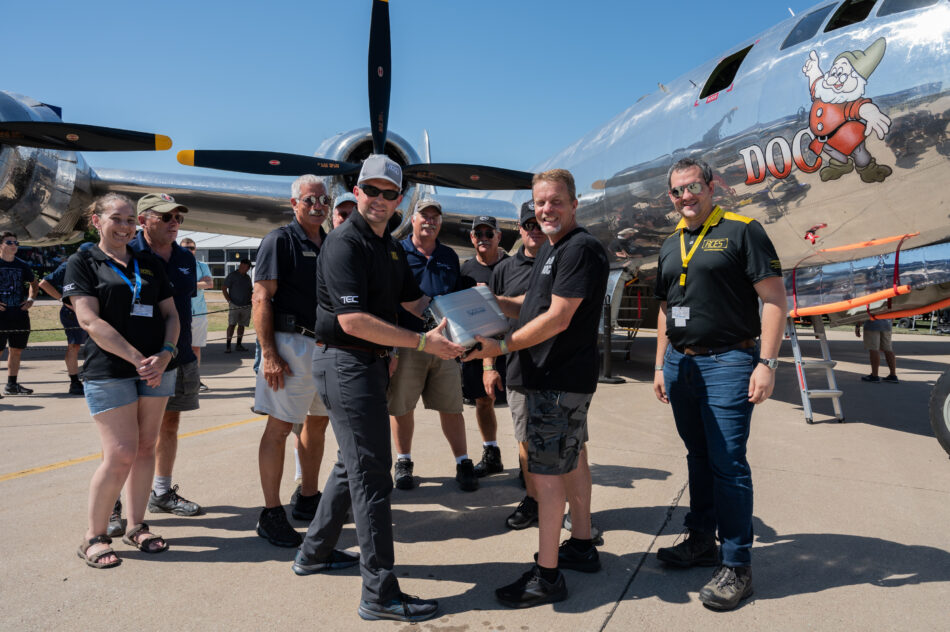 B-29 Doc and ACES Systems have announced a critical partnership that will allow B-29 Doc to remain airworthy and sustainable for future generations.
ACES Systems will be providing Doc's Friends and the B-29 Doc maintenance team with the ACES Viper 2E Analyzer as part of the partnership to become the official propeller balancing provider for B-29 Doc. The Viper 2E is the ACES Systems' flagship model 4-Channel Analyzer, which is the premier choice for vibration spectrum analysis and propeller balancing operations in all conditions. The gear will help Doc's maintenance team ensure the historic aircraft and its propellers and engines are operating at maximum efficiency.
"When Doc's Friends called ACES with a propeller balancing opportunity for the B-29, our team knew this was the mission for us," said Daniel Becnel, ACES Systems director of sales. "Our equipment is actively in use with the U.S. military, and is also trusted by most aircraft and helicopter operators around the world. ACES is thrilled to add the B-29 to the list."
With the Viper 2E from ACES Systems, Doc's crew will be able to keep all four engines running smooth with precision propeller balancing, engine vibration surveys, and on-demand vibration analysis for any need that might arise.
"The core mission of B-29 Doc is maintaining an airworthy aircraft to be able to operate a living, flying museum to tell the story of the Greatest Generation and inspire the next generation of aviators," said Josh Wells, B-29 Doc executive director and general manager. "Partnering with the team at ACES Systems will provide a critical conduit to ensure we are able to keep our mission alive and protect our historic warbird. We are honored to welcome ACES Systems to the B-29 Doc team and we are excited about the future collaborations that this partnership can provide for both organizations and the warbird family."
B-29 Doc and its warbird partners will greatly benefit from this partnership as Doc's maintenance team continue to build a network of resources dedicated to keeping Doc, and other warbirds, flying for generations to come.
---
About Doc's Friends and B-29 Doc
Doc's Friends, Inc., is a 501c3 non-profit board managing the operation of the Boeing B-29 Superfortress known as Doc. Doc is a B-29 Superfortress and one of 1,644 manufactured in Wichita during World War II. It is one of only two remaining B-29s that are still airworthy and flying today.  The mission of Doc's Friends is to HONOR the men and women who sacrificed so much for the freedom of others, including those who designed, built, maintained and flew the B-29 during and after WWII. CONNECT people with the rich heritage of the B-29 and allow aviation enthusiasts to experience the thrill of a B-29 up close. EDUCATE today's and future generations on the contributions of the Greatest Generation during wartime.
About ACES Systems
ACES kits and analyzers combine cutting-edge engineering and manufacturing. For that, they are valued by aviation teams all over the world. Our commercial off-the-shelf (COTS) and military spec test kits are fast, accurate, and user-friendly. Over 1,000 ACES units are used today by the U.S. Navy and Marine Corps, with another 4,500 kits installed internationally. That's because our products allow maintenance crews and technicians to get clear-cut data at striking speeds. We deliver unbeatable capability with precise insight into aircraft systems performance and repair needs. The parent company of ACES Systems, Technology for Energy Corporation (TEC-USA), provides simple solutions to complex problems for several critical industries: nuclear power, materials testing, electric power, and aviation.