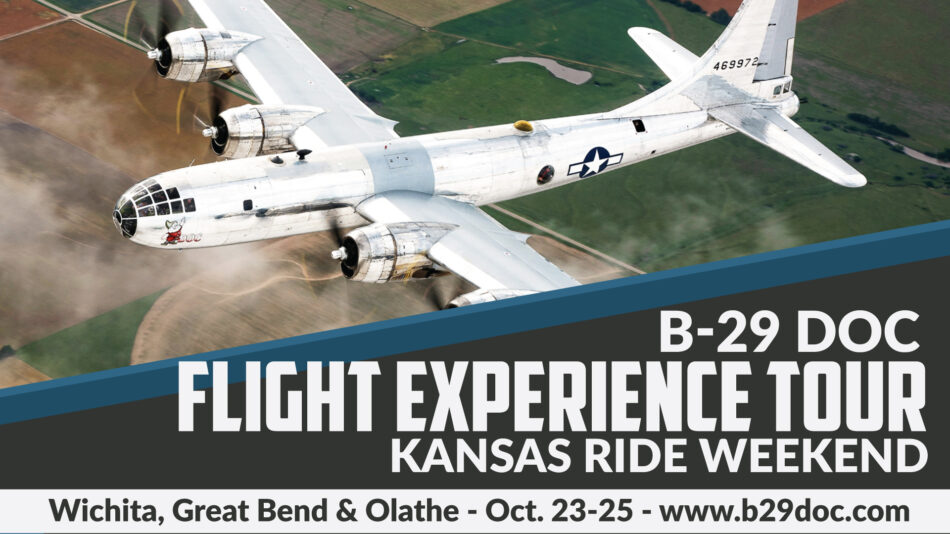 UPDATE as of Oct. 22, 2020
Early winter-like weather has forced the B-29 Doc Kansas Ride Weekend schedule to be altered. While the ride flight events in Wichita and Great Bend will continue as planned (Wichita on Friday, Oct. 23, and Great Bend on Saturday, Oct. 24), the tour stop scheduled for Olathe and New Century AirCenter on Sunday, Oct. 25 has been canceled.
"The forecast for the Olathe area calls for low ceilings and cloud cover, along with poor visibility, both which would not meet our operating requirements for our ride flight operations (LHFE-Living History Flight Exemption) as detailed by our ride flight operating limitations from the FAA," said Josh Wells, Doc's Friends general manager and executive director. "We are committed to the safe operation of our aircraft, as well as the safety of our crew and passengers. Trust me, we are disappointed to have to make the decision to cancel, but the approaching weather systems for Sunday led to this decision."
All flight passengers scheduled for the Sunday, Oct. 25 rides in Olathe will receive a full refund for their ticket.
Meanwhile, the B-29 Doc Flight Experiences scheduled for Wichita (Friday, Oct. 23) and Great Bend (Saturday, Oct. 24) will continue.
Tickets remain for the Wichita event and can be purchased here: www.b29doc.com/rides.
---
Original story, posted Oct. 9, 2020
The B-29 Superfortress known as Doc will bring its B-29 Doc Flight Experience Tour to three cities in Kansas to wrap up the 2020 tour season
The three-day event across three cities will include Wichita, Great Bend and Olathe, Friday, Oct. 23 through Sunday, Oct. 25.
The weekend will begin in Wichita at the B-29 Doc Hangar, Education and Visitors Center, Friday, Oct. 23, with B-29 Doc Flight Experience rides at 4:30 and 6 p.m. The aircraft will transition to Great Bend, Saturday, Oct. 24 with ride flights scheduled for 11 a.m. and 1 p.m., before transitioning to Olathe and New Century AirCenter on Sunday, Oct. 25 with flights scheduled for 11:15 a.m. and 1:30 p.m.
Tickets are on sale now for what will be the final 2020 tour season opportunity for B-29 Doc rides before the historic warbird enters the scheduled winter maintenance period from November through March of next year. For details about the B-29 Doc Flight Experience and to purchase ride tickets, visit www.b29doc.com/rides. 
Doc's Friends, Inc., is taking all reasonable precautions to protect the B-29 Doc crew as well as passengers in the fight against the spread of COVID-19. All B-29 Doc Flight Experience passengers will be required to wear a mask (one will be provided to each passenger) during the flight. Additionally, the aircraft and all contact surfaces inside the aircraft will be sanitized/disinfected prior to each flight.
What is it like to ride in B-29 Doc?
That's a great question! Many of our riders say it's a breathtaking, overwhelming and once-in-a-lifetime, bucket list experience. Click on the video below for a peek inside during the flight, but we promise…the real thing is MUCH better!
SHOP ONLINE!
Looking for a special gift for that warbird fan in your life?  Shop the B-29 Doc online store and let our team ship your gift. Online orders are still being processed during the COVID-19 health situation.
LOOKING FOR A GIFT THAT WILL LEAVE A LASTING IMPACT?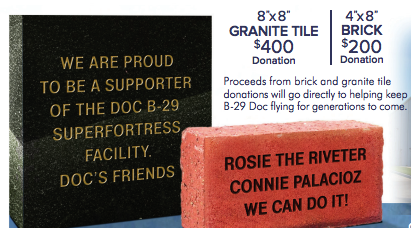 Join Doc's legacy of honor.
The Patriots Plaza at the B-29 Doc Hangar, Education & Visitors Center is the centerpiece for all who visit the facility. Purchase your brick or granite paver today as a tribute to an aviator on your shopping list and leaving a lasting message of support to those who have dedicated their lives to serve our nation to protect freedom, along with those who have volunteered to keep B-29 Doc flying.