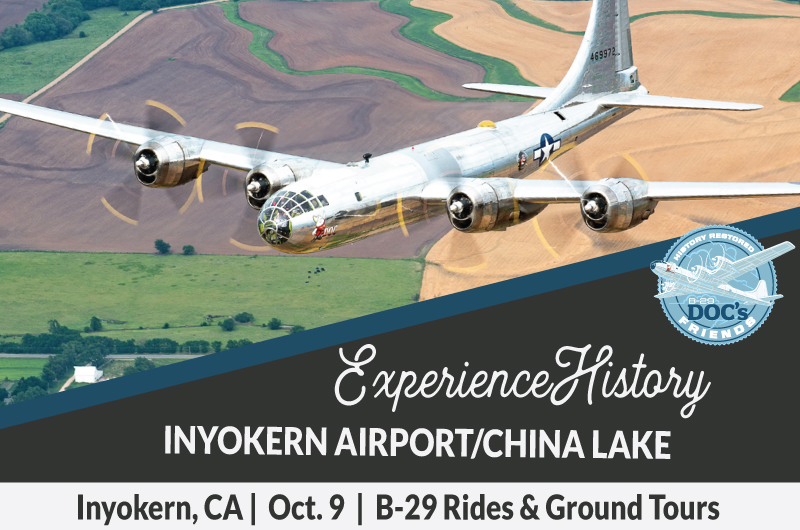 After nearly two decades since it was pulled from the Mojave Desert at China Lake Naval Station, the B-29 Superfortress known as Doc will bring its B-29 Doc Flight Experience and ground display tour to Inyokern, CA and the China Lake area.
Doc will arrive at Inyokern Airport and will be available for B-29 Doc Flight Experience rides, along with ground and flight deck tours Wednesday, Oct. 9.
"Nineteen years ago, B-29 Doc left California for Wichita to be restored after a team of heroes worked diligently with Tony Mazzolini to rescue the historic warbird from the Mojave Desert," said Josh Wells, Doc's Friends general manager and executive director. "The tour stop in Inyokern and the area surrounding China Lake was added thanks to a team of volunteers and warbird enthusiasts from the China Lake area who traveled to see B-29 Doc during the Chino, CA, tour stop a week ago. After overcoming logistical and scheduling matters, we were thrilled to add one last stop on our California and western tour."
Gates will open Oct. 9 for static ground and flight deck tours from 11:30 a.m. to 6 p.m. following morning ride flights.  Admission for the static display event and flight deck tours will be $10 per person and $25 per family. The flight schedule for the B-29 Doc Flight Experience is 8:30 a.m. and 10 a.m., Wednesday, Oct. 9.
"It's going to be great to meet the rest of the original team of volunteers who worked for more than a decade to save Doc from the Navy's bombing range," Wells said. "Without these Califonia volunteers, the restoration of Doc by the team in Wichita would not have been possible. We are excited to honor the team of volunteers in the China Lake area and share Doc's completed restoration that began with them more than two decades ago."
BOOK YOUR SEAT ON HISTORY TODAY!
For details about the B-29 Doc Flight Experience and to purchase ride tickets, visit www.b29doc.com/rides. Visitors can enter the event in Inyokern, CA at the Inyokern Airport Administration Building, 1669 Airport Rd, Inyokern, CA 93527.