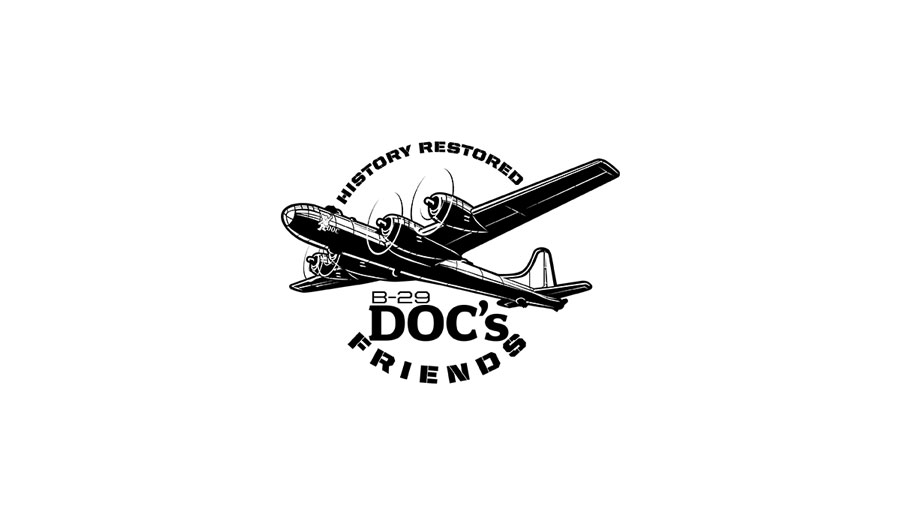 The public health situation surrounding COVID-19 (coronavirus) across the United States has made its first air show impact on the 2020 schedule for B-29 Doc and the History Restored Tour.
On Wednesday, March 18, the Arsenal of Democracy (AOD) Executive Planning Committee announced its decision to postpone the flyover and accompanying events scheduled for May in Washington, D.C. Working closely with multiple warbird operators, government entities and other organizations involved in planning and executing the event to commemorate the 75th anniversary of the end of World War II, the AOD team has rescheduled the series of AOD events for the week of September 20. Click here to read the news release from the AOD Executive Committee.
With the AOD rescheduling announcement, along with the continuous and frequent changes in directives from local, state and federal health agencies, Doc's Friends is working through multiple scenarios as it relates to the full B-29 Doc History Restored Tour in 2020.
"The situation continues to rapidly evolve across the nation and while we want to keep our fans informed as it relates to any possible schedule changes, we don't have all of the answers right now," said Josh Wells, Doc's Friends executive director and general manager. "We are committed to participating in the AOD events in Washington, D.C. as they have been rescheduled and we are working a bigger plan that would keep the 2020 Doc tour season intact. That said, it's simply too early to speculate what the months of April and May will bring as it relates to COVID-19 and directives from health officials or any restrictions on public gatherings."
Passengers who have purchased ride tickets for B-29 Doc Flight Experiences will be contacted soon with their options should any additional tour stops require schedule changes. Additionally, Doc's Friends is communicating with air show leaders and tour host coordinators as the COVID-19 health situation continues to develop. Warbird and air show enthusiasts can use the following resource, in addition to Doc's website at www.b29doc.com, to stay up-to-date on all air show schedule changes across the country:
Meanwhile, the B-29 Doc maintenance team has completed the annual winter maintenance checklist and is standing by for a maintenance check flight. That flight is pending due to the current COVID-19 situation.
SHOP ONLINE!
Looking for a special gift for that warbird fan in your life?  Shop the B-29 Doc online store and let our team ship your gift. Online orders are still being processed during the COVID-19 health situation.
LOOKING FOR A GIFT THAT WILL LEAVE A LASTING IMPACT?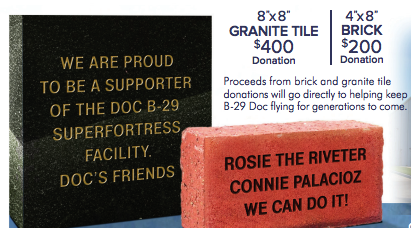 Join Doc's legacy of honor.
The Patriots Plaza at the B-29 Doc Hangar, Education & Visitors Center is the centerpiece for all who visit the facility. Purchase your brick or granite paver today as a tribute to an aviator on your shopping list and leaving a lasting message of support to those who have dedicated their lives to serve our nation to protect freedom, along with those who have volunteered to keep B-29 Doc flying.