The 2022 Pull a Plane for Education scheduled for Saturday, Oct. 15, is gearing up to be a premiere weekend event with something for all ages.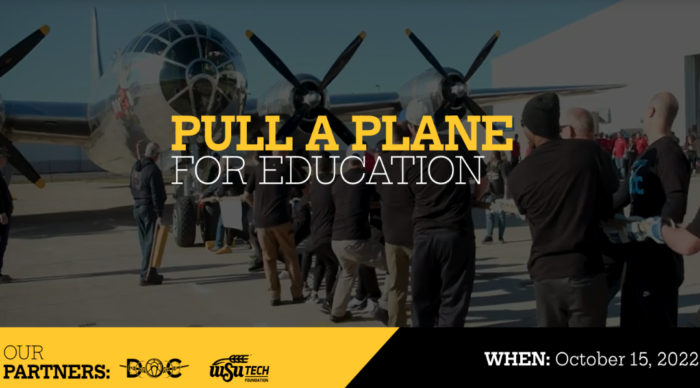 The event at the B-29 Doc Hangar, Education and Visitors Center in Wichita will not only showcase dozens of teams competing for the fastest time to pull the historic B-29 Doc on the ramp, it will include interactive aviation exhibits and features for all ages, and an evening concert featuring the Bucky Fowler Band and Southern Charm.
And…the event will continue into Sunday, Oct. 16 with B-29 Doc Flight Experience rides. 
The Commemorative Air Force RISE ABOVE traveling exhibit will be at the event showcasing its interactive 53' trailer, which features a fully-functional movie theater that tells the story the Tuskegee Airmen and the WASP Squadron and the obstacles they both overcame to be able to serve the U.S. during World War II. The presentation's 160-degree panoramic screen gives those who visit the trailer the feeling of being in the cockpit and soaring above the clouds.
The WSU Tech FutureMaker Mobile Learning Lab will be present to provide interactive learning activities based on technical careers and inspire future generations of aviators through science, technology and mathematics.
Doors open Saturday, Oct. 15 at 9 a.m., to the public and admission will be $10 per person or $25 per family. Admission will include full access to the interactive displays, as well as the spectator area for the Pull a Plane event, which will begin at approximately 1 p.m. Then at 4 p.m., an individual will attempt to pull Doc solo. The Wichita Wagonmasters will be present grilling and serving hamburgers and hot dogs beginning at noon. Cockpit tours of B-29 Doc will not be available of B-29 Doc until approximately 5 p.m.
The Bucky Fowler Band and Southern Charm will take the stage at 5:30 p.m. for a concert and final event celebration that is also open to the public. Tickets for the evening concert event will be $10 per person and $25 per family. Admission purchased at any time on Saturday is good for the entire day at the B-29 Doc Hangar, Education and Visitors Center.
"We are extremely excited to host the Pull a Plane event for the second time to support the combined missions of WSU Tech Foundation and B-29 Doc," said Josh Wells, B-29 Doc executive director and general manager. "The funds raised through this unique event will provide scholarship opportunities for students at WSU Tech as we partner to inspire and educate the next generation of aviation workers in our area, and to keep the B-29 Doc mission of operating Doc as a flying tribute to those who have served and continue to serve our nation."
In addition to the Saturday event, B-29 Doc Flight Experience rides will be available on Sunday, Oct. 16. The flight schedule for Doc on Sunday will be 9:30 a.m. and 11 a.m., and tickets are on sale now at www.b29doc.com/rides.
"This event will help build and create opportunities for the success of our students at WSU Tech for years to come," said Courtney Sendall, WSU Tech Foundation executive director. "We've grown this year's event to include more opportunities for the community to be involved. With the interactive exhibits of the FutureMaker Mobile Learning Lab, the CAF RISE ABOVE trailer and Exploration Place, we will be able to reach and inspire more technical and aviation students who, in the future, will be the backbone of Wichita's continued excellence in the aviation and manufacturing industry."
All funds raised from Pull a Plane team registration, and admission, along with Pull a Plane merchandise and food sales during the event will be used to support the WSU Tech Foundation and B-29 Doc's Friends, Inc.
For more information on the event and our partners, visit these websites:
www.pullaplane.com
www.b29doc.com
www.cafriseabove.com
www.wsutech.edu/foundation
www.futuremakerlab.com
www.buckyfowler.com
More details will be announced in 2022. In the meantime, here's a recap video of the 2021 event, which raised more than $100,000!