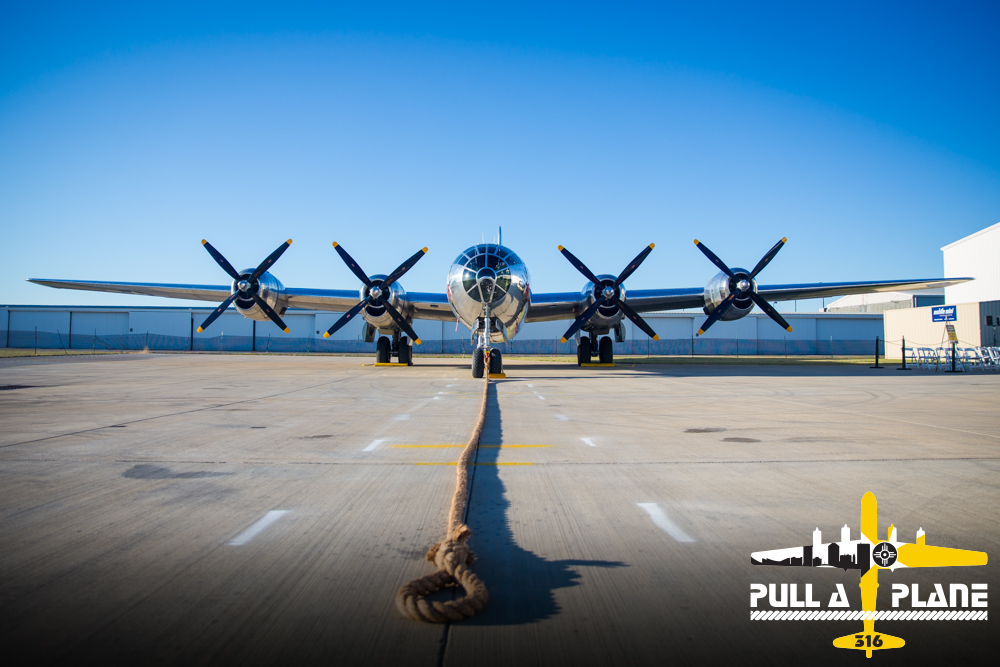 Do you have what it takes to pull against a machine?!
B-29 Doc and WSU Tech Foundation are partnering to bring you Wichita's third annual Pull a Plane event in 2023, a fundraiser featuring the ultimate tug-of-war competition — men and women against plane!
The challenge is to see whose team of 25 people can pull Doc, a restored B-29 weighing in at nearly 80,000 pounds. That's right, teams will race the clock to pull Doc's nearly 40 tons by rope  – with the ultimate prize being a ride in Doc for the person who raises the most donations for education!
Pull a Plane 2024 will be held on Saturday, March 9 at the B-29 Doc Hangar, Education & Visitors Center.  The event is family-friendly and open to the public. Anyone is welcome to attend to witness the event firsthand while cheering on their friends and family. Public admission will be $10 per person or $25 for a family (up to six people). The admission fee grants access to the Pull a Plane event, to the Doc Hangar where a variety of STEM activities will be taking place, and to cockpit tours of Doc.
COUNTDOWN TO PULL A PLANE 2024