Cincinnati, OH: History Restored Tour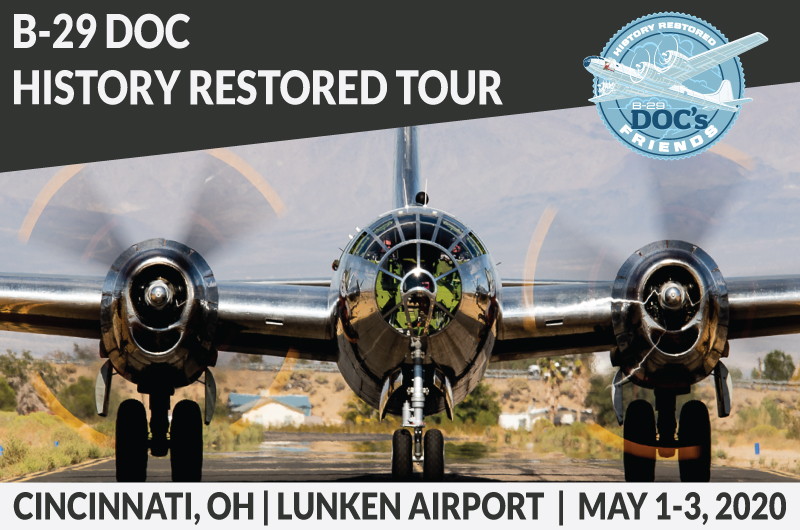 The B-29 Doc History Restored Tour will land in Cincinnati, OH, for ground tours and B-29 Doc Flight Experience rides May 1-3, 2020.
Doc will arrive at Lunken Airport Thursday, April 30, and will be available for warbird rides and ground and flight deck tours during the three-day event, Friday through Sunday. The tour stop in Cincinnati will be hosted by Cincinnati Warbirds EAA Squadron 18, which will also have vintage warbird aircraft on display and available for ride flights. Military vehicles, history exhibits and meet-and-greet opportunities with WWII veterans will also be available.
Event Details for B-29 Doc in Cincinnati
Gates will open Friday, May 1 for static ground and flight deck tours from 9 a.m. to 4 p.m. WWII veteran TSgt. Howard Watrous, who served as a B-29 flight engineer stationed on Tinian Island will be available for meet-and-greet during the weekend. Ground and flight deck tours will also be available Saturday, May 2 and Sunday, May 3 from 12 p.m. to 4:30 p.m., following morning ride flights. Admission for the static display event and flight deck tours will be $10 per person and $20 per family. The flight schedule for the B-29 Doc Flight Experience is 9 a.m. and 11 a.m., Saturday, May 2 and Sunday, May 3. For details about the B-29 Doc Flight Experience and to purchase ride tickets, visit www.b29doc.com/rides.
The public can enter the event at the Lunken Airport Terminal Building (262 Wilmer Avenue, Cincinnati, OH, 45226). Parking is free and restroom facilities will be available in the terminal building.
Fly through the skies in B-29 Doc, a rare World War II bomber! Experience a piece of history 8,000 feet up, as you find yourself where veterans once sat as they fought for freedom.
Each B-29 Doc Flight Experience will last approximately 90 minutes and include a 30-minute ride. Prior to takeoff, passengers will experience a crew briefing and learn more about the history of the B-29 and role it played in U.S. history. Passengers will also get to hear and see the sights and sounds of engine starts and run-ups prior to takeoff.